A perfect parents getaway in Park City
- 10 minutes read
- 2091 words
Everyone understands that the past two years of the COVID pandemic have been tough on parents. For those with kids born right at the start of it, it's been especially hard managing little kids without the normal help from family and other sources especially in the early days. It's also hard not having the ability to see friends and fellow parents as often or to be able to get away for a break. For us and our two sets of fellow parent friends, both of which had kids in the first winter of the pandemic, the restart of our annual ski trip and reimagination of it from a boys trip to a parents trip for the first time this year came at the perfect time.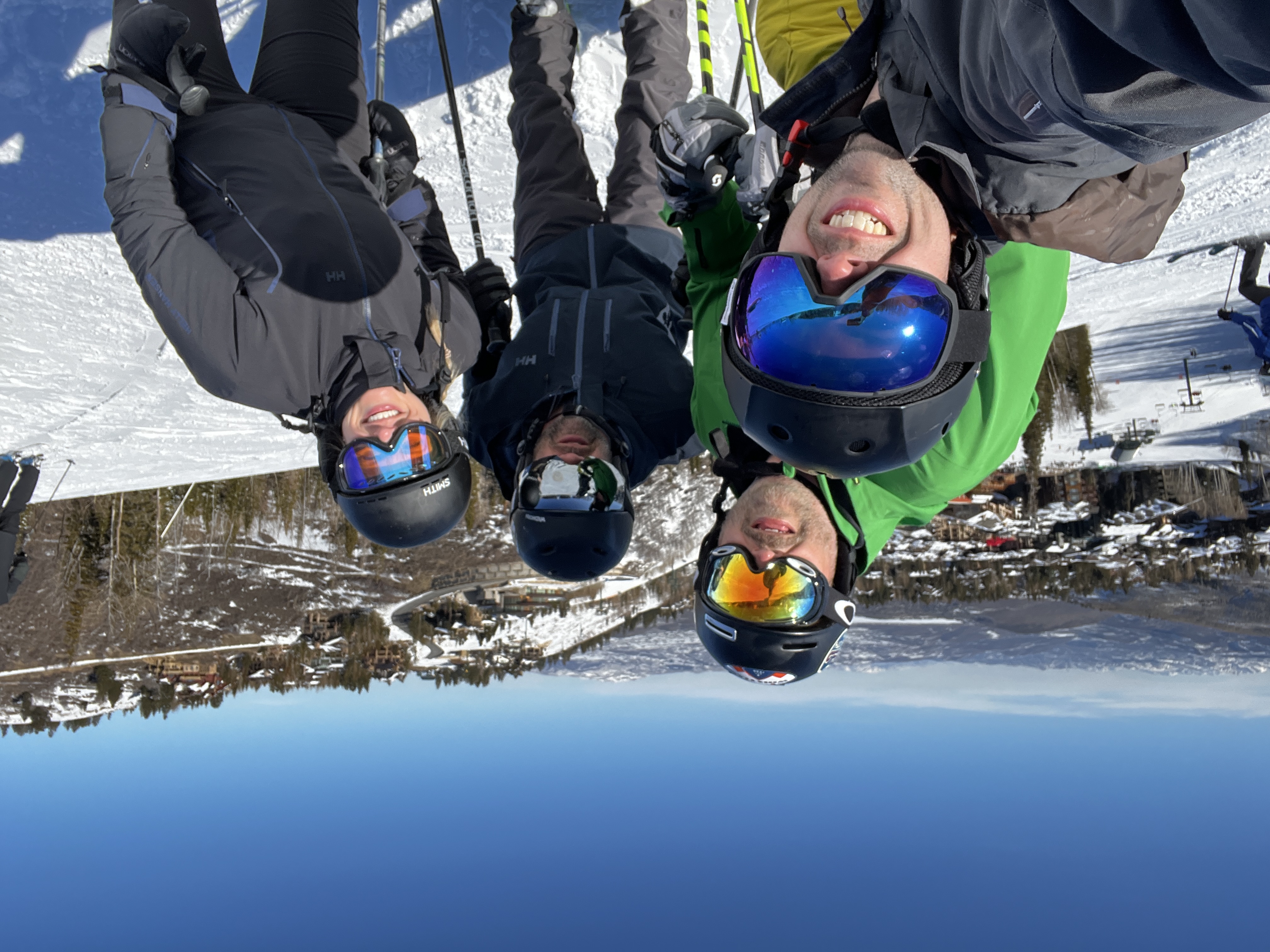 From the winter of 2014 through the winter of 2019, a group of four of us took an annual skip trip, starting in Vermont then expanding to the Rockies with Breckenridge and Park City, before moving internationally to Whistler. These trips became a great way for me to improve my skiing and get back into it after essentially stopping for a decade since leaving high school and the ski club I was part of there. It was also a chance to spend time and connect with a set of friends that started as the boyfriends of my wife's friends from work, and have since become some of my best friends.
But then, when the pandemic started, we had to postpone our annual trip for the first time. This meant no ski trip for me, though it did give a reason to start my twins skiing and we ended up going a few times that winter which turned into a full season pass and visits just about every weekend this winter. This year, with their kids nearing two years old and the pandemic feeling relatively in control, or at least our collective anxieties being in control, we decided to bring back the trip. Before we could even decide on a time or destination, the moms decided they would join in as well and we'd make it a group trip. Our fourth member wasn't able to join as his wife and he welcomed a daughter just in the fall, but the other two did and the six of us together met up in Park City.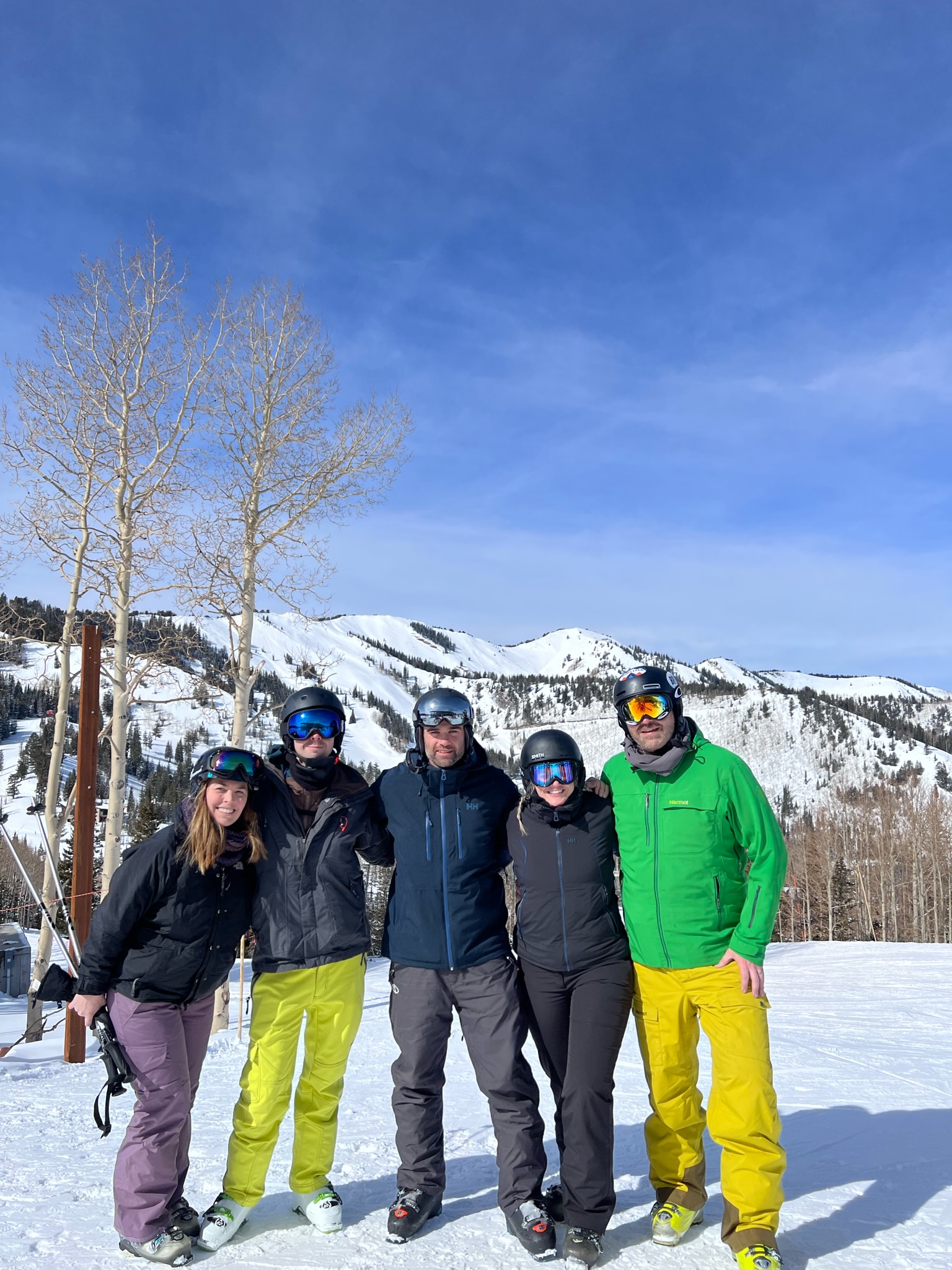 My wife and I were able to get away for the first time since the start of the pandemic on a plane and without any kids in tow last fall when we spent a few days in San Diego and Palm Springs soaking up the sun, hiking in Joshua Tree, and reading half of our public library's collection while lounging at the pool. This trip though, was the first such getaway for our friends without their kids, and they certainly enjoyed it. We spent three days skiing and one of the wives joined us for one on the slopes and the other skied all three days and felt similarly to my first ski trip, feeling noticeably improved over the course of the days, more comfortable on skis, and didn't want to stop.
We started the trip with a few hours in Salt Lake City after flying in there. Our flight was one of those where we expected that a few uninterrupted hours without work and kids would be so productive we've finally get through our entire todo lists. I made it about an hour into Dune before the wifi stopped working, read for a few minutes and immediately fell asleep. In Salt Lake City, we were able to leave our luggage, even the massive ski bag with my stuff at a UPS Store for the time we spent walking around downtown and seeing the sights of the city. We walked through the outdoor mall, saw the capital building, and even the Mormon Cathedral which was barely visible under the scaffolding during the renovations. Having done that in about an hour, we decided to stop in for some local coffee at Three Pines Coffee, incredible Mexican food at Blue Iguana, and then stopped in for a round of locally brewed beer at Bewilder Brewing.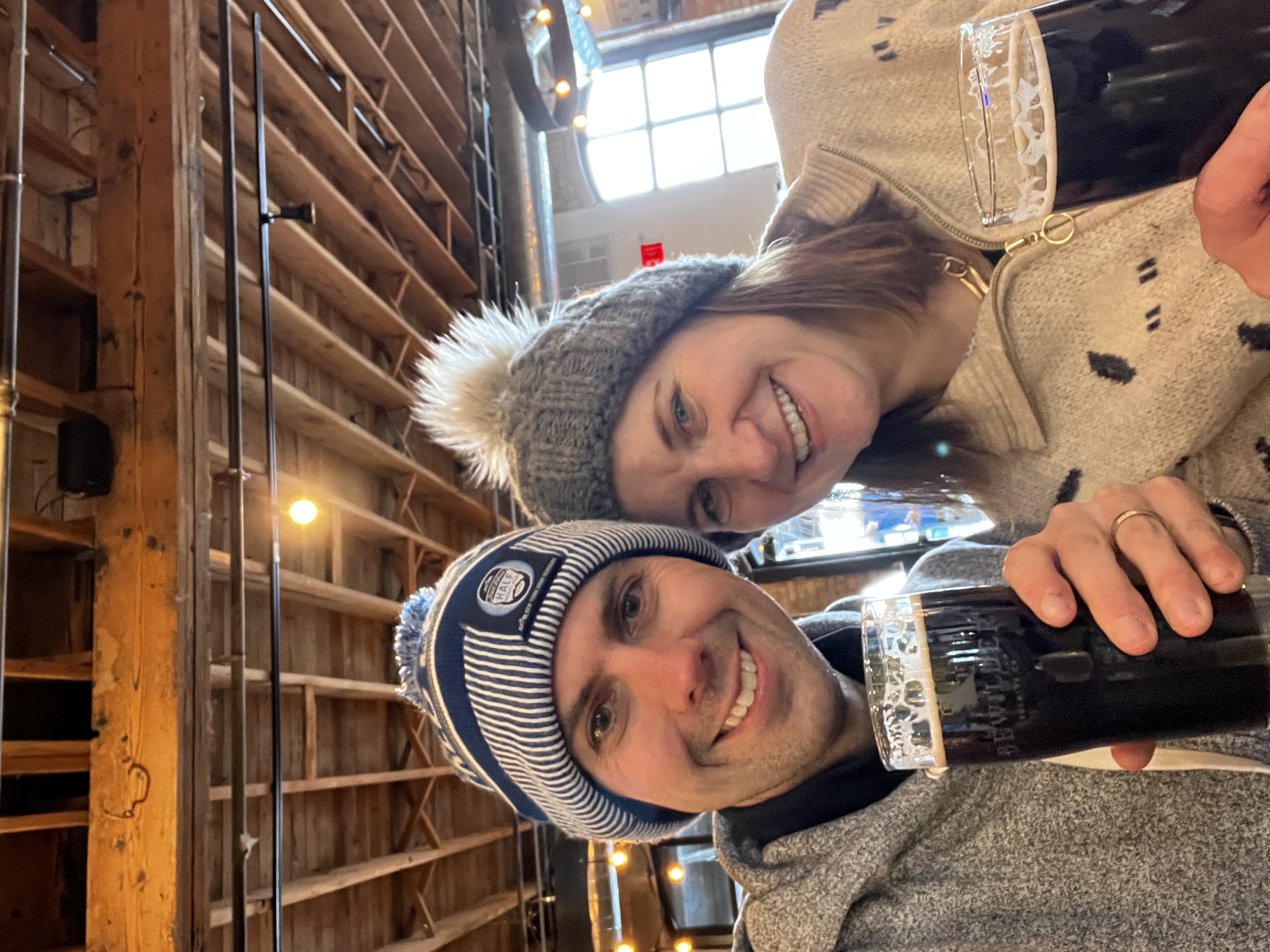 I may have overreacted to the elevation. On one of our trips out to Colorado, I suffered the whole trip from stomach and headaches due to the elevation. Heading to Utah, I vowed it wouldn't be the same, and I drank a ton of water leading up to the trip, during the flight, and once we landed. I had to run to the bathroom every hour, but I actually made it through feeling great. The worst effect was having a hard time catching my breath as we hiked up the steep path to the capital.
After that, we took an Uber out to Park City. It's only about a 45 minute drive which makes it one of the easiest massive resorts to get to, especially out west. Even with the flight, it was quicker to get there than the drive up to Stowe. I didn't remember much about Park City as that trip and our one to Breckinridge largely blended together. Once we got there though, I remembered the great old town with the stores, bars, and restaurants along Main Street and the incredible resort itself. Our first night in town, we went back to High West Distillery and restaurant. Eating in Park City was a pretty different experience staying vegetarian first than the last time we'd been there, eating at steakhouses and eating basically every type of wild game in the west. This time, I went straight to the wild mushroom ragout and did not regret it, especially not having meat sweats the rest of the trip.
I forgot just how enormous and sprawling Park City Ski Resort is. There are hundreds of trails and it spans what used to be separate resorts of Park City and The Canyons with a gondola that connects the two areas. You can ski across the whole thing and it takes hours. It's impossible to explore the whole mountain but there are so many different areas with unique terrain and difficulty levels that we ended up finding a spot we liked and hanging out there for hours. The first day we stayed in the Park City side which was easy for us to get to thanks to the lift that goes right into town and up onto the mountain. There's also a trail that ended right behind our AirBnB for easy finishing of the day and quick access to the apres ski experience. The second day, we journeyed over to the Canyons side where we skied through multi-million dollar houses with slope side access and through the canyon ravines.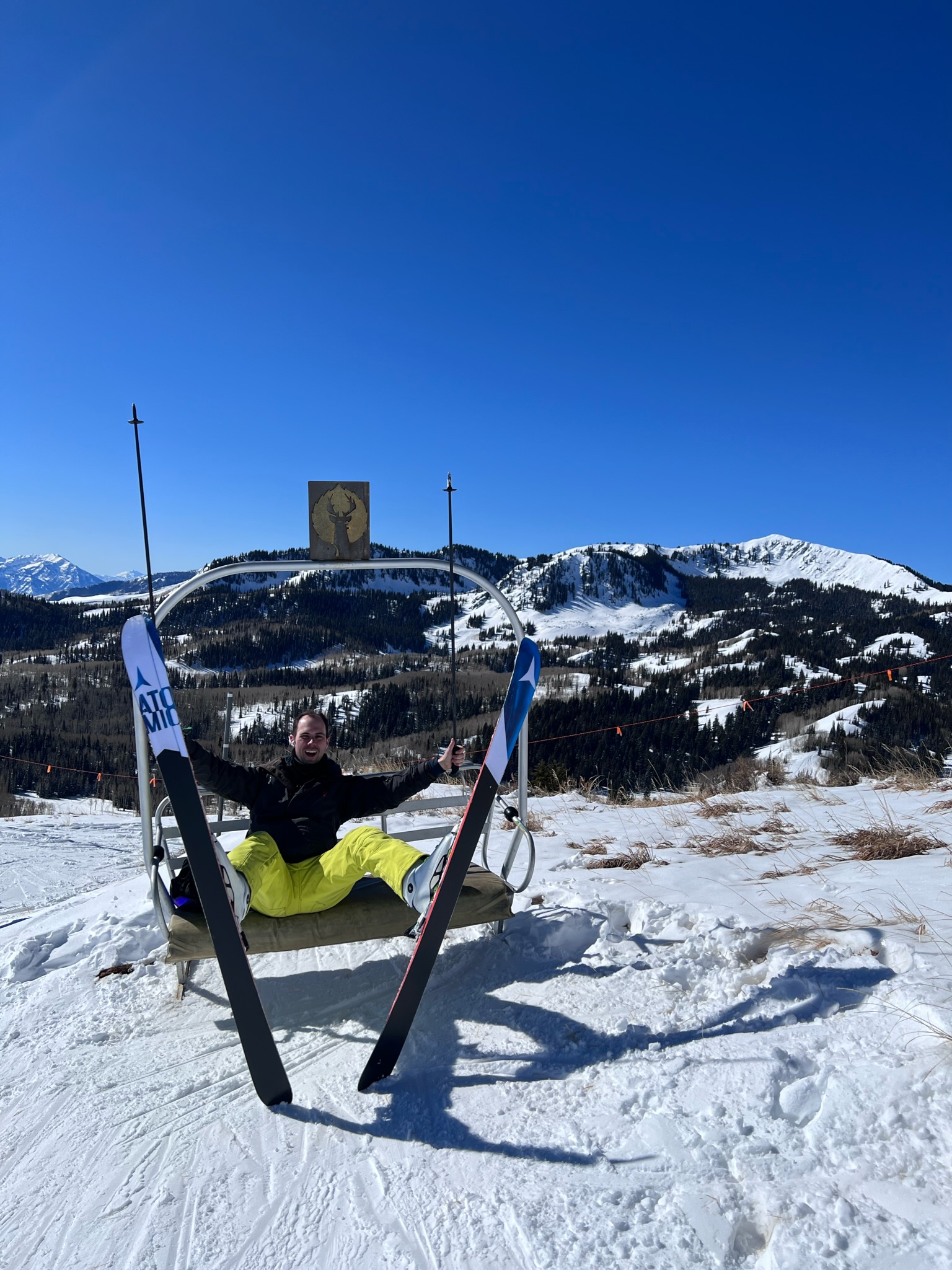 Thanks to my skiing with the twins this year, I felt more in control and comfortable on the mountain than ever before, so I tried out more black diamond runs and a few bowls. On our first day, while my legs were still in good shape - thanks in no small part to the focus I put on Peloton leg workouts - we hiked up to the Jupiter Bowl, apparently an area famous with expert skiers as one of the best bowl areas in resort boundaries. Sure, I freaked out a bit at the top and took a solid 20 minutes to go about ten feet, but I got down and have eternal bragging rights for doing it.
The bigger challenge actually were the ungroomed trails. The Rockies didn't get as much snow as normal this year - or any in the past several - and actually opened late this year. As a result, many trails have been left ungroomed to preserve the snow, leaving big bumps and moguls. While we eventually realized that the trail lift app showed which were groomed, a few early runs ended up with surprises when a black or blue run abruptly became a major leg crusher to get through. Thankfully with so many trails, we were able to stay clear later on and stick to the groomed trails we prefer.
Initially, we had only planned to ski two days at Park City and use our third to relax and explore town. After two amazing days of skiing, we decided we had to try out Deer Valley since it was so close and so highly rated. As a true luxury resort where only skiers are allowed, no snowboarders, we figured it might be our only chance. While the most expensive single day ticket I've ever seen, it was worth it for a top notch experience. Not only is the resort huge and well staffed, even the grooming stood out and it offered a good mix of difficulties for us. On top of the great ski runs, we loved the food and drink options and it helped that we had perfect weather with not a cloud in the sky and temperatures that reached the high 40s by midday. While I feel like we got to most of the resort, we also had tired legs and took a leisurely lunch break at the St. Regis, enjoying a decadent meal of oysters, lobster rolls, and bloody marys and rose while sitting outside in the sun with a firepit and even heated lounge chairs. The bill made the lift tickets look cheap, but it was a fantastic bucket list experience and capped off a perfect day skiing.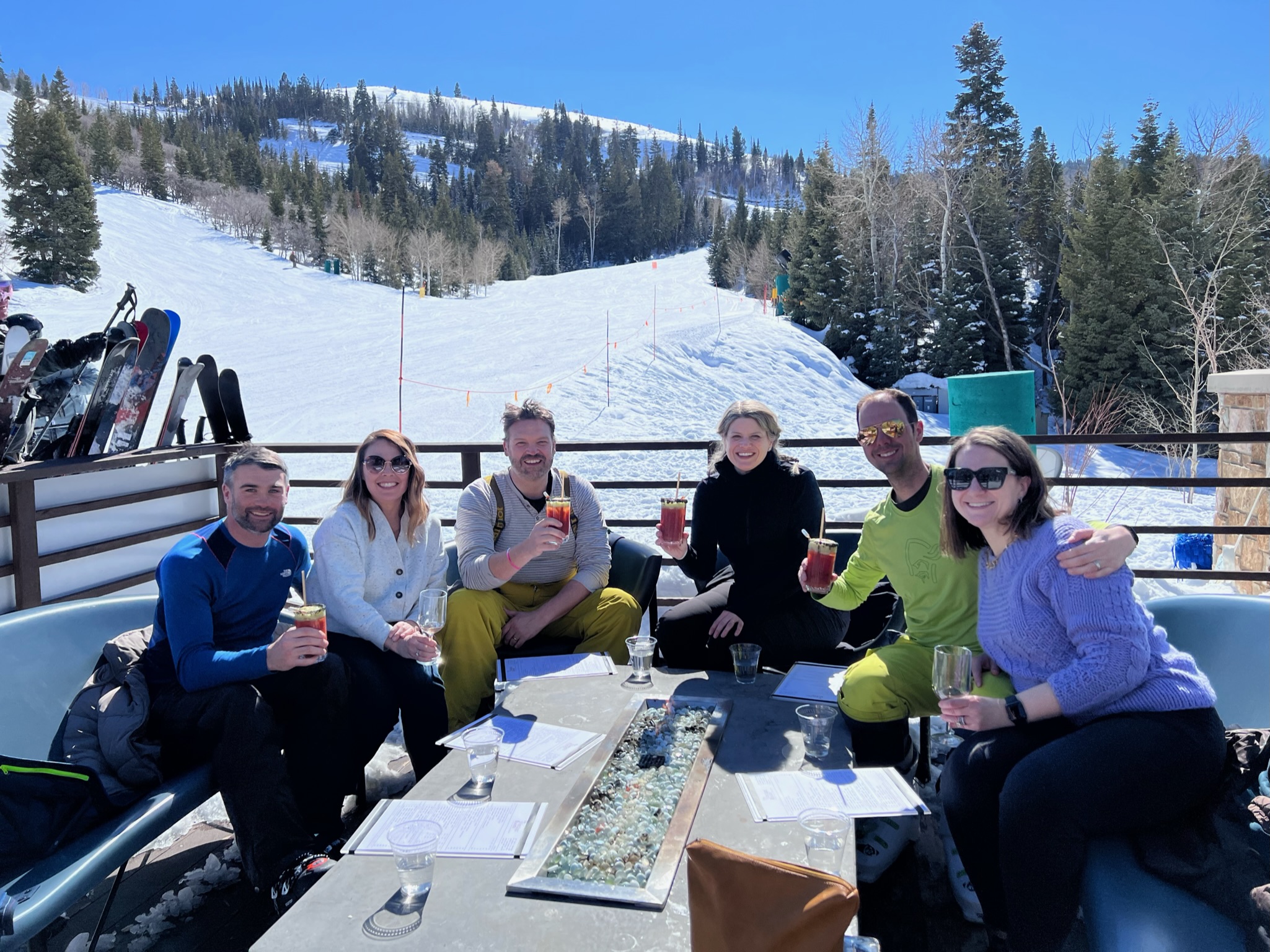 Outside of our over the top lunch, ok, shotskis may have also been involved, we actually seemed to have grown up and made adult decisions on the rest of the trip. One night, we all felt pretty tired and decided to order pizza and thai food in rather than go out for another 8:30 dinner reservation. I think we were all in bed by 9. Did I mention we're all parents now? We also didn't go too overboard with extravagant meals or drinks and ended up bringing some local wine and beer back to the AirBnB instead of staying out late in the town. We only had one real visit to the local dive bar, and even that was right after our skiing wrapped for the day and we sat up on the rooftop enjoying the weather. Clearly we've become more responsible in our old ages.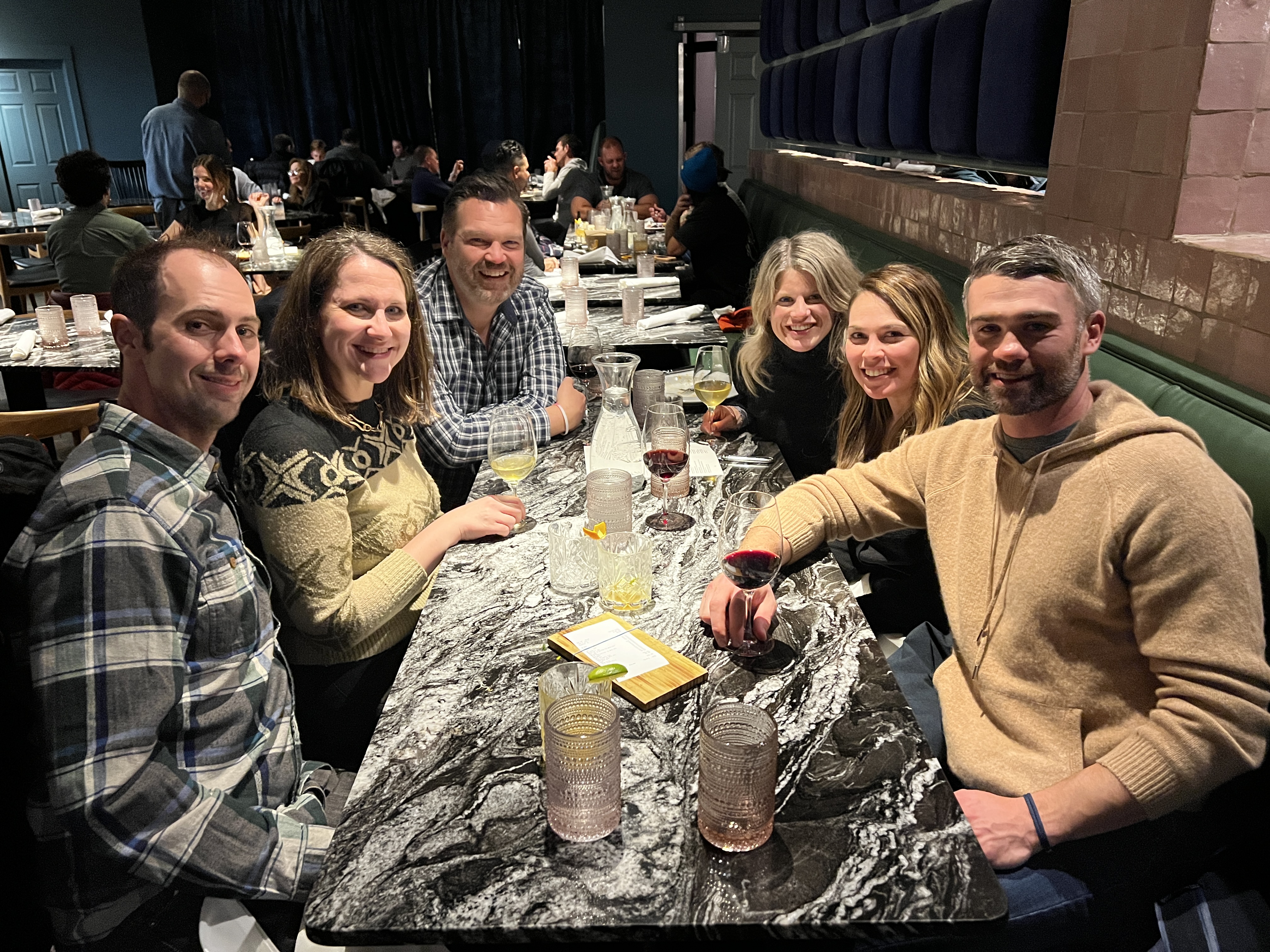 The time in the apartment rather than out all night also gave us a chance to actually talk and relax together too. We caught up after not spending much time together throughout the pandemic and shared parenting stories and challenges and were able to share our own tips and tricks with each other. We talked about the unique challenges of raising kids through a pandemic and how strange it is that most of our kids don't know a pre-pandemic world. Together we also started to get through our collective anxieties about the pandemic and the trip was an opportunity to practice feeling comfortable again in both big public spaces and closer together in smaller spots. It was also just a great opportunity for all of us to unwind and not worry about keeping other human beings alive and growing for a few days. It was also a chance for me to get to know the moms better and spend time with them on the slopes where I couldn't believe how well they did without the benefit of the past few years skiing. It was great to have an activity we could all share and have reasons to get together and enjoy the scenery, the outdoors, and the incredible weather.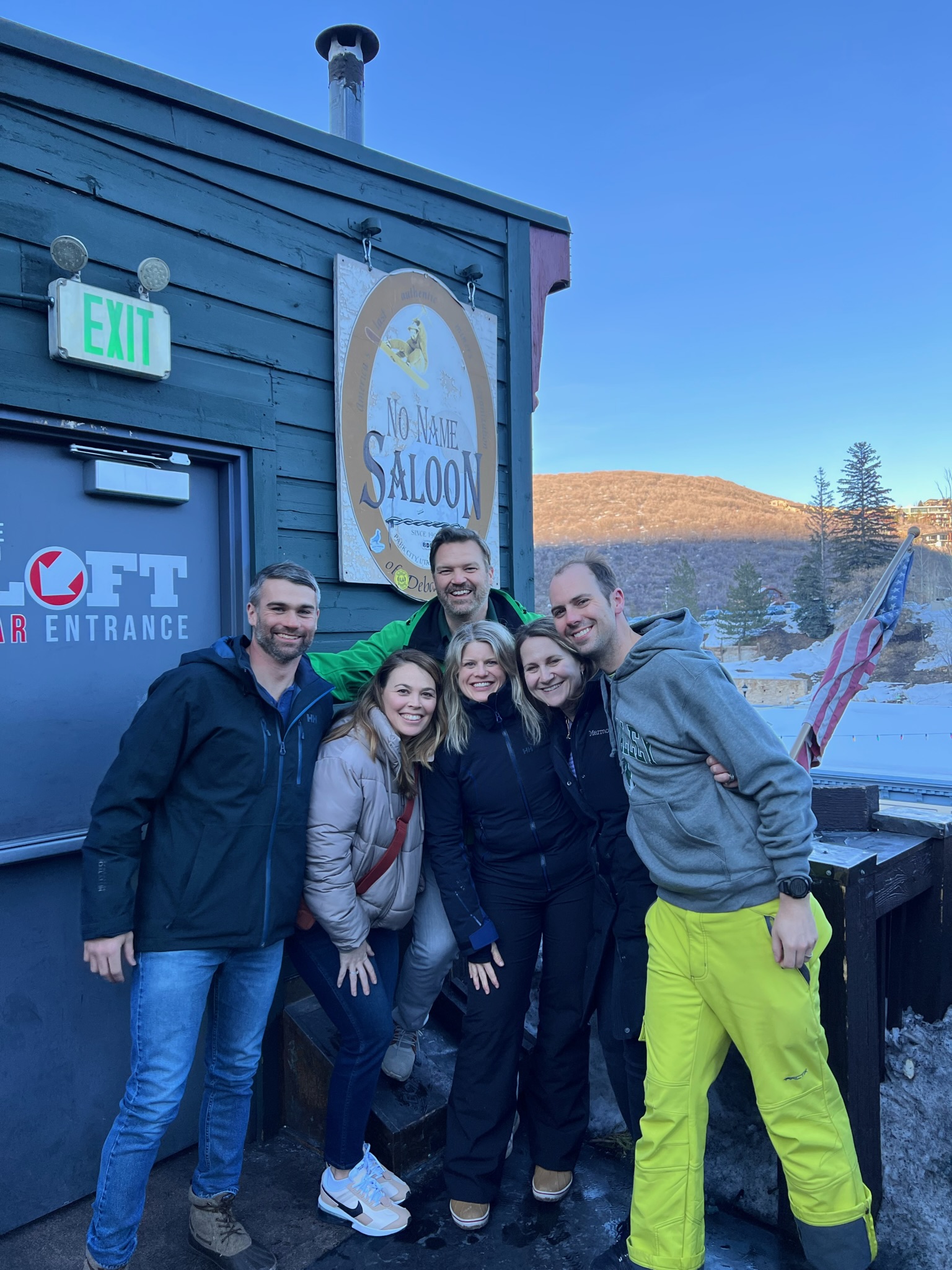 Our parents' trip to Park City turned out to be the perfect trip for us to unwind a bit after a tough couple of years as well as a necessary relief from the pressures of parenting. As much as we all love our kids, and as much as I honestly love skiing with them both at our local slope on the weekends and on our destination trips like this year's to Stowe and our upcoming one to Colorado, it was also nice to have an adult trip where we could hit the slopes harder and do our own thing. It was also finally an excuse to go out and enjoy a meal or get drinks without having to worry about sitters and times and everything else that prevents us from doing it regularly at home. It was also the perfect chance for us to connect with our friends and fellow parents and hear that we're all just doing the best we can in impossible circumstances. I can't wait to go back.