A wonderful winter getaway with family to Stowe
- 9 minutes read
- 1778 words
Over Presidents' Day Weekend, we took a family trip to Stowe, Vermont to meet up with our friends and take in some winter activities with our kids. We took a similar trip last year, but with the boys a year older and the twins massively improving in ski ability, we spent even more time on the slopes and exploring the whole mountain. We also had the extra time to get around town and the Village for some skating and of course hanging out at our VRBO while sledding and relaxing. It was the perfect way to spend a winter long weekend as a family and reconnect with friends that moved further away during the pandemic.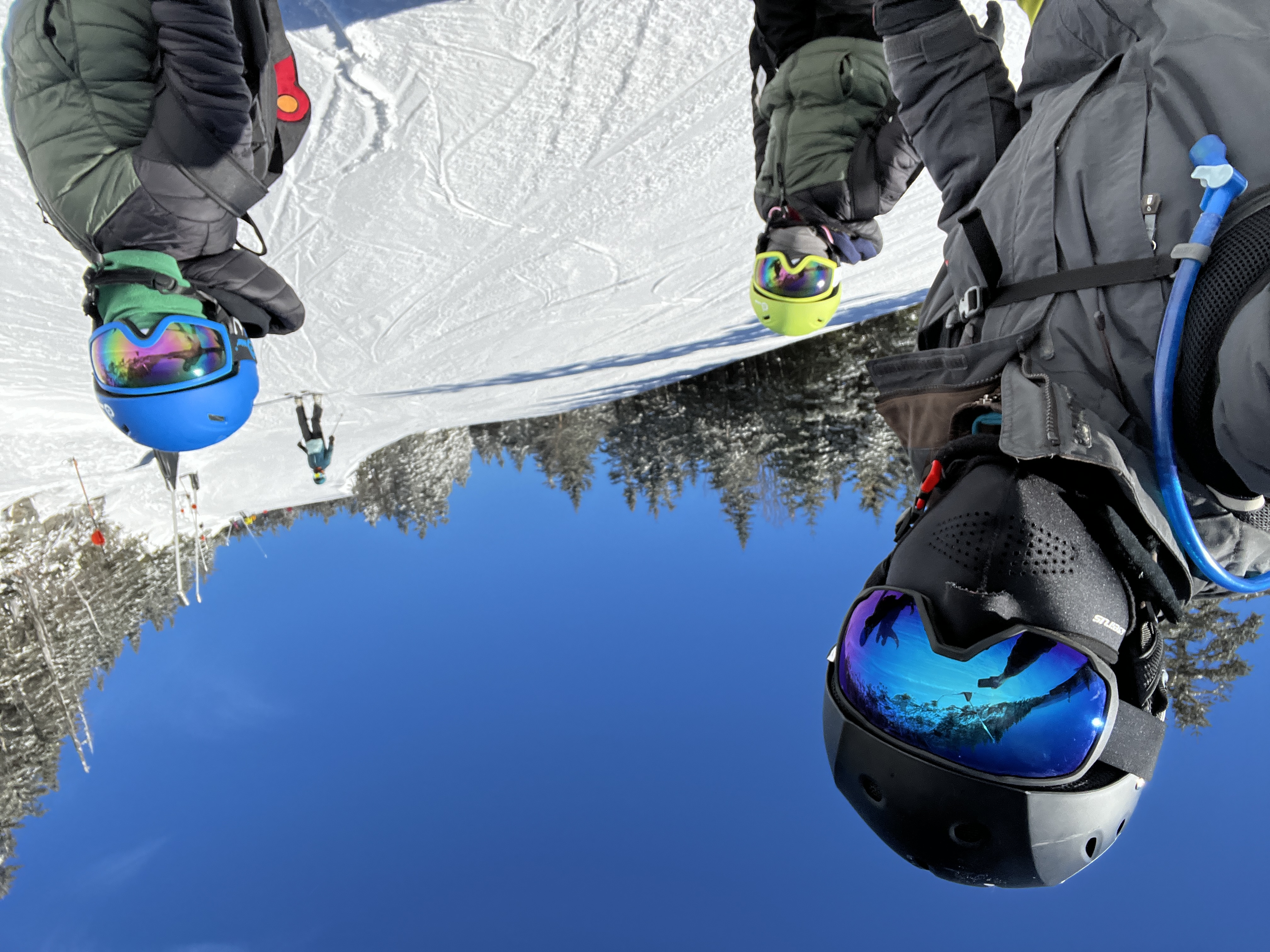 This is our fourth time visiting Stowe now. The first time, before kids, we went up briefly from Burlington for the day in the middle of the winter in our rear wheel drive convertible. It was fine for most of the trip until a road closure sent us on an unpaved, unplowed back road where we got stuck spinning the tires while every local looked on in horror at the city slickers from NJ in the convertible. Our second time was with the kids during the fall for leaf season and we fell in love with the breweries, restaurants, and shops in town and the hiking trails just outside. Our third, and first ski trip was last year and we took lessons at Smuggler's Notch and spent two afternoons on the bunny hills at Stowe.
We knew we wanted to go back this year as Stowe is the perfect East Coast ski destination, especially with kids. It gets some of the most snow in the east, even during down years, and because of the further distance from Boston and New York than other Vermont ski resorts like Okemo, Stratton, and Killington, it stays less crowded. There's also a gondola which I thought might be a necessity as the boys didn't have any experience riding chair lifts when we booked it before the season. However, I started to question our choice after numerous reports of horrendous traffic and lift lines thanks to Vail which now owns Stowe, overselling tickets and understaffing the resorts.
In reality, I didn't need to worry about either of these concerns nearly as much as I did. We ended up getting season passes for our local ski mountain, Mountain Creek this year and before going to Stowe had probably visited at least six times. We got up the mountain on the gondola which was far easier for me with two kids than lifting them onto a lift. On one occasion when freezing rain kept the gondola closed and pretty much everyone away from the mountain, we used the chairlift several times and the practice definitely helped me get used to lifting them up and them get used to loading and unloading. By the time we got to Stowe, we were fairly good at getting on and off.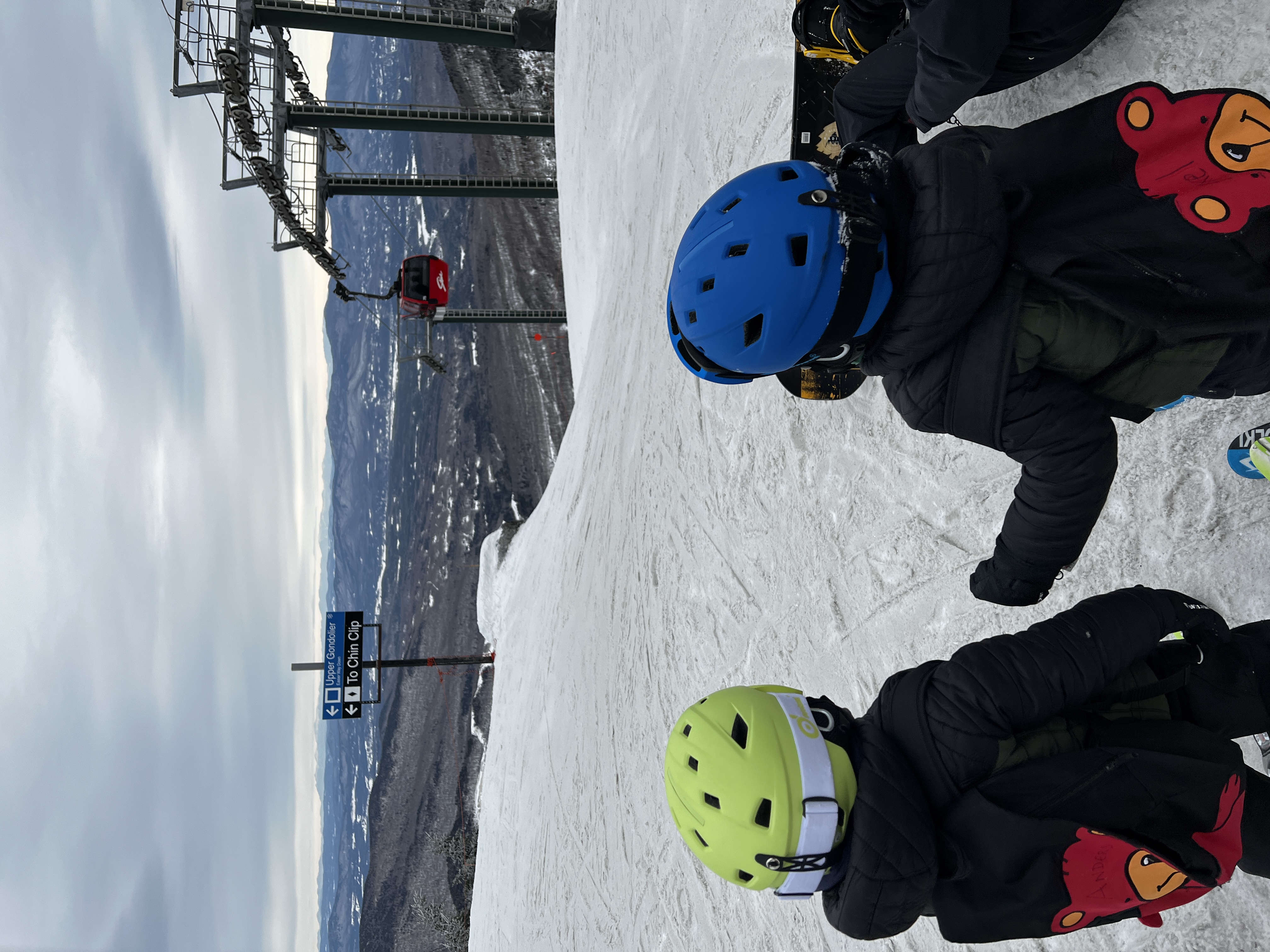 We arrived on Thursday night and skied on Friday and Sunday. Friday the mountain delayed opening due to high winds and freezing rain overnight so that all but one lift were closed for the day. This meant a horrible lift line even though it wasn't that crowded. It also meant we didn't explore much of the mountain. Even with the late start, we didn't make it the full day because the boys were tired from the long drive and late arrival the previous night and cold from the snowy cold weather. After a major meltdown, we headed back home after only making three runs.
On Saturday, rather than push them to spend another day on the mountain without enough rest, we had a relaxed morning at the rental house with a fantastic home cooked breakfast, some cartoons, and catching up with everyone. Our friends who had moved from Philadelphia to Denver last year flew in to hang out with us and join our skiing, so even with the eight plus hour drive on the way up, we had more time to talk and hear about their plans for their new house and upcoming delivery of a VW ID.4. We had split up into both cars for the drive up, so taking the Tesla gave a good opportunity to experience charging during a road trip and lots of discussion about the various charging networks.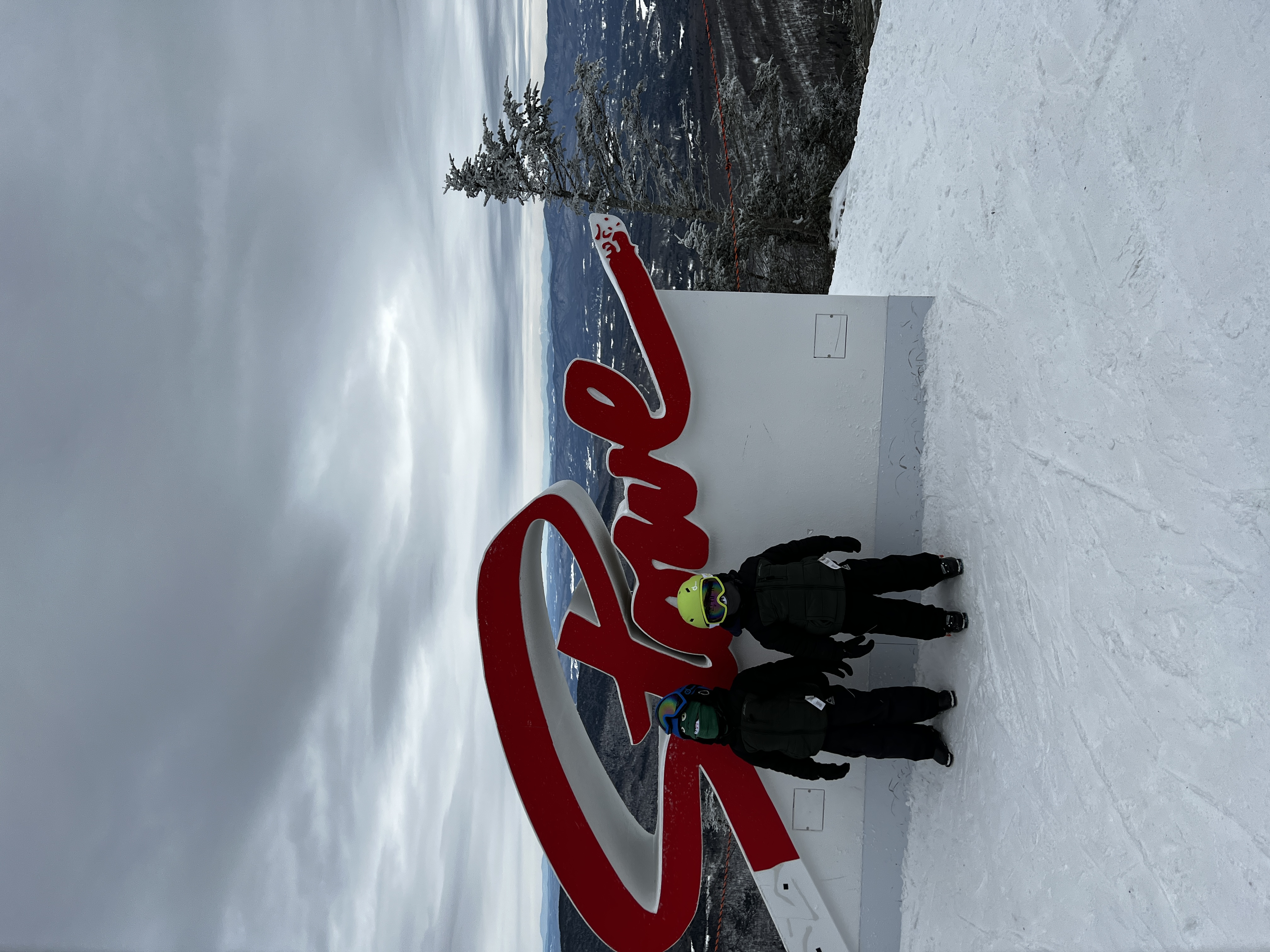 That afternoon, while the toddler napped and took a break from running around trying to break everything in the house, we took the boys out to sled down the massive hill behind the house with the sleds the owner left for us. The boys loved racing down the hill against the adults, especially when we broke a plastic one that probably wasn't designed for adults, and ended up sledding down on increasingly small pieces of plastic. After an hour getting closer and closer to the street as we rode further and further in the fresh snow, everyone started getting cold so we went back in to warm up and get ready to go ice skating.
We had been looking forward to skating at the awesome outdoor rink at the base village at the resort. The twins have been taking lessons for the past year and love skating with us. All the time we've spent skating with them has also helped us get better. We also brought the practice skates they first learned on to try to get the toddler on the ice for the first time. None of it was to be.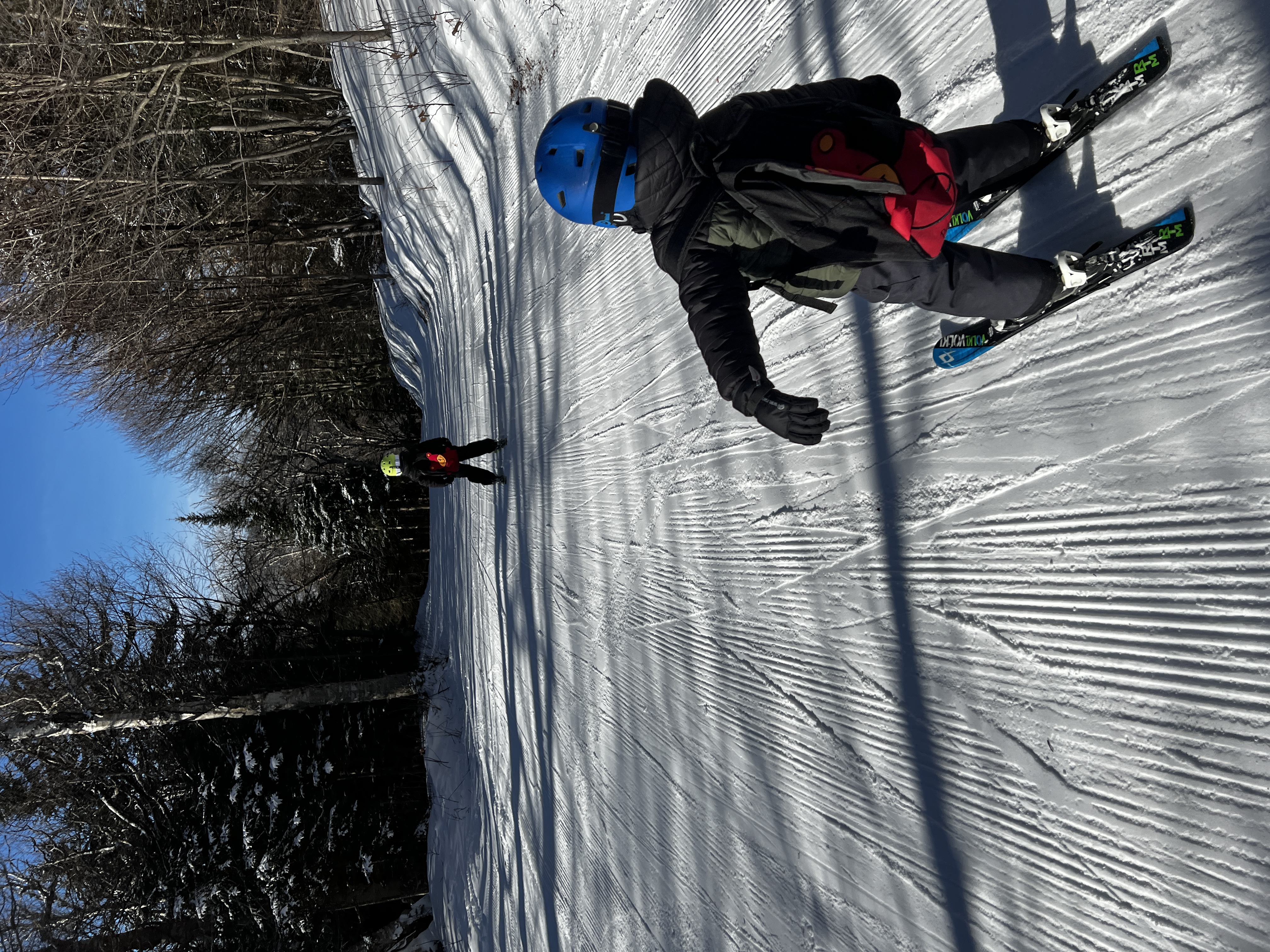 We arrived and couldn't get on the ice immediately as there was a figure skating performance. While the boys loved it, waiting for them to clear the ice meant standing around and getting cold before we could get ready. By the time we got on the ice they were already complaining about being cold and after about two laps were in full tantrums. The toddler refused to leave the stroller. All in all, we got about five laps in together before we had to bail and head back to the house.
At least we were able to pick up some beverages for the adults at Alchemist, Stowe Cider, and Lost Nation Brewing. These pickups have become some of my favorite parts of the trip up thanks to the incredible beer and cider from each. Last year we picked up so much that we were only just finishing it now before heading up. We went a bit less crazy this time but still got about a case of the great selections from each and sampled the entire collection at night.
On Sunday, we hit the slopes again for a regular and full day of skiing, first chair to last chair. We took more regular breaks, just about between each run since the routes we found this time when everything was open took us 20-30 minutes to come down compared with the 5-10 they are used to from our local mountain. This kept energy stores up and prevented them from getting cold. We didn't explore a ton of the mountain as we initially found a trail that winds all the way down through trees for miles and the boys didn't want to do anything else because they liked it so much. The only thing that got them to mix it up was riding the gondola which we did right before lunch and for our very last run of the day. That side was much more challenging and I was so impressed that they just bombed down the slope without even giving it a second glance.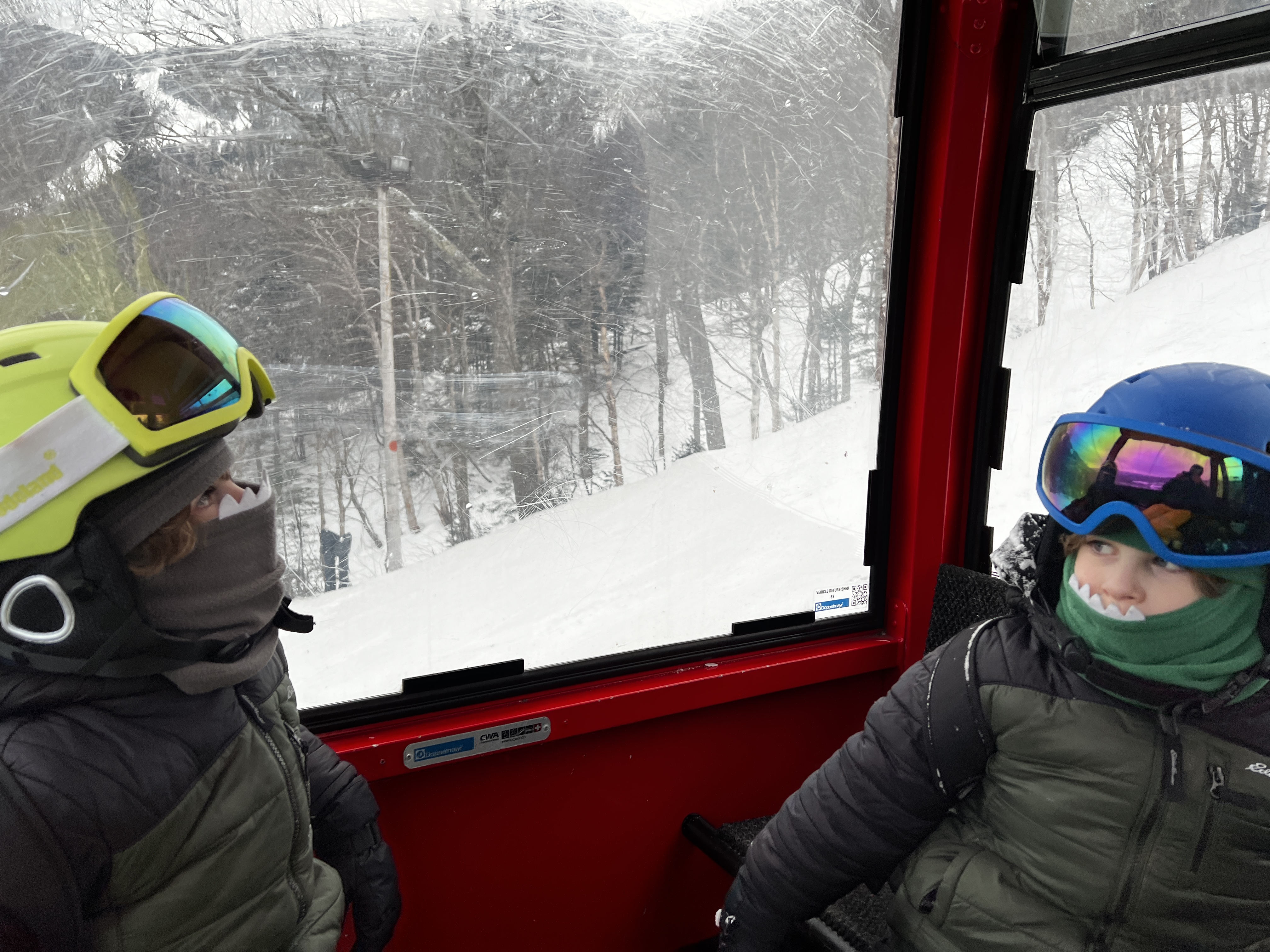 From kids that could barely make it down the bunny hill a year ago, I couldn't believe how comfortable they were with the bigger mountain, running down some fairly steep blues and long greens, racing each other like they are in the Olympics, and even braving the side trails for jumps and bumps. Even after taking on a far too aggressive one for them and both falling in the exact same spot, they were happy to give the immediate next one a try and bounded over it no problem. I even tried to exemplify some of their bravery and went down two off trail sections with moguls to show them how.
The breaks also gave us an opportunity to grab some drinks in the lodge and warm up and relax while we caught up more. Our one friend skied a bunch with us, but wasn't as comfortable with the longer blue runs, so we met back up in the lodge for snacks and drinks. After the days of hit and miss activities and meltdowns, it was great to get a day skiing pretty much exactly as I pictured for our family trip and the weather even cooperated with a blue sky most of the day. It turned out to be pretty close to the perfect ski day I imagined even before the boys were born, sharing family vacations to various ski towns around the world and enjoying each other's company all day. Now we just need to get their mom and younger brother skiing too.
That night, we met up for dinner at a restaurant which almost felt like the first time we were all together and not rushing to do something together for the entire trip. We'd been split up for the drive and for skiing, and the only time we were all together was when the boys were sleeping. Dinner was a nice way to slow down, get some good food (and of course drinks since it was at a brewpub), and debrief on the day and our adventures on the mountain. After a day on the slopes everyone was starving and thirsty, so we had a great evening meal before heading back to put the boys to bed and watch the Olympic Closing Ceremony before heading back home on Monday.
Our family trip up to Stowe may have had ups and downs and there were points when I was ready to give the boys away and lose it with them, but that seems to be exactly how doing just about anything works with five year olds. At least we were able to enjoy the moments between the meltdowns and they got fewer and farther between as the weekend progressed. We had one of the best days of skiing ever and made some incredible memories on the mountain, hitting jumps, and laughing with each other the whole time. It wasn't all perfect, but it was exactly what I hoped our family trips would start to resemble. Stowe made the perfect destination for our family and I can't wait to go back next year.