Re-doing my Tesla ski trip drive to Vermont, three years later
- 8 minutes read
- 1641 words
Back in 2019, a year before COVID turned the world on its head and before the EV renaissance kicked into high gear, I took my then six month old Tesla Model 3 (standard range) up to Vermont for our annual guys' ski trip. At that time, it was the longest road trip I'd taken with the car, the coldest it had been, and there was still a lot I was figuring out with driving an electric car. In February of 2022, I took the car back up to Vermont for our family ski trip and found that the experience was considerably different thanks to a bit more planning ahead, more knowledge about optimizing an electric road trip, and the growth in the charging infrastructure, especially up in Vermont.
Back in 2019, the trip overall went well, but I made two key mistakes. First, while I made a nice stop at the Tesla Supercharger outside of Albany and discovered the restaurant I'd end up visiting on another trip and once more on the recent ski trip, I only charged as much as I needed to get to the destination rather than leaving more in the bank to drive around and get back. Second, I didn't do any research on charging at the condo we were staying at, or even in the nearby area, and hoped I might find a plug somewhere. While not in my control, the weather was also extremely cold the whole time we were there which ended up reducing the range of the batteries and depleting energy overnight to keep the batteries from freezing over.
As a result, I spent parts of the trip anxious about remaining range and how I'd get back home. While the town of Stratton had a set of ChargePoint level 2 chargers (slower than Tesla Superchargers but relatively quick compared to a home plug), they had only just been installed and were not yet operational. Instead, I had to drive 40 minutes each way to a charger out at a café off the highway to get topped off. The drive to and from also meant that I had to charge even more to account for those miles. I also had to stop in for almost two hours at this charger to get enough charge to make it to the next Supercharger on my way back home, adding to the fairly long drive.
It ended up being a good trip to learn about the car and owning an electric vehicle, though it was a bit stressful. Taking the family SUV would have been easier, though wasn't really an option with the kids at home. The trip helped me learn how incredible and what a competitive advantage Tesla's Supercharging network is, and how much cold affects the charge and range. I also learned how nice having the weight in the very bottom of the car, well balanced across the wheels can be in the snow, even with the two wheel drive of the standard model I have. Most importantly, I learned that taking the extra 10-20 minutes to charge to 100% instead of 70-80% is absolutely worth it when not exactly sure of the next stop. Lastly, I learned that seeking a place to stay with a plug, even to trickle charge to keep a charge baseline may not be strictly necessary, but it can certainly help.
This time, we had no choice but to bring two cars. With our two friends visiting, we needed to take both the three row SUV for the kids and to hold all our ski stuff and luggage, and the Tesla for enough room for all of us. This time though, I planned ahead more. When booking our accommodations, we knew we were going to need a larger spot a bit outside of town, not the typical condo setup these trips usually relied on. This opened up the potential to find a spot with a garage and a plug. While there were not options specifically with wall chargers or 240 plugs, the place we found did have a normal 110 outlet in the garage. This meant that the car could charge a few miles per hour and maintain more of the charge as it would stay out of the freezing temperatures. I was expecting maybe a best case charge of 1-2 miles charging per hour, but it actually turned out that we got 6, allowing us to keep the car about 100% charged each day.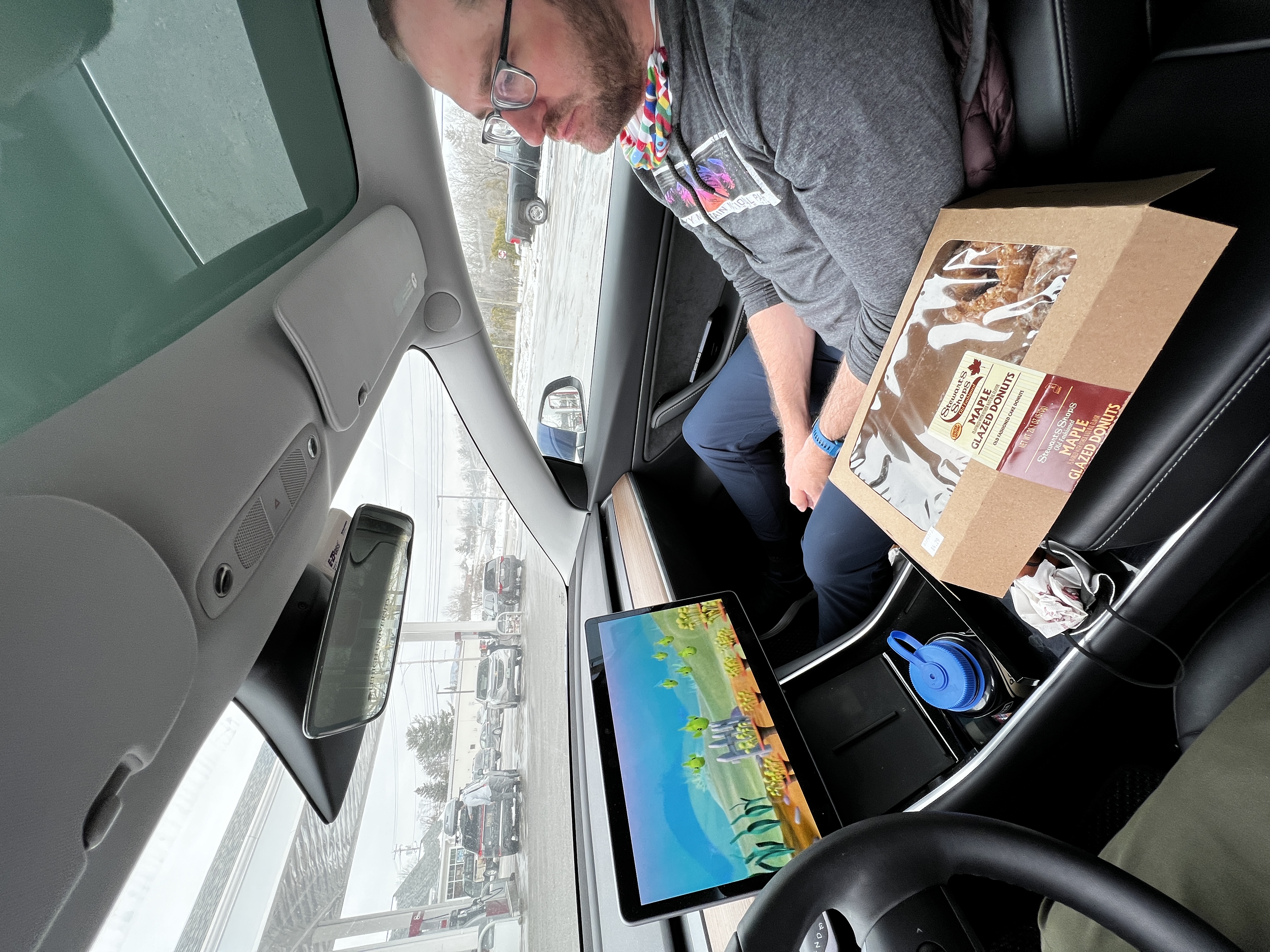 The biggest difference from three years ago though was how much the charging infrastructure increased. Tesla added a faster Supercharger outside of Burlington, VT within 40 miles from Stowe, and with a 200 KW charger, compared with the 100 KW at the older stations, I was able to completely charge the car faster than we were even able to get food and pay the bill. We made our first stop at the same Albany charger and restaurant again this time for some food and also had to rush out as the car finished charging. That was more than enough to get us to Burlington where we charged back up fully again to have some juice in the bank.
It was interesting to see the difference in charging station locations. In the three years I've had the car, I haven't taken many long road trips where charging was required, so I haven't seen that many Superchargers. However, the ones I have seen seem to generally be either at more traditional gas station or travel center locations or at malls. On the way up, both stops were at mall locations. This was on purpose as they gave a chance to get out, stretch, and eat while charging. While I probably didn't need it for myself, we would have needed to stop with the kids at least once anyway, so charging realistically added almost no time to the drive. The newer station was interesting as it war further than a main highway than I expected, built in a brand new development next to a few restaurants and a hotel. I can see more and more stations coming to locations like this in the future as it provided a good mix of options to kill some time while charging. The faster charger though meant we had less than 40 minutes to completely charge to full.
On the way back home, the stops were at a gas stations. It gave a chance to stop for bathroom breaks, and grab a snack, but not much else. The second one at least had an interesting plant based burger stand across the street which we would have never discovered otherwise. This is one advantage of stopping for charging, the chance to get a bit further from the highway and discover places you wouldn't otherwise. I'm sure this is a huge factor in building out the charging networks as a location next to 20 Tesla chargers is likely to be good for business. Instead of eating, it gave us a chance to watch some Netflix through the large screen in the car. The boys loved that we were able to watch Octonauts while parked, though I did have to tether to my phone for service because I don't pay the $10/month for car connectivity. They loved it so much in fact that they didn't want me to leave once we were charged. Since we were heading home and I knew we could charge back up there, I didn't have to fully charge so each stop was even faster, somewhere around 20-30 minutes which felt very quick after going to the bathroom and stretching out.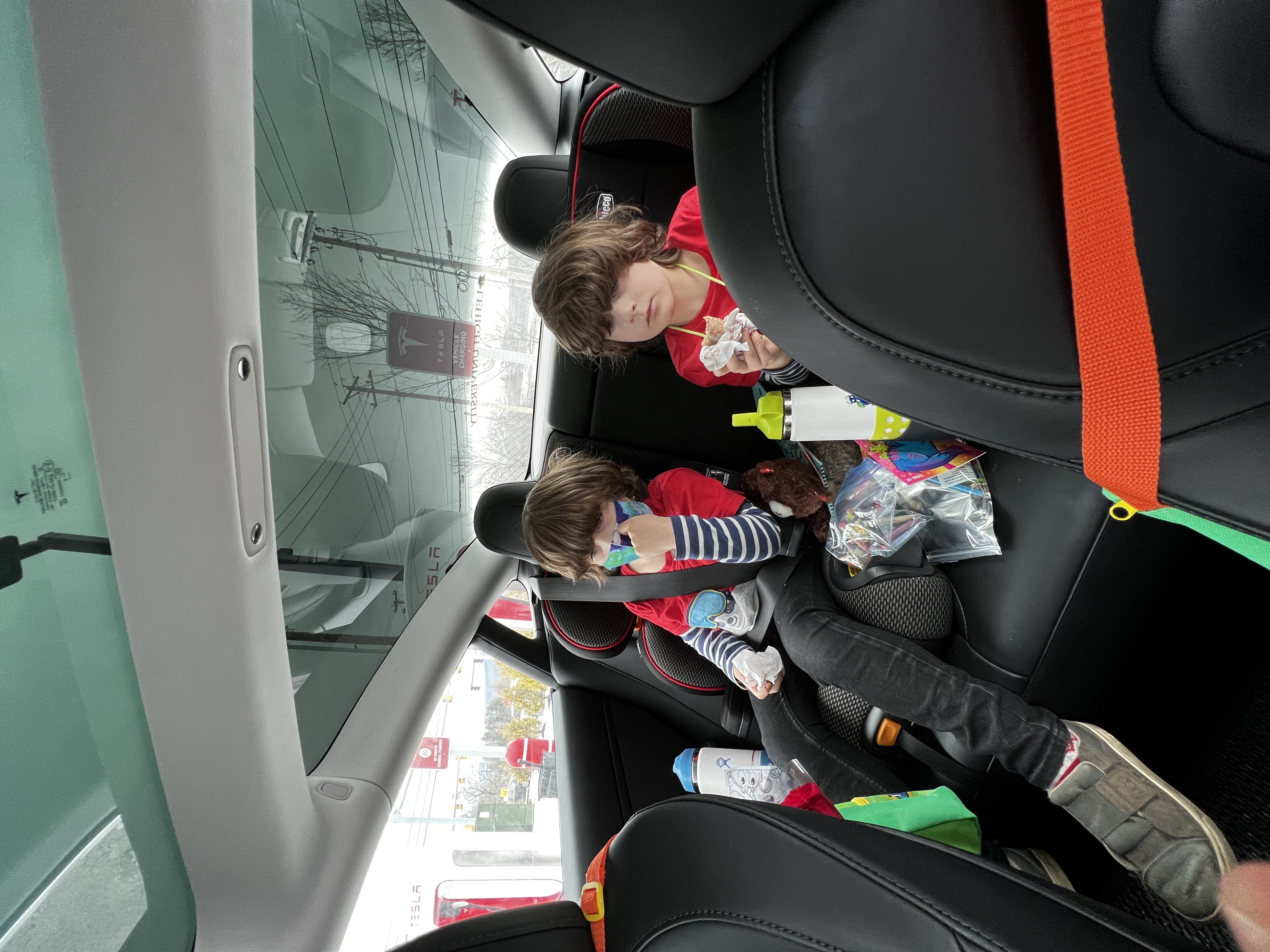 Up in Vermont, it seemed like there was a charger just about everywhere we went. While we mostly relied on the SUV to get to and from the mountain with five people and sets of skis, had we taken the Tesla, we could have even charged at the resort. There were also chargers at several restaurants, Alchemist Brewery (which is worth the drive to Stowe alone), Ben & Jerry's, Vermont Artisanal Coffee, and at the town municipal center. Most were free or very cheap, and all were at least level 2 chargers. Had we somehow run low, there were no shortage of easily accessible chargers in the area.
The way up to Vermont is quickly changing and adapting to what looks increasingly like an EV world. Many of the highway rest areas have either Tesla chargers now or public chargers. NJ seems to be adding them to just about every rest stop. New York already seemed to have them in most. While the regular public chargers aren't as fast as the Tesla ones, it's still an important step to drive adoption and make trips feasible for non-Tesla owners and to provide a halo effect to encourage more EV buying. With the Infrastructure Bill's passing there should be even more non-Tesla chargers springing up throughout the country as well, making it so that my next trip could feasibly be with a Mustang MachE or maybe a Rivian.
The EV industry has changed a ton in three years, but this road trip to Vermont was the clearest indication to me yet of just how far things have come in three years. While it still feels like we're in the very early days right before an inflection point for Evs, the excitement and overall trend pretty clearly indicates that the only place for the electric vehicle industry to go is up. With chargers popping up in numerous key spots along the drive and up in the ski resort towns, it's easier by far now than it was three years ago to take an all electric ski trip with a little planning. If this trajectory holds, in three more years it might be easier to take an electric car than a gas powered one.