Three years and 25,000 miles later, I'm saying goodbye to my Tesla
- 10 minutes read
- 2069 words
In 2019, I had just started working in New York City again, reducing my driving from around 60 miles a day to under 5. In a world pre-COVID and where I was in the office almost every day, my choice in car felt incredibly important. Tesla had finally become established enough that it didn't feel like a huge risk for me to order one, and with my BMW 3 Series lease ending, it was time to try going electric. I'll never go back.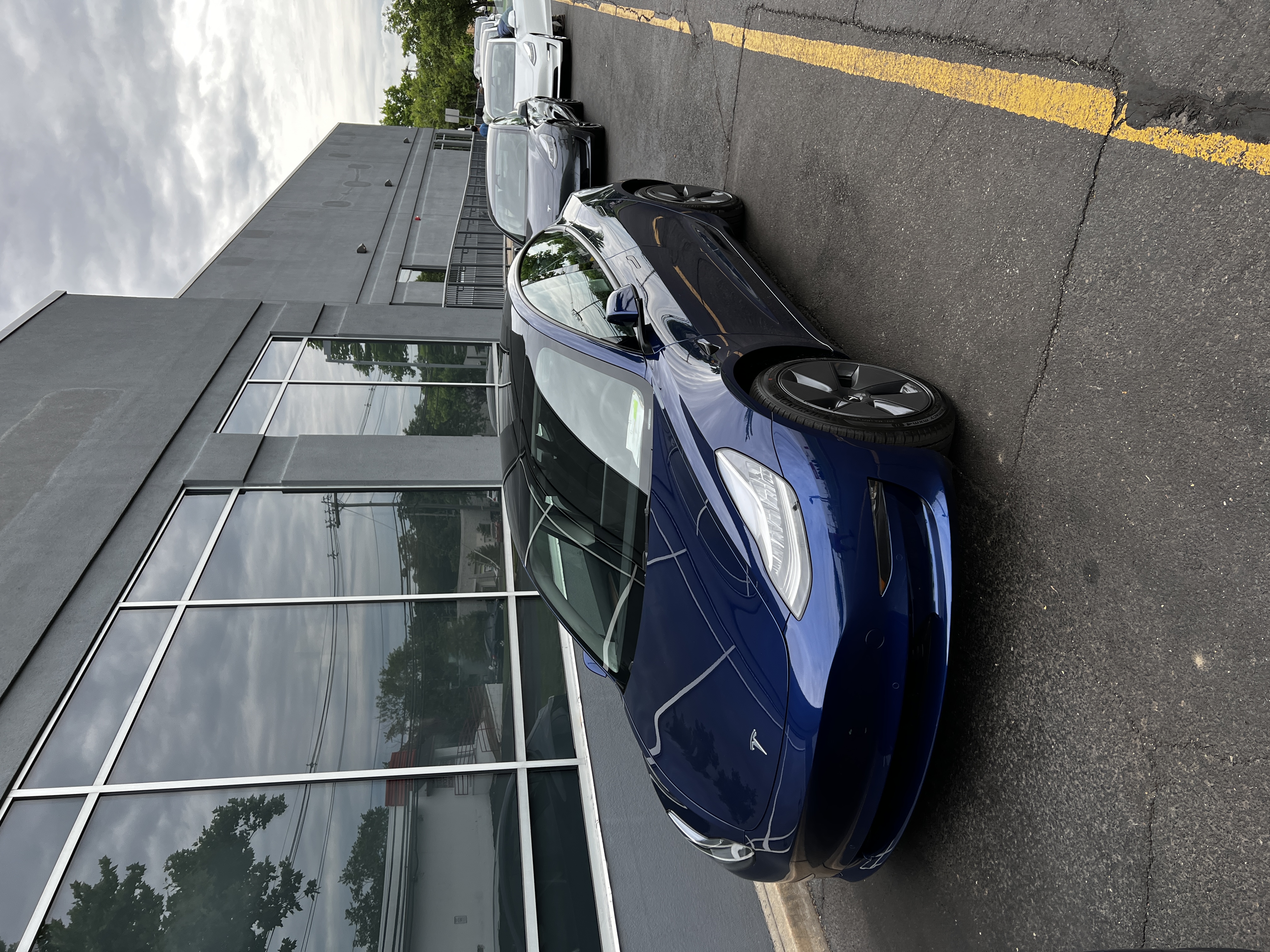 Now, in 2022, my lease is up and it's time to move on from my Model 3. I had leased it because with the economics and amount I drove, a low mileage lease lasting three years seemed perfect in case I didn't like it, or to upgrade later if desired. I ended up going with the lower priced and lower range rear-wheel Standard Range model which seemed more than sufficient for the limited driving I was doing. With only the twins at the time, it was also ample space for us and we figured we'd end up using the family SUV for any longer trips.
With our family growing by another boy, gas prices going way up, and commuting far less often leading to running way under mileage, we started using the Tesla on weekends for family trips to visit family, into New York, to the zoo where we can charge for free and wind up back home with more charge than we left, and out and about through town. I also ended up taking it on some longer road trips like two ski trips up to Vermont, a wedding in upstate New York, and a few trips out to the Hamptons. I ended up not needing the Tesla Supercharger network often, or even the extra range, but it was nice to know that I could count on finding chargers and knowing they would work reliably the few times I did need them.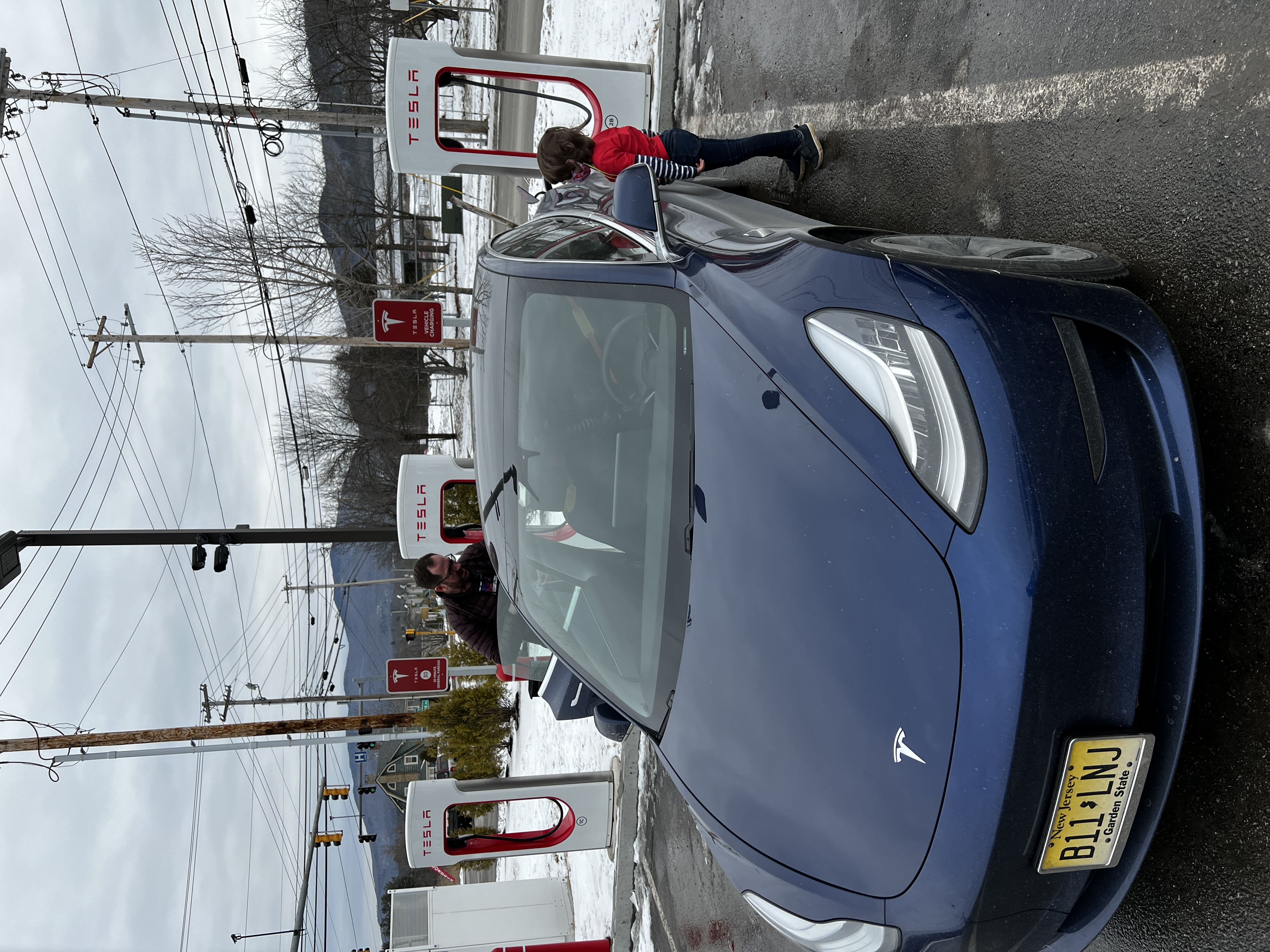 As my first electric car, the Tesla was perfect for us. We got a 240 volt outlet installed in our garage, and made it a condition of the purchase on our new home, which accounted for 90% of our charging. We hardly ever need to stop to charge as a result and we're usually able to go a week or more between plugging in. If we really wanted, both my wife's office and the mall I park at to grab the bus have chargers available as well. I had one or two times I got nervous about remaining range, especially up in Vermont the first time where the closest chargers were a bit out of the way, but quickly learned how to plan trips. The time to charge was never an issue as I'd just end up timing it to stop for food or a bathroom break and by the time I finished whatever I was doing, the car was usually charged more than I even needed. With the kids especially, I found myself needing to stop more often anyway. The Tesla also made these stops great because we could watch Netflix on the screen while we sat charging. I ended up using my phone for tethering since I never did the premium connectivity, but it still worked well enough to keep the boys occupied. Even with the shorter range option for the car, we barely ever had to think about charging since it would just be charged up whenever we needed overnight. It turned out to be far less of a concern than remembering to get gas always way.
The minimalism of the Tesla also never really bothered me. Maybe it's because I switch cars often enough to never truly get used to an individual setup, or maybe because I had a Mini which also has a center-mounted screen, but I found the Tesla display to be easy to adjust to. It would probably be nice to have a heads up display with the speedometer and navigation directions rather than having to look down and over, but it's something you get used to really quickly and after some time with the car you realize you don't need to look at it that often. The empty dashboard makes visibility good, and it feels more connected to the road and your surroundings. I don't love having every single control for the whole car on the screen because some features are buried several screens deep. It's a pain to turn on the heated seats or open the glovebox. But the controls are extensive because there's just so much the car can do. It's really like having a smartphone on wheels.
Some of my favorite things with the Tesla have to be the driving dynamics, acceleration, handling, and the one pedal driving. One pedal driving, for anyone who hasn't driven an EV before, means that you can effectively drive most of the time without touching the brake because when you take your foot off the accelerator pedal, regenerative breaking automatically kicks on to put energy back into the battery which allows you to quickly slow to a stop. While it may feel weird at first, you quickly master it and can learn to drive around with one pedal most of the time which is far less taxing. Autopilot is also a great driver help where the car can self-steer and maintain distance to cars in front, making longer trips far less taxing and more comfortable. A lot of the time though I don't want to let the car drive itself as it's so much fun to drive. The instant torque and acceleration from the electric motor, the low center of gravity from the batteries in the bottom of the car, and the tightly tuned steering make it as fun to drive as any of my BMWs or the Mini S we used to have. I often looked for excuses to get out and drive it more because it was fun and comfortable for me.
I didn't end up driving it much in the three years I had it though, staying under 25,000 miles. I knew it wouldn't be much as my commute was short even when we first got it, but after the pandemic canceled my daily commute and largely kept us home, I was barely putting any miles on it. It's only in the last six months or so that we've been using it for longer trips and weekend family drives. Once the twins moved up into booster seats, it finally became possible to fit all three kids in the car and allowed us to use it for trips to visit family, into New York to see friends and do stuff on weekends, and even taking longer roadtrips up and down the East Coast. The Standard Range was just enough to get us places without charging becoming a major issue, but the shorter range did make it feel like we had to plan a ton to make sure we'd make it to our destinations with enough charge left.
I also love being able to control so many functions from the mobile app on my phone. Not only does my phone act as the key so I never have to remember a key, it can unlock and lock the car remotely, set the climate control, vent the windows, open the trunk and frunk, and even honk the horn. It's so nice to be able to turn on the air conditioning on a hot day or get the car warmed up in the winter from afar and have it nicely conditioned by the time I get there. I can also see where the car is, how much charge is left, and even how fast it's going when I leave it to make sure nothing unexpected is happening with it.
The things I haven't loved about the Tesla are far fewer. I don't love the interface of the display, especially with last year's major update that moved everything around, made less useful information larger, and the useful information smaller and harder to find. I don't like that Tesla refuses to integrate with Apple Car Play or Android Auto and you have to use the navigation and music options built in rather than the ones I want from my phone. I don't like how the Standard Range model shreds the back tires because I had to pay to replace both at the end of my lease. I don't like how the wheels are designed because they seem to be magnets for curb scratches and I had to have three of the four touched up at the end of the lease.
As a personal commuting car, it's been fantastic and even been able to grow with our family as it got bigger. I never thought about it before, but I've had this car longer than our youngest has been part of our family and yet the car has worked as well as we grew our family by a whole additional human. If I could have bought out the lease at the end, I probably would have, especially with how much cars overall, and especially electric cars and Teslas have kept or even increased their value. Unfortunately though, Tesla doesn't allow buyouts for the Model 3 or Y, so I ended up buying new Model 3, this time going for the Long Range model to have a bit more capacity and make longer trips a little easier on us. I also ended up ordering a Model Y and was going to cancel it, but decided to keep it and resell it because the prices have gone up so much. My Model 3 that I just got currently shows a nearly $10K value increase from what I paid if I were to sell it now. It makes sense because more people are turning to electric now with gas prices so high, interest overall as the market advances, and way more demand than supply. Tesla has also raised the price multiple times on the Model 3 and Model Y since I ordered earlier this year, so it almost feels like I got a deal.
In only a few days with the new Model 3, it honestly doesn't feel much different. There are a few little cosmetic and minor usability improvements like the car having a built in wireless phone charger now and nicer materials inside and blacked out trim rather than the chrome on the exterior of the old one. I don't nice a huge difference in how the car drives between the new Long Range and the old Standard Range, though it feels like there's a little more power going down and onto the road thanks to the dual motors, but it could just be in my head. The range difference is very noticeable as even after a week driving around, I have more than fifty percent charge left. Maybe the best change is that the trunk is a power lift and close now which isn't a huge deal, but feels a bit more premium. I also like having a free month of premium connectivity which gives me traffic maps and music streaming, though I could have paid $10 a month at any time for those features in the old one too. Overall it's not a huge or much noticeable difference from the old car, though it's nice to be in a new Tesla again.
I'll miss my old Tesla now that it's gone. I'm not convinced I'll keep the new one all that long, especially if the 2023 Mustang Mach-E comes out soon. My first one was my first foray into electric vehicles and it was good enough that I'll never go back. Electric is definitely the future and the Tesla was great enough to convince me electric cars can be even more fun and practical to drive than gas powered ones and not have huge headaches from charging on longer trips. It taught me that charging at home is way less of a pain and way easier to remember to do than filling up with gas. I may not have put a ton of miles on my first Tesla, but I got a ton of use out of it and it became a key part of our family's trips and weekends. I'm excited to see what other electric cars come next and how the industry continues to move forward next.