Our first time flying since the start of the pandemic
- 6 minutes read
- 1196 words
My last flight was in January of 2020 to Seattle for work. Two months later, while we were actually in Washington DC (we took the train there interestingly), our offices began shutting down, work was moved remote, and shortly after, daycare even closed down for the next several months. A month later we would welcome our third child in the hospital in the midst of pandemic uncertainty and likely the height of the early pandemic anxiety. This past week, we finally got on a plane again for the first time since the pandemic started and it only felt a little odd, at least compared to our expectations.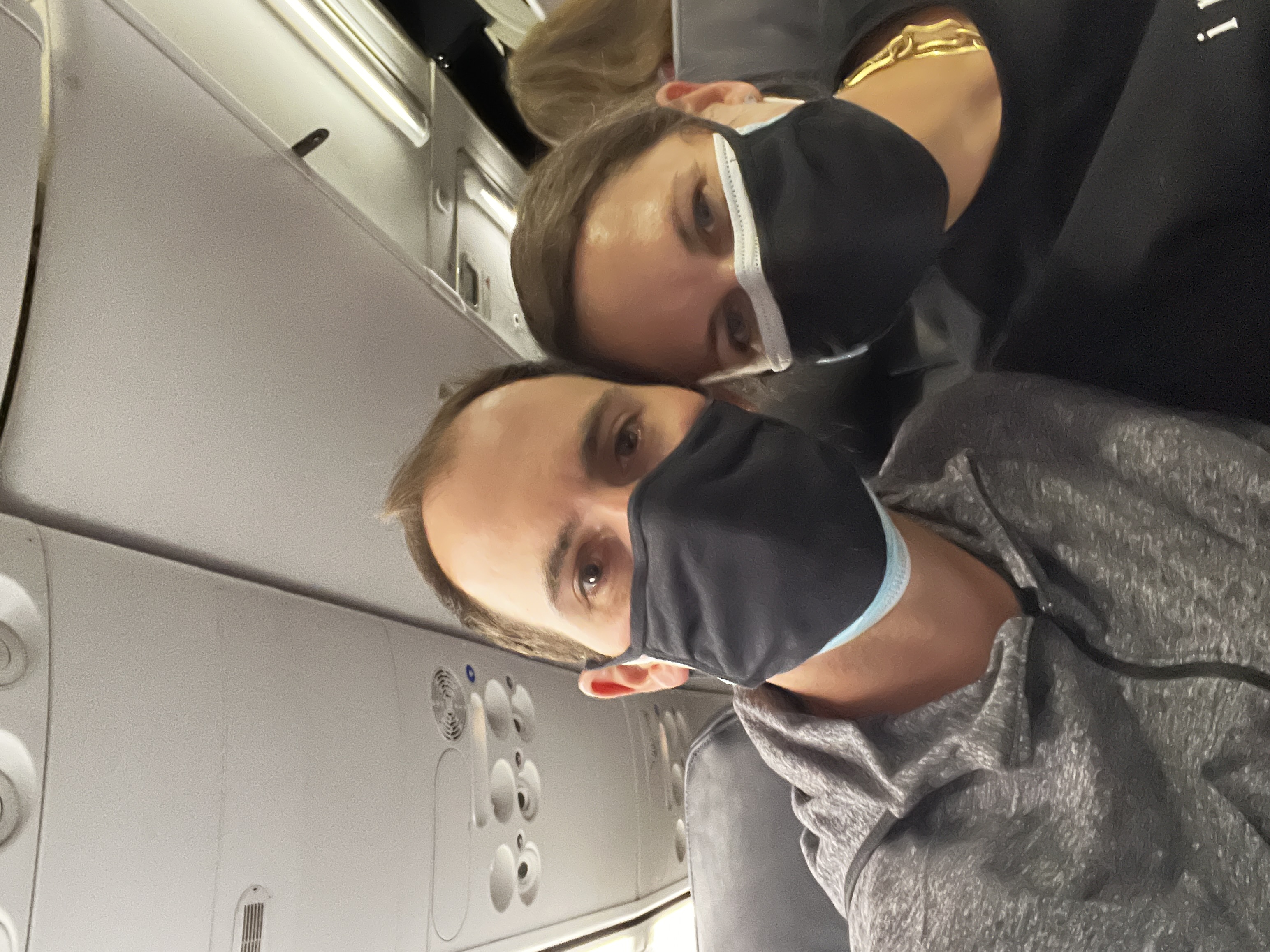 After over 550 days together with our kids (a few less with the baby), we decided we needed to get away for a bit. We booked a trip out to San Diego and Palm Springs as a remembrance of our babymoon trip before the twins when we were out there. Since the last time my partner couldn't drink since she was around seven months pregnant, this time we'd be evening things up a bit so that she could enjoy. We also wanted more time to just sit and relax in Palm Springs since we had only spent a day and a half there last time and mostly hiked.
So a couple of months ago, right as the post-vaccine positive vibes were out there and it felt like we were completely turning the pandemic corner, we booked our flights. Then delta hit and we started to get nervous again. But, we still figured we would be vaxxed and double masked, and without the kids with us, it would be fairly minimal risk. We even ended up splurging for an upgrade to first class so we wouldn't have to share seats with anyone else in our row and could be at the front of the plane.
As someone who has fairly moderate anxiety in public since the early days of the pandemic - I absolutely hate standing inside Costco the worst - the airport and plane were a bit trying, though not as bad as I thought. The airport was fairly easy to stay distant from others. We weren't able to get into the lounge because of the crowds and what seems like the 12th consecutive year of United's lounge construction work in Newark. But we were able to find a secluded spot with service from one of the bars a good distance from others in a corner of the terminal. I did still have to tell a teenager he couldn't sit directly next to me, despite signs saying so and plenty of other seats available, but it really wasn't an issue otherwise. Even going through the security line was quick enough and oddly not too crowded, meaning we didn't have to stand close to others in a line for very long. What made it the worst wasn't anything about the airport, but that we had somehow let my partner's pre-check lapse during the pandemic and forgot to re-apply in time.
The extra space on the plane helped to feel a little safer and in control, especially during boarding. United boarded by group numbers rather than back to front, so even though we waited until the end of our group number, essentially every one else on the plane had to walk past us to get to their seats. The extra space meant we could huddle in toward the window during this. At least they offered us multiple sanitizing wipes to clean the seats and surfaces and had multiple reminders to keep masks on at all times. My favorite part that of course we followed any no one else did was to only remove it for "small nibbles" while eating. The flight attendants actually did an admirable job of keeping people from congregating in the aisles and getting people to pull their masks back up over noses and after eating. It certainly still wasn't perfect as the two times I went to the bathroom and surveyed the cabin, I spotted at least four passengers with masks down below noses or completely off, but at least they were far away and we had our double masks on. I still didn't feel completely at ease, but it could have been worse.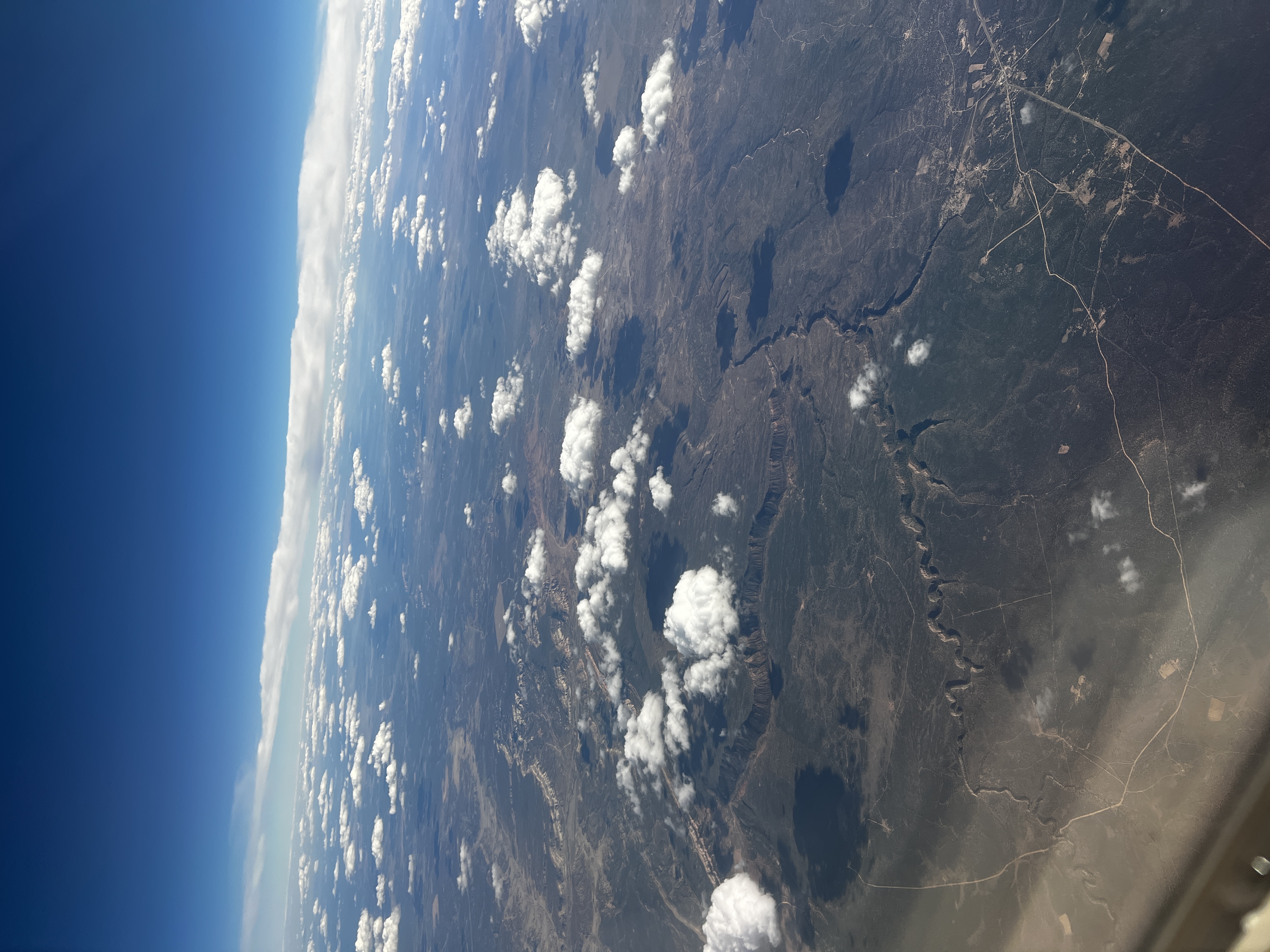 Since the pandemic began, I hadn't realized how much I counted on commutes and frequent business trips to get things done, especially consuming tv and movies. I haven't watched much since I stopped flying and riding the bus every day. Being on a plane again, completely disconnected from the rest of the world actually allowed me to get through some of my backlog. I got to watch the first two episodes of Foundation (I really hope it picks up more later), Knives Out (yeah I was that far behind on movies) and The Tomorrow War (good premise and effects, terrible writing and plot pacing). Combined with a flight path that provided ample views of the mountains and canyons out west, it was plenty to make the flight feel shorter than it actually was.
So after our first flight, I'm left with a bit of a conundrum. My takeaway was basically that flying is safe enough to be an option, but still risky enough to only be worth it in a few situations. I don't feel any need to get on a plane for work when everyone is remote anyway, so I won't be flying for that. For vacations, until the kids are vaccinated, I won't feel comfortable with them in a confined tube of shared air with strangers that keep taking their masks off, especially since we won't be splurging for first class seats for toddlers. Instead, we'll probably continue our domestic driving trips until the vaccines are available. So the only real time we would get on a plane again until things change is for another couple's getaway, though I don't see that happening anytime soon with school and sports schedules and the difficulty of babysitting three boys.
I'm glad we had the opportunity to fly again even if it was just a minor step in normalizing it again for us. Now I know what to expect in a pandemic era flight, and when it will be worth it or not. I can better plan for future trips and to weigh risks to determine when it's actually worth it. I know to essentially expect a multi-hour ride on a bus kind of experience and how to mitigate some of the risks. I feel better knowing how United and the crew enforce the rules, but that regardless, people are going to follow them only as much as they can cheat. And still I know that even though flying opens up the entire world and I can't wait for it to be back entirely, there are still plenty of great options and things to do for our family around here that we haven't come close to fully exploring, so we will make due for a bit longer if needed until there is time to get the whole family vaccinated. After that, I suspect we'll be back to our previous schedule of frequent family flights.