A bit long for a Turkey Trot - Running the 2021 Philadelphia Marathon
- 9 minutes read
- 1814 words
My second ever marathon, and I think my worst one, was the Philadelphia Marathon in 2015. A year after my first marathon, the New York City Marathon, Philadelphia was a huge struggle for me. Pacing was a major issue. I got too excited by the energy of the crowds in the first half through downtown and the historic areas, and really suffered in the out and back for the second half out to Manayunk and back. I had to stop a few times to stretch out cramps and a ton of soreness, and ended up walking a bit in the last five or so miles. This year, for my seventh marathon, and my first ever repeat, I wanted redemption.
Originally, I was actually supposed to run Philly in 2014, two weeks after the New York City Marathon. I'm not sure what I was thinking. Two weeks after my first ever marathon, when I could barely walk after finishing, wasn't the best laid plan. I suppose I figured I'd be trained for the distance and wouldn't have to worry about an entire additional training season leading up to it. Foolish. I waited until the morning of the race to decide to bail on it, waking up still pretty sore and just not into it. I'm glad I didn't push myself to do it.
Instead, I waited until the following year and still had a pretty difficult time of it. Despite the struggle and walking, I still finished a bit faster than my first race, probably due to the time I stole by running stupidly fast in the first half. Each additional race after got a bit better for me and a bit faster. By my sixth, in London in 2019, I was under four hours and able to finish still feeling pretty decent. It was time for a new challenge.
I guess technically Philadelphia was my seventh marathon in a race, and I've run the distance a few times more in training. In 2020, I signed up for a 50k at the beginning of the year for a new challenge. I wanted to see if I could become an ultra-runner and how far I could push myself. I signed up in the winter and was supposed to race a few months before our third child was born, giving me time to go out for the long runs needed on the weekends. I spent a ton of hours on the trails of the state forest near out house in preparation. Then, March of 2020 came, and the race got moved out indefinitely. It did give me some more time to train with better weather, and I ended up running and finishing it in the fall.
I didn't have any real running plans for races in 2021. I wanted to take the year to actually enjoy running, explore our new neighborhood, and not be stuck to a schedule that would take me away on the weekends from all three kids. That lasted until a night spent with our friends with a bottle of wine too many after the kids went to sleep that resulted in a late night marathon registration for Philly. Without a lottery, an exceptionally easy start to get to, and close enough that we didn't need to make major plans, it seemed like a perfect race for the year. It was also the perfect opportunity to apply the faster pace I'd been working toward to a race.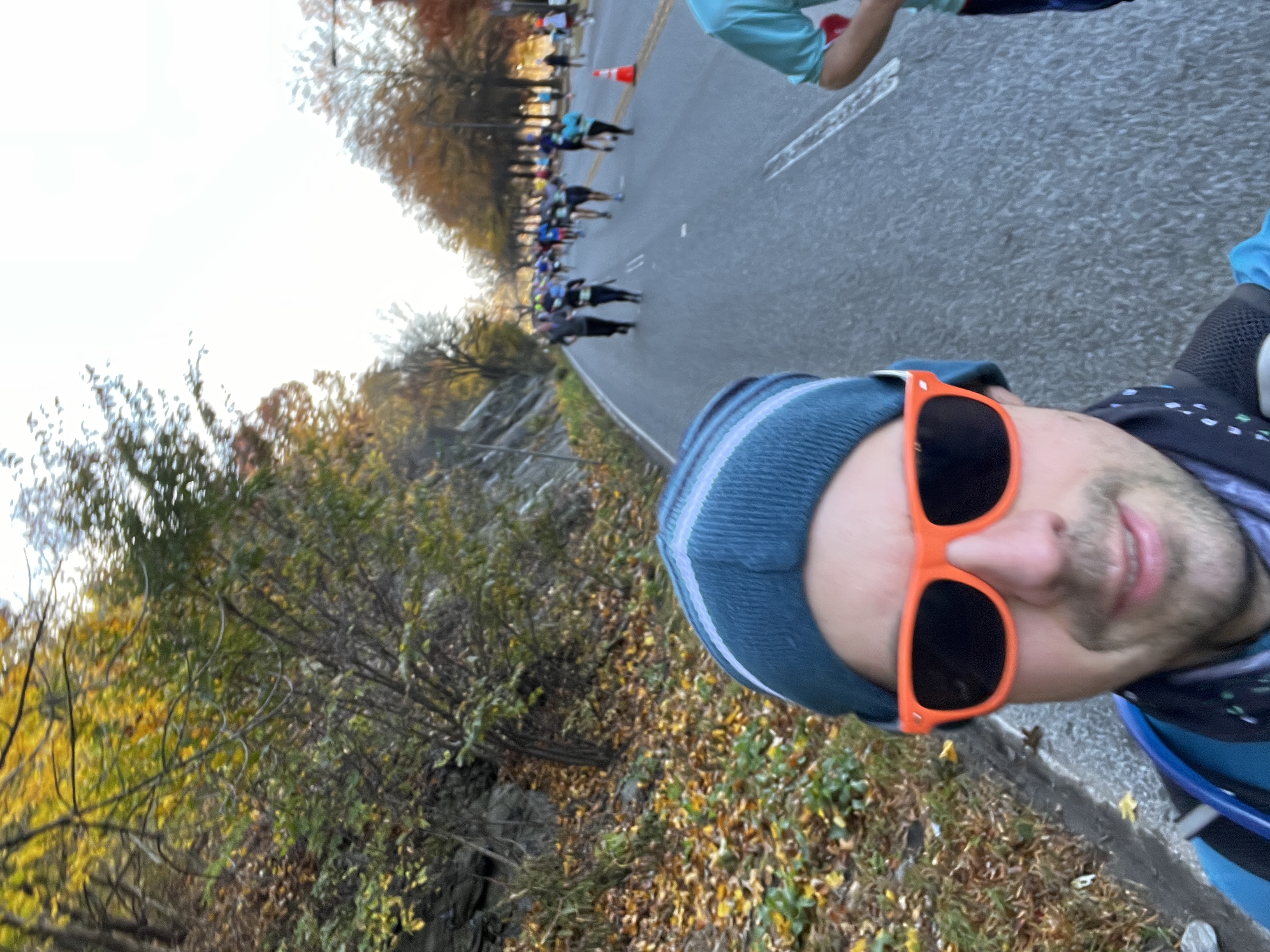 Over the winter, I had been enjoying the Peloton runs on our treadmill, and with shorter runs, had been focusing more on speed with some intervals and HIIT runs. I even foolishly convinced myself I might be able to train toward a Boston Qualification marathon after managing two miles at the necessary pace. Spoiler alert, increasing from two miles at a given pace to twenty six is a pretty huge undertaking and needs a legitimate plan, and I never got beyond those two miles. Though, overall I was able to bring my pace down to the point where 8:30 - 8:45 minute miles felt fairly comfortable, even on tired legs. I anticipated a pace somewhere in this range since it seemed to be my new default, natural pace on my long runs. I didn't manage to get anywhere close to the Boston pace needed, I think it was under 7 minutes per mile at my age (Boston, the most prestigious and historic of the World Major Marathons, requires meeting a certain time standard per age group recorded at a certified marathon, rather than a direct entry or lottery like most others), but it feels a little bit more in sight now after dropping more time from my pace.
During my training period, I managed to actually cross train for the first time in my illustrious running career. I started running initially because I hated other exercise and found ways to enjoy running by listening to books, podcasts, or music outside or watching tv while on the treadmill. Despite every single training plan specifically mentioning the need for cross training, I, like probably most other runners, decided those would just be rest days. This time though, armed with a full catalog of Peloton workouts and a morning routine that made it easier to make time for them, I managed to get in core and arms most days, and even a few cycle, cardio, yoga, and full body workouts here and there. I also stretched far more often, usually a few minutes after most runs, and a longer ten minute structured one after every weekly long run. I also switched around days running to do more runs during the week and not impact my weekends quite so much. All of this made the training cycle go much faster and feel better than any in the past.
The Marathon was also an excuse to meet up with our friends. They had lived in Philadelphia, right near the Art Museum where the marathon starts and finishes, for several years. As an avid runner herself, she had run Philly several years before, and though they moved out to Colorado this year, wanted to get back for the marathon to continue the streak. Since we had run a bunch of races together now, including Philly the first time, I wanted to join her and use it as an opportunity for us to meet up and hang out while they were here. In fact, we got to spend the day before the race at a mutual friend's house where the sets of kids got to play together while we all caught up and made plans for the following day.
Without the easy convenience of staying at their place before the race, we ended up finding an AirBNB within a 20 minute walk from the start line and all three kids actually managed to sleep well in new surroundings surprisingly, and didn't interrupt my pre-race sleep much at all. The walk to the start was actually probably good to stretch out and get warmed up before the race. For the first time I can remember, waiting for a marathon to start wasn't freezing or super windy (New York and the first time I ran Philly were both horribly cold and windy), and I was actually pretty comfortable. The entire race was actually just about perfect temperature and conditions for a race. It wasn't warm, but just cool enough to stay comfortable. The sun was out, but plenty of cloud cover kept it from getting too bright or hot. After freezing the first time running and chugging a bunch of bone broth at the finish to warm up, I barely even touched my water this time because the temperature was perfect for not sweating like crazy. I brought and threw away my London Marathon heat shield for no reason!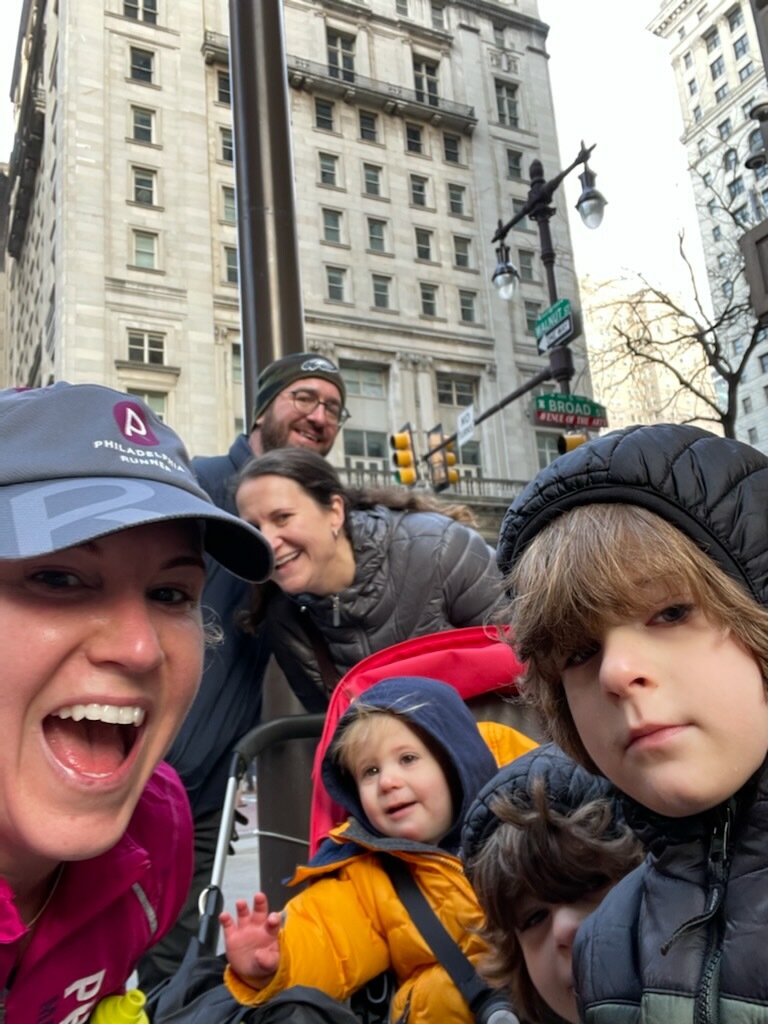 I ended up have a really good race. I felt strong for most of it, and even when I started to feel like slowing a bit, I was largely able to push through it and maintain a pretty consistent pace. My watch had a bit of difficulty tracking the course and ended up off by a few tenths of a mile compared to the markers, so by the end I wasn't quite sure of my pace, and ended up finishing in 3:50:57. Had I tracked it better, I probably could have pushed somewhere to carve off those 58 seconds for a sub 3:50 run. But in the end I managed to cut off another five minutes from my PR and most importantly, felt pretty good when I finished. This time, I didn't cramp at all, didn't have to stop to stretch (though I considered stopping to pee multiple times as I somehow misjudged it at the start), I didn't walk, and I maintained a consistent pace the whole time.
I definitely think that the focus on strength work, stretching, and mobility helped more than running nearly every day. While I still need to do more leg work and stop pretending that running is all the leg work I need, building up a stronger core (and actually developing muscle rather than relying on my beer belly to hold me up) and developing some more arm strength to keep pumping when things get tough helped physically and all the extra training with hard things made it easier to gut through the hardest parts of the run. Running now is also incredible as people are out and cheering in great numbers to celebrate the first big races finally coming back in person. I felt a ton of support from the crowds that were around pretty much the entire route this time. Plus, having my cheer squad with the three boys made me smile every time I saw them, especially the youngest clapping and yelling for the runners, though he was asleep the last time I ran past him. I can't be too mad at him though, it's a long day.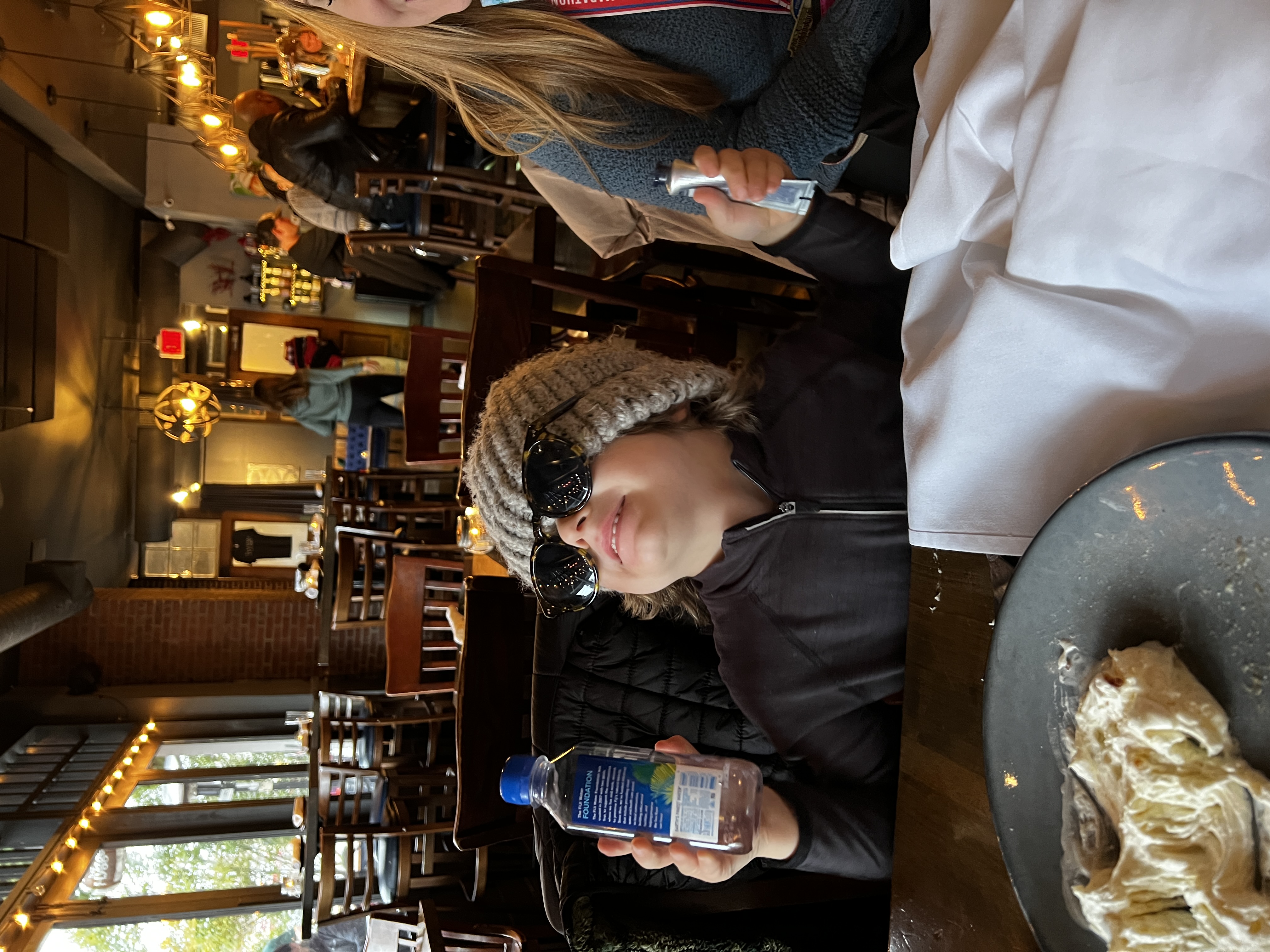 The marathon went about as well as I could have possibly hoped, well except for the unreasonable hope of carving off nearly another hour on my time to get into Boston. At the rate I'm taking time off my marathon finishes, and with the qualifying time decreasing with age, I should be there in another ten years or so. It was also a great way to see our friends and actually spend time with them rather than getting caught up in the pre-holiday madness. Best of all, we got to hang out after the race in a Scandinavian themed bar with some awesome food and even better drinks. It was finally an opportunity to check off some of the places in Philadelphia we had wanted to visit and support. Too bad there are still a ton more. I guess I'll just have to sign up to run again another year!