Breaking Boundaries in the Berlin Marathon
- 13 minutes read
- 2696 words
My fifth marathon, the 2018 Berlin marathon, was finally the first time I didn't feel like I was going to die by the end of 26.2 (it's the .2 miles that will kill you) miles. Considering I felt the least prepared for it of any marathon I've run, it's incredible that it ended up being my favorite, and the first time I actually want to run another right after. Between bad long runs, a lofty goal I came close but couldn't beat last year at Chicago, and the added stress of traveling for a Marathon, I thought it would go terribly. Maybe the low expectations helped me end up surpassing them so mightily and having a truly great run.
I set a seemingly impossible goal of beating 4:00:00 in a marathon last year for Chicago. My first marathon, only 4 years ago, took me over 4:30:00. I knew cutting off over 30 minutes wouldn't be impossible, but it'd be tough. Though I thought I was on track the entire time, I discovered right at the end that my GPS watch had cut off a .5 mile section of the course and had me at a slightly faster pace than I was actually running. I missed out on my goal by less than two minutes.
Determined to learn from this and do better this year, I made sure my training included more speed work, that I used the posted times, and I even had my wife text me pace and goal updates throughout the race. When I got there and found that all the measurements were in KM which I had no plan for, I ended up relying almost entirely on these texts to know when to speed up. Luckily my strategy of starting slow and building up from Chicago served me well in Berlin and my legs really never got overly tired and I never bonked like I had in training.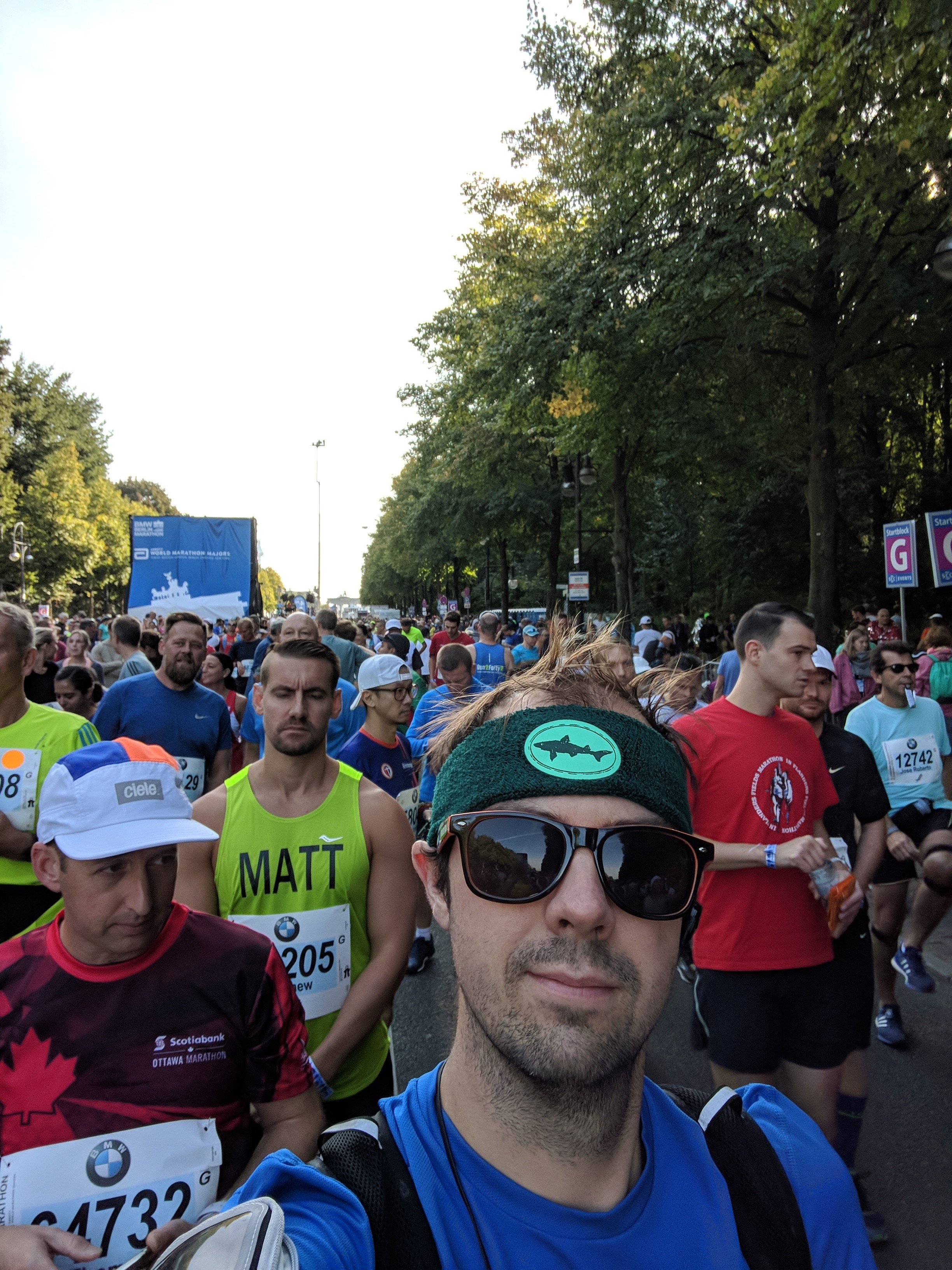 Berlin would be my second international marathon, having run Belfast in 2015. I knew the logistics and crowd would be different, but I figured as a world major marathon, it would be more like New York than Belfast. Thankfully my running partner did some research and found that water stops might be infrequent and difficult to get to. Deciding not to leave that part to chance, I brought my water pack and am thrilled I did. The shoving at the somewhat infrequent water stops and massive piles of plastic cups would certainly have added some additional time to my run.
Having traveled for a race before, I knew jet lag and the excitement of being somewhere new might also play a role in my run. In order to combat the jet lag, we arrived early. We first visited Stockholm, giving me the chance to get used to the time zone and relative climate of Berlin. We also got into Berlin three days before the marathon, plenty of time to relax and rest up before the run. Foolishly, or maybe it actually ended up helping, we walked a ton in the days leading up to the marathon. Stockholm is a deceptive city, it looks close to walk pretty much everywhere, but in three days of exploring the city, we ended up walking between 12 and 15 miles each day. By the time we got to Berlin, my legs were aching.
[gallery ids="2269,2271,2270,2268,2267" columns="2" size="medium"]
Our first full day in Berlin, we headed to the marathon expo for pickup of the race packet. Hosted at the former East German airport, Templehof, now converted to a park, it was an awesome location for the pre-race expo. The terminals and even hangar provided a cool backdrop to the exhibitor booths and race equipment sellers. The only downsides were a bit of a line for bib pickup because of the funneled set up of the area and an insanely long line for the official race poster from the normally efficient BMW. Apparently they didn't have enough posters for everyone, so instead of pre-packaging them, they chose to roll them individually at what felt like a snail's pace for each runner, perhaps hoping that the line would deter the majority of runners. Of course I got mine and proudly display it at work.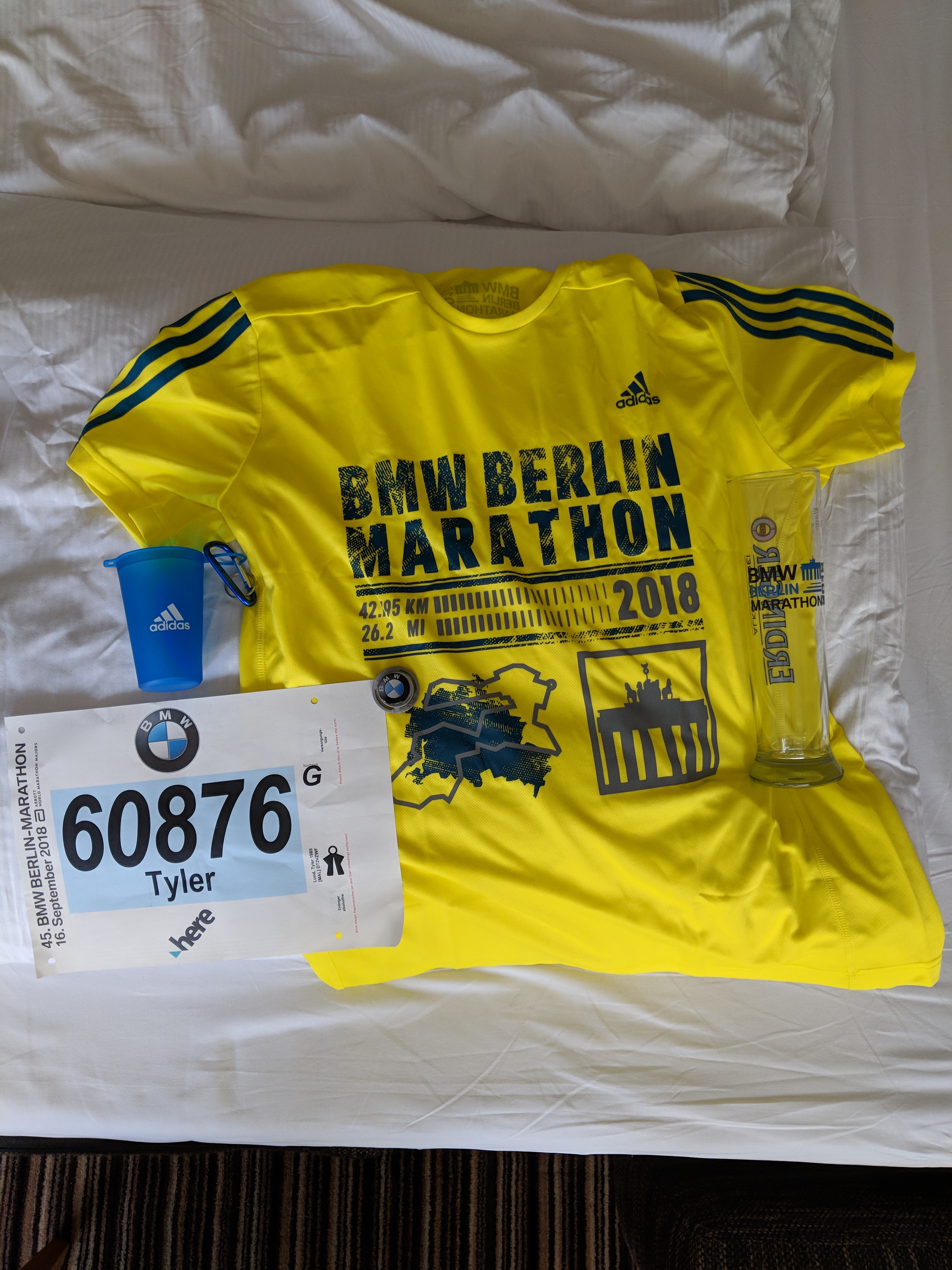 The other letdown was the fact that there was no official shirt given to all runners for registration. This might explain the relatively affordably entrance fee for a world major marathon, but every other run I've done from the smallest half marathon and 5k gave some shirt. At least the official merchandise from Adidas was awesome with a super vibrant color palate that spoke to me. It's probably the coolest gear I've seen for any of my runs. People were buying it in droves but thanks to an efficient restocking and check out process, it was fairly quick to find what I wanted and buy it quickly. Prices weren't even too bad for branded marathon apparel.
There was an ability for runners to preorder the gear and pick it up at the expo, but in practice this was actually worse than just buying it there as the lines were longer and they were apparently having difficulty completing all the orders.
In Chicago last year I discovered a pro-tip hack for marathon gear, visiting the official brand store in the city before the marathon. In Chicago, the Nike store had all of the gear in every size even when the expo sold out and had far less unreasonable lines. In Berlin, the Adidas store had gear, but because the expo's lines were so short, I ended up actually getting all my stuff there. The only booth in the expo with a line was the Nike booth where visitors could try on the new 4% shoes, the updated version used to attempt to break the two hour marathon mark. Essentially every top marathon finisher throughout 2017 and 2018 ran in these shoes which are supposed to reduce times and effort by 4%. I ended up running the marathon in the cheaper version, joking that with only two minutes to cut off, I only needed the 2%.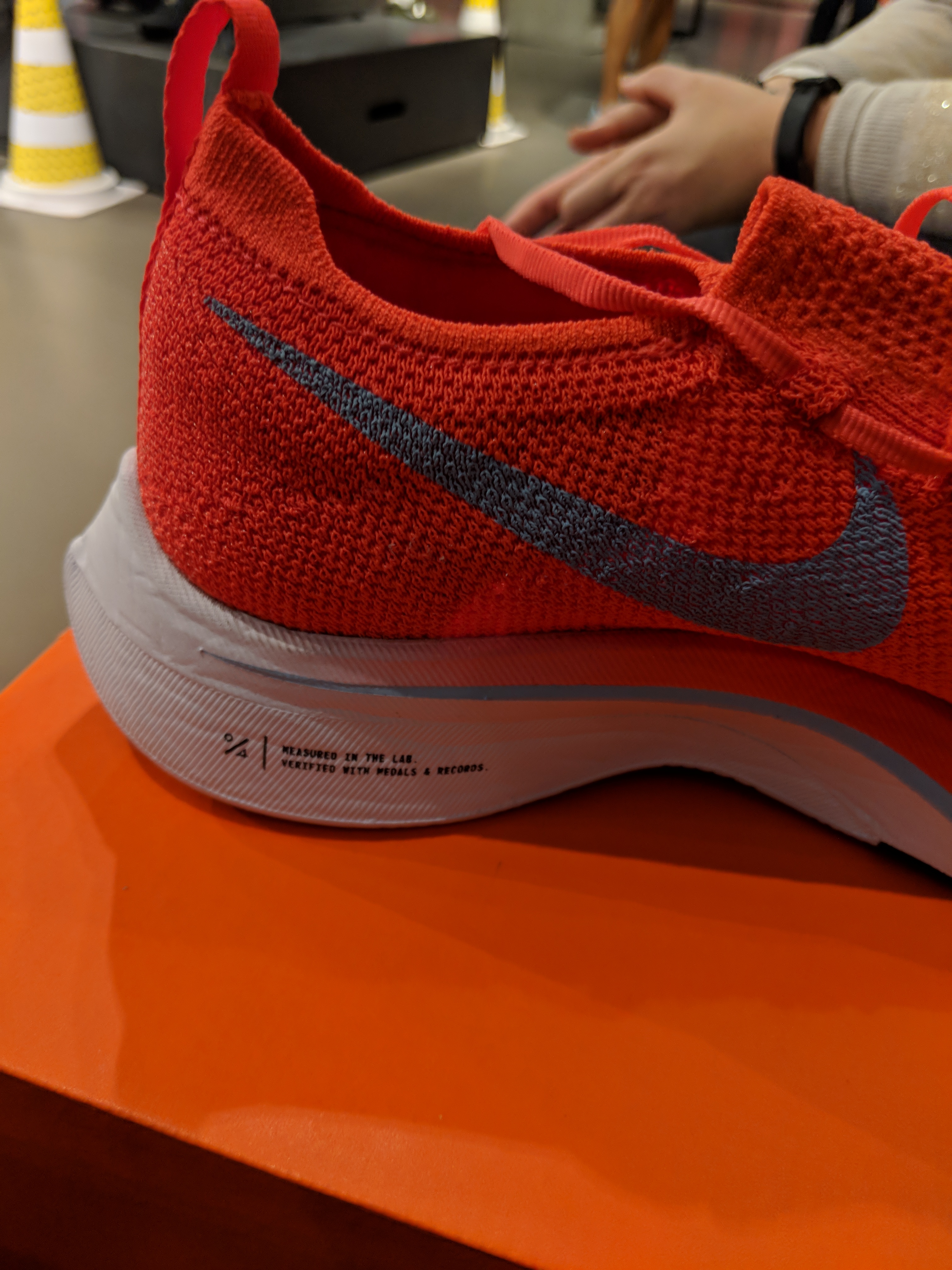 Because of this line for the booth, I ended up visiting the Nike store in Berlin to see what they had. I found a cool Berlin running shirt with most of the sights the marathon passes listed, though not an official marathon shirt. While there, I noticed a few customers trying on suspiciously red sneakers, recognizing the new version of the 4% flyknits from the ads that had littered the metro and much of the marathon course in Berlin. I had read that the shoes weren't coming out until October, but after asking an associate what was going on, found out that just for the marathon, the store had received a special shipment of the shoes that morning and were expecting more the following day. I put my name on the list, not really expecting to actually get a pair.
The next morning, I didn't receive a call that the shoes had come in, so expected I wouldn't be lucky enough to get a pair. Apparently my slightly odd shoe size was lucky for me as I happened to stop by the store and found that my shoes were waiting for me. One somewhat sketchy trip to a loading dock in the back of the store later, I had my brand new 4% shoes ready a month before the public! I was so tempted to wear them for the race, but decided 4% less effort might not be worth 400% more blisters.
One other odd note from the expo was that I had to pick up a chip for my shoes. Unlike American races where the tracking tag is affixed to the back of the race number bib, European races tend to use a reusable "chip" that gets tied to shoe laces. I attached mine so tight, worrying about losing it, that I ended up cutting off circulation in my right foot for the first 12 miles of the run before I stopped to retie it. At least the pain from it distracted me from the other pain of running a marathon.
[gallery ids="2261,2260" columns="2" size="large"]
When race day arrived, I felt a bit better and less tired on my legs. I hadn't completely shaken off the dozens of miles from exploring Stockholm, but at least two days with less walking in Berlin meant my legs weren't sore before I even started.
The start area was a pretty relaxed and well organized experience. Starting in the largest park of the city, the Tiergarden, there was plenty of space for runners to spread out and prevent feeling claustrophobic. There was far less of a cattle herd atmosphere than other marathons where runners are shoved into corals on top of each other. There were still corals for each block of expected finishing times, but they were well policed to keep runners of similar paces together and to keep from getting crowded. Security was honestly a bit lax with no metal detectors and bags barely inspected. It was a far cry from the security at the New York and Chicago marathons which put airport security to shame. It did mean that it was quick to get in though and I had plenty of time to stretch, use the restroom, and find my place.
Apparently not everyone felt so relaxed with the time though as this marathon was the first time I saw a woman skip the porta potty lines by hopping into the woods. I've always seen plenty of men doing it, even stopping in the middle of the Philadelphia marathon for a squat by the zoo. There is an urban legend about staying away from the edges of the Verrazano bridge in the New York Marathon as apparently waterfalls form from runners stopping. I didn't dare get close enough to verify this. At least Berlin demonstrated it's gender equality mindset.
[gallery ids="2254,2258,2256" size="large"]
The race itself was excellent. A flat course, good pavement, and plenty of interesting things to look at made the miles go by quickly - or at least as quickly as 26.2 miles can go by.  From the Tiergarden, the route wound past the Victory Column, countless baroque (don't bother fixing them) churches, over bridges, and past government buildings. The crowd was always large, often even crowded into the streets making the run feel a bit like the Tour de France with spectators close enough to touch on both sides. There were fewer signs than the other races I've run, but at least that prevented me from getting distracted while I tried to translate them. I did at least pick up on the German words for run and fast from them. There was also plenty of music and entertainment on the route including a drum group, teutonic themed school band, and in true Berlin style, several DJs. I even passed the Adidas Hamburg running club who were singing some sort of supporter song as they ran. It's the first race I ran with only one earbud in because there was just so much to experience the entire run.
[gallery ids="2259,2257" columns="2" size="large"]
I even saw a few runners in costume along the way. I passed Berlin's most notable landmark, the Brandenburg gate for real at mile 26, but passed a runner in a foam version much earlier. I also saw three roman soldiers, teletubbies, and a few super heroes. My wife even saw one runner jumping rope the whole way. I guess a marathon on it's own just isn't hard enough for some people.
The course was far more interesting than an out-and back. When I first saw the map with it's number of corners and turns, I thought it would make the run more difficult, but instead it meant there was plenty to see. A nice touch was a three stripped - Adidas branding is everywhere - line on the road throughout the course that marked the optimal path, making it easy to stay on course and anticipate which way the course would turn.
The twisty nature of the course afforded lots of interesting views each time we turned a corner, but also meant I had a hard time figuring out where the race actually ended. I knew the gate would be toward the end, but at mile 24 I expected to see it shortly, then again at 25. When I approached 26 and still didn't see it, I wondered if I got lost. I finally caught sight of it but knew not to speed up yet as other runners had warned me there was still some room to go after it. Instead, I sprinted right as I passed underneath the gate with the finish line in sight.
At the finish I got my sweet medal complete with the Brandenburg Gate on one side and Eliud Kipchoge on the other. Adding to the day's events wasn't just my own PR as I beat my goal at 3:58:35, but Kipchoge had also smashed the marathon world record in just over 2:01. I also got food, water, and some odd European electrolyte drink that seemed more like a melted creamcicle than a drink. Then I got my real swag, a poncho - only given to those who don't check a bag, just like in NYC, though far lighter and way more German in style than the NYC one, it will be my "summer" poncho to the NYC "winter" one - and my first beer in two weeks, sadly an alcohol-free one. Maybe it was the dehydration and lack of any beer for weeks, but it actually tasted pretty good. Runners were only supposed to get one, but most passed on the "fake" beer so I was able to grab a second. Some were even grabbing a six pack!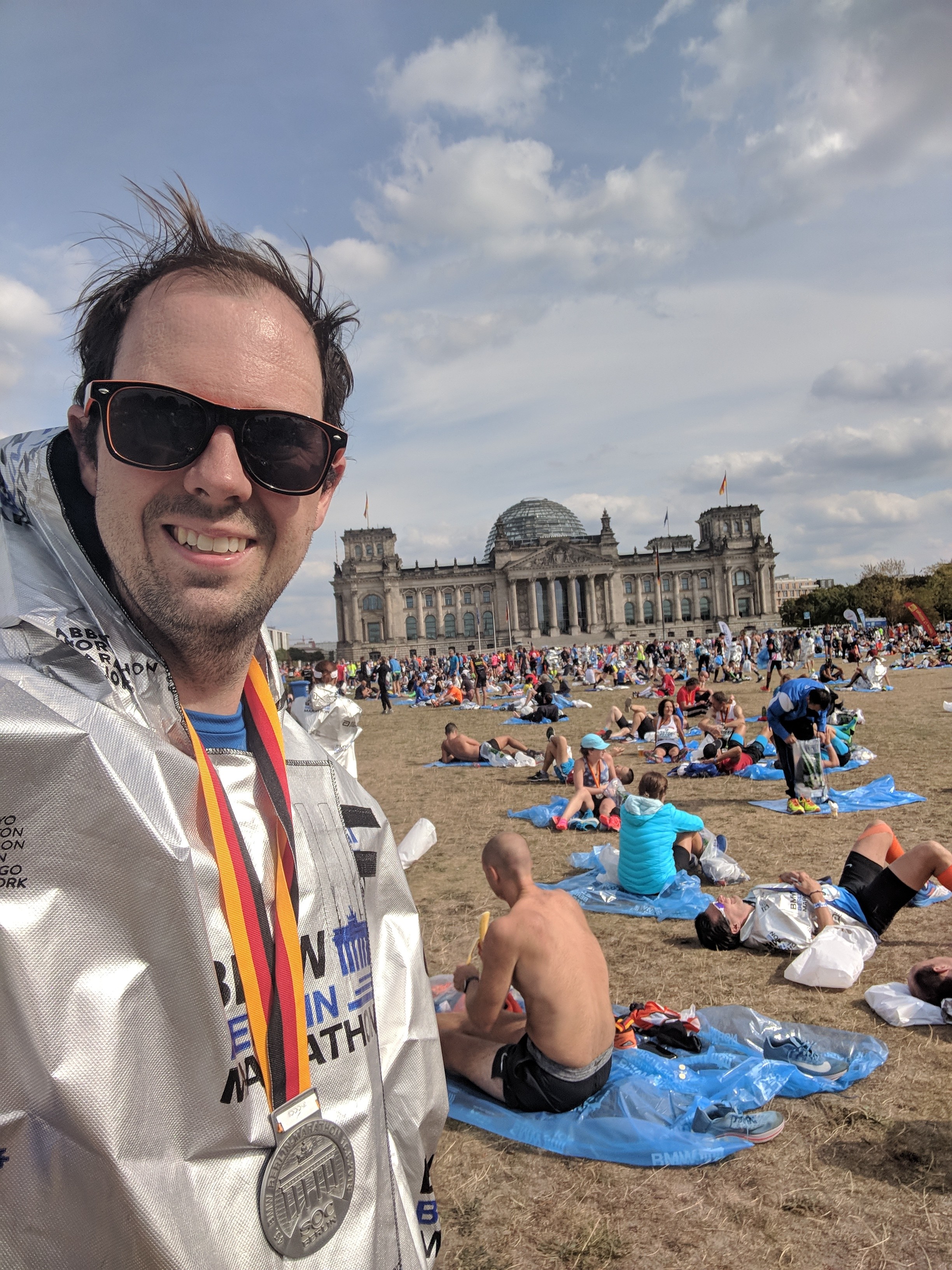 As I enjoyed the beer, my medal, and took in the surroundings, I noticed the landscape around me. Sitting right in fron of Berlin's distinctive glass-domed Reichstag, it looked like a post-apocalyptic nightmare. Runners were laying on the ground an a variety of painful positions trying to stretch out cramps and grimacing with pain. Ponchos and heat blankets littered the lawn. The warm and sunny day also meant many were out without shirts, adding to the end of the world beach party vibe.
Deciding to recover away from the death zone and with some real German beer, we found the nearby Goffel Kolsch restaurant. The half-mile walk even proved that this was the best I'd ever felt after a marathon as I was able to make it all the way without slowing down or hobbling. I knew I'd given it my all, but this was a new feeling.
Berlin is the perfect place to run a marathon. The culinary scene is notably vegetarian and vegan friendly, meaning there are plenty of places to load up healthily before a race and skip the fatty food that would slow you down. Recovery is even better with an awesome multi-cultural food scene that spans nearly every international flavor. Instead though, I loaded up on the local cuisine, or at least traditional "German" - really Bavarian - food like schnitzel, sausages, and lots of potatoes. Washed down with tons of German beer, still some of the best in the world, I quickly felt back at 100%. Having not drank anything leading up to the race even helped me feel less guilty about ordering a liter stein later.
The Berlin marathon ended up being a perfect race for me. Even after stressing out about my training, especially my two aborted long runs in the weeks leading up to the marathon, I was able to have a great result and a personal record. I beat my 4:00:00 goal and finished in 3:58:35, all while feeling relatively good. I guess my training and fueling plans were better than I anticipated and I had worried for no reason. With a magnificent course through a beautiful city and a great spot for food and drink, the Berlin marathon was definitely my favorite of the five I've run so far. Now, bring on the next one!