Running like a pro: My Garmin Fenix 6 Pro review
- 7 minutes read
- 1398 words
After three years with my Garmin Vivoactive smartwatch, I decided it was time to graduate up to a more professional and full featured running watch. Going back to my Fitbit, I've enjoyed running with a smart device, but with each upgrade, have felt the need to add a bit more power. With the Fenix 6, I quickly discovered a ton of new features that help me push to become an even better runner. I'll miss the Vivoactive, but I'm thrilled with the Fenix so far.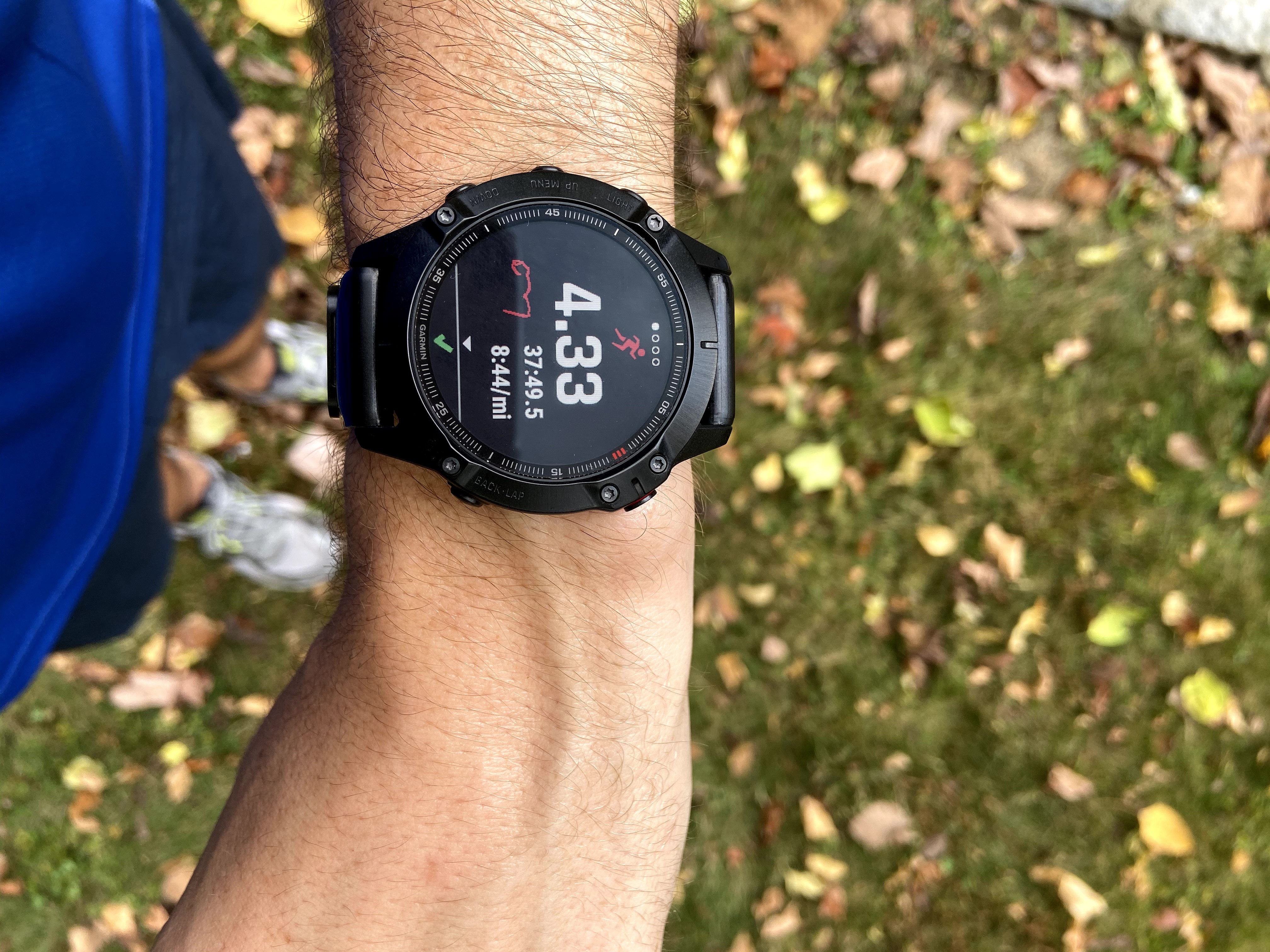 Going back years, I first got into fitness wearables with the Fitbit Zip pod that clipped onto clothing. After losing a few of them, I graduated up to the Flex which was actually wearable as a bracelet. Neither of these provided much other than step tracking and general levels of activity. My first actual smartwatch was the ill-fated Pebble watch, a device a bit ahead of it's time but also incredibly buggy. I recall nearly throwing it into a gutter during a half marathon where it stopped tracking at the 10 mile mark.
I moved up to a Garmin Vivoactive 1 which I got as a prize for a sponsored run at CES with Garmin (those people are crazy runners) and loved the additional features like actual activity tracking, GPS, and sleep tracking. I moved up to the Vivoactive 2 and eventually 3 which looked more like regular watches, allowing me to actually wear them all the time. I stuck with my Vivoactive 3 for over two years, a testament to the device considering I typically upgrade every other device annually.
This year, I knew I wanted something a bit more. The Vivoactive, while a great general purpose activity smartwatch, wasn't especially runner focused. I had finally begun to use and understand the more "advanced" features it offered for coached dynamic training, fitness trends, and load tracking, and wanted even more. Originally I considered getting one of the Forerunner series, Garmin's runner-centric line of watches. One of the features that most stuck out to me was the ability to download and store music on the watch, and listen over connected Bluetooth headphones. I normally bring my phone on runs, but it would be nice to not have to.
When the Fenix line was refreshed, adding music as well as a massive battery life upgrade, new training and fitness tracking features, and even offline maps for trails and ski resorts, my decision was made. Since the only two things I really use my watch for are running and the occasional ski trip in the winter, I knew the specific focus of the Fenix line would be perfect for me. Plus, the more traditional metal look of the watch, compared with the more vibrant and plasticy look of the Forerunner series sold me as an everyday watch.
I've been using the Fenix for about a month now and remain incredibly happy with the device. Like the Vivoactives I had before, the Fenix has excellent battery life and Garmin has some of, if not the best GPS accuracy in any device I've used, quickly grabbing a signal even when I travel, and tracking very closely to actual distances. It also works great as a smartwatch. There aren't the same number or type of apps as something like an Apple Watch, but it does show notifications reliably, let's me take simple actions on many of them, and lets me quickly check the weather. It also looks just about as nice as a regular analog watch, so I don't have to feel like a child while wearing it.
One of the best features of the Fenix is the incredible battery life. I was already happy with the Vivoactive which I typically charged twice a week after longer runs. With the Fenix, it's more like once a week. If I didn't run as much, and didn't listen to music the whole time, it might last closer to two. It's so good I didn't even need to bring a charger on a two day trip to Nashville.  For even more life, there are several battery modes and a custom one where nearly everything from music playback, GPS, heart sensors, and GPS measurement frequency can be adjusted. In the extreme, there's an "expedition" mode where the battery will last an entire month while still measuring location once an hour. I'm not going to need to worry about running out of power during a marathon.
The additional sensors and tracking on the Fenix are also a highlight and features I use far more often than I expected. The watch does a great job of simplifying a variety of measurements and metrics down to a single training load metric which shows if I'm overtraining, under, or just maintaining. I can drill into this to see more details like the time I need to recover from a long or hard run, if I'm getting enough anaerobic exercise, and even my VO2Max. It'll even give me projected finishing times for a variety of race distances. Using blood oxygen measurements, it also tells me how much overall energy I have, letting me know if I need to grab a bit extra sleep at night, or if I should extend my run. It's nothing my body doesn't already tell me, but it's nice to get a quantified metric.
I also love the detailed color maps that are downloaded to the device. On one of my first runs, I decided to venture onto new trails I hadn't gone on before in the park by my house. Though I had a general sense of where I was, it was incredibly useful to be able to verify that right on my wrist as well as see exactly where little hard to spot trails branched off from the path I was on. I'm not sure I would have been completely lost without it, but having the maps meant I didn't accidently add miles and hours to my exploration of the park. I haven't used them yet for skiing, but I can't wait to have the option instead of constantly unfolding a trail map.
When it comes to skiing, I did actually periodically use my Vivoactive on the slopes. However, because of the touchscreen, it was difficult to use with gloves on which meant I never used it much other than to track my entire day of runs. With the Fenix, there are physical buttons which make using it considerably easier not just with ski gloves, but even when running with sweaty hands. It's amazing just how much more likely I am to actually use the watch when running because of those buttons. Because of the larger screen and additional data, there's also way more interesting data on the screen like heart rate and range when I'm going, so it's nice to be able to navigate it quickly and easily so I don't trip over roots while staring at the screen.
Another feature I love it the acclimation data. Because the watch can measure altitude and the temperature, it'll tell me when it's hotter than what I'm used to or when at an altitude I need to adjust to and set an adjusted pace for me. It'll also let me know how adjusted I am after a night at altitude or a run in the heat which helps set dynamic goals. Similarly, it'll create smart pacing plans for a given route or distance I configure, allowing me to aim for a goal, but adjust it based on real conditions, something I typically ignore at my own peril.
I've really enjoyed using the Garmin Fenix 6 Pro for the last month, especially because it makes me feel like a real runner. I haven't had a chance to use it for a real race yet, or throughout the challenging winter, but so far it's helped keep me motivated as well as feel more understanding of my current training and fitness levels. I also love the look and feel of the watch and have been proud to keep it on my wrist pretty much entirely since I got it. My poor old watches must be getting used to the dark of their drawer now. For anyone who is either already a pretty dedicated runner, or even those just wanting to get deeper into training and understanding their own fitness, the Fenix is a great upgrade.