I'll make a camper of you yet: Camping with the kids
- 6 minutes read
- 1157 words
Somewhere between my childhood and my kids', I forgot how much fun a family camping trip can be. I wouldn't say it was a regular event in my family growing up, but we camped often enough to enjoy it, but it was only this fall that I finally got my kids out camping and remembered just how much fun it can be for a family. After a night out under the stars (and of course the planets which the boys identified), roasting marshmallows and broccoli (I swear they requested it), I realized it would be the kind of trip we'd make sure to do more regularly.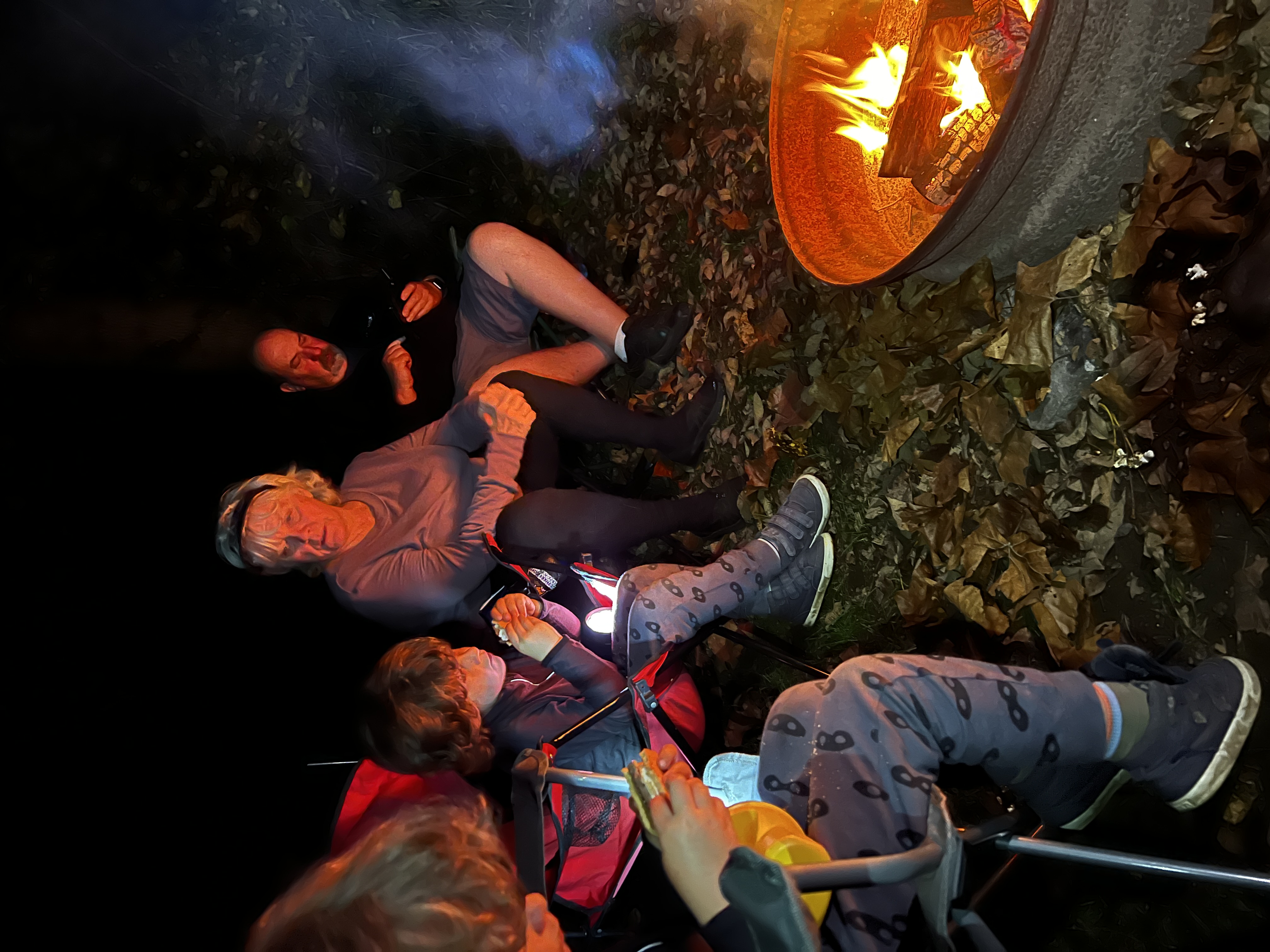 We ended up taking this camping trip thanks to my parents who got us a pair of camping cabins outside Cooperstown, NY, after their stay at the same campsite last year. We had mentioned wanting to go to Ommegang Brewery since we hadn't been since a few visits years ago when it was far smaller, so the location was ideal, especially with our dog and theirs. It would also be perfect for a few hikes in the surrounding area and for the other breweries nearby. Uniquely, as none of us have much of an interest in baseball, the main tourist destination, the hall of fame, wasn't actually on our agenda.
To be honest, I'm surprised I actually got my wife to come along camping. Growing up in Brooklyn, she didn't exactly share fond childhood memories of camping and the great outdoors. While she enjoys hiking as much as me, the idea of sharing a tent or cabin with creepy crawlies, other than our kids of course, wasn't very appealing. I happened to forget to mention that we would be sharing a common bathroom and showers with the rest of the campsite until we were well on the road up. For the kids and me though, she agreed to give it a try and by the end, I did get a slight admittance that she'd actually do it again.
We almost didn't end up camping at all though. Heading out on the Friday evening of Columbus Day / Indigenous People's Day weekend meant quite a bit of traffic. We'd meant to leave earlier, knowing it wouldn't be ideal, but our work days simply prevented that, so we ended up in completely stopped traffic on the highway and ended up bailing, turning back home, and spending the night in our own beds on the first night after and hour not moving with a crying toddler. We ended up leaving early the following morning and starting our camping adventure a bit later than expected, but still had ample time.
My camping experiences as a kid weren't all that frequent, but they were memorable to me. I think any kid will remember the unique times spent sleeping away from home in a tent or cabin and falling asleep to lantern light. Waking up on a deflated air mattress and alternatingly freezing and sweating with an itchy sleeping bag are all part of the experience. It's also the things around the camping that I remember most fondly like staying up in the dark around a firepit to toast smores and hot dogs and cooking breakfast on the grill. I wanted my kids to experience the same aspects of camping to build happy memories the same way I had.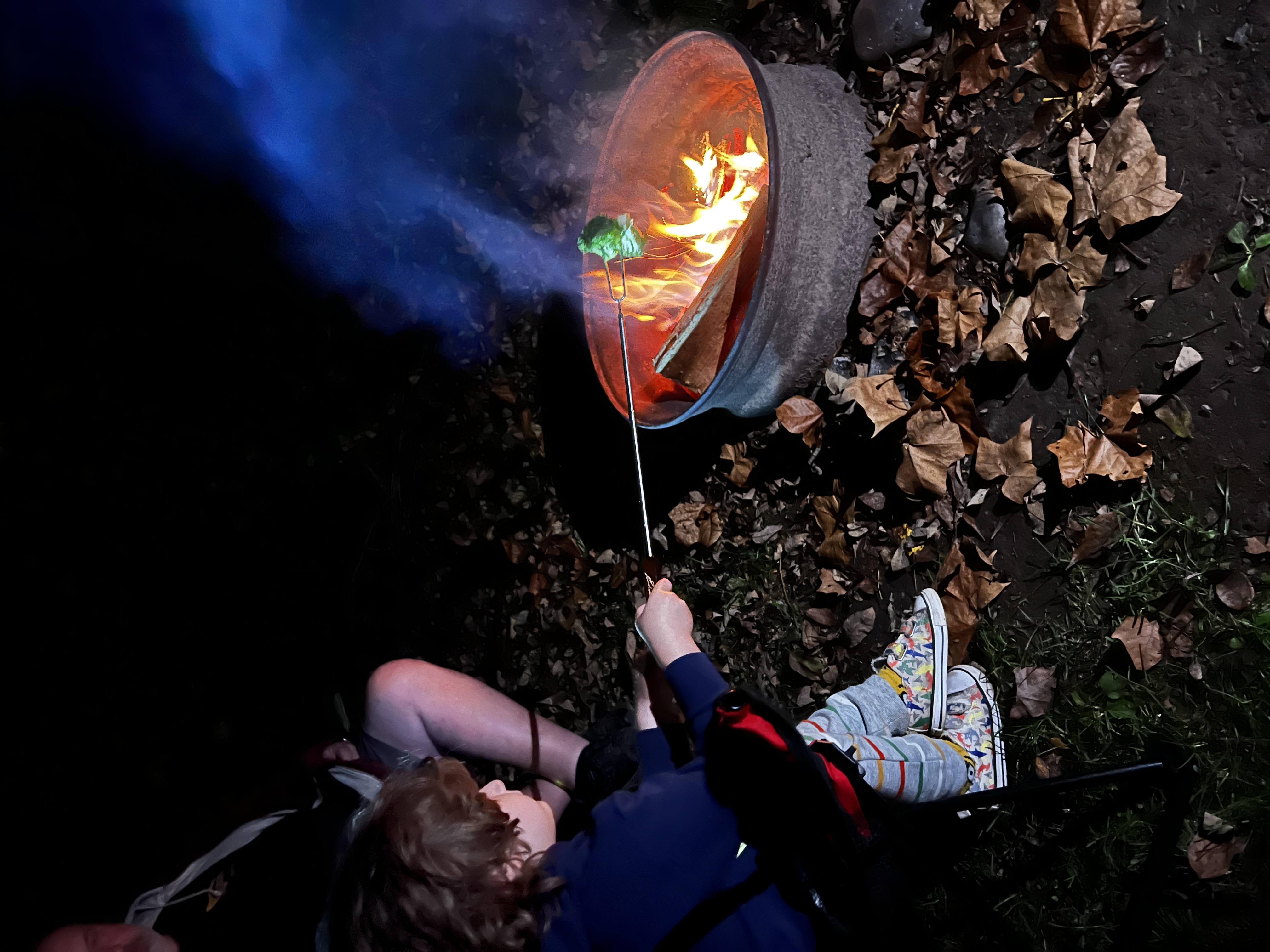 They absolutely loved it and we certainly made some fun family memories. I'll never forget one of the twins running out to us at the firepit yelling because he had chewed on the glowstick he fell asleep with and his mouth was glowing green. After frantically Googling if it was toxic, we sat laughing for at least the next hour. On a more fun note, they got to do a flashlight scavenger hunt for candy organized by the campground and we took a night time walk with flashlights. We sat around the fire roasting marshmallows while I taught them the patient way to get a perfect golden brown and my wife taught them to just set it on fire for an immediate treat. We even cooked veggie dogs and the broccoli they picked out over the fire and I managed an entire weekend meat-free with an incredible veggie chili made over the camp stove by my wife. The dog even got to join in the fun on some night time walks.
I actually thought I would be setting up the tent for the boys to sleep in, and let's face it, myself when they got scared, despite having a cabin. When we first moved into our new house, the very first night before we moved the furniture, we slept in the tent up on our third floor. It may have taken me nearly three hours to set up, but I figured I had mastered it by the end. They had a great night sleeping in their sleeping bags with the dog while their little brother snored happily on the other side of the house in his pack and play. So I still packed up the tent for our trip but surprisingly didn't have to set it up in the dark because they were happy to just sleep in the cabin with their grandparents and the glow sticks.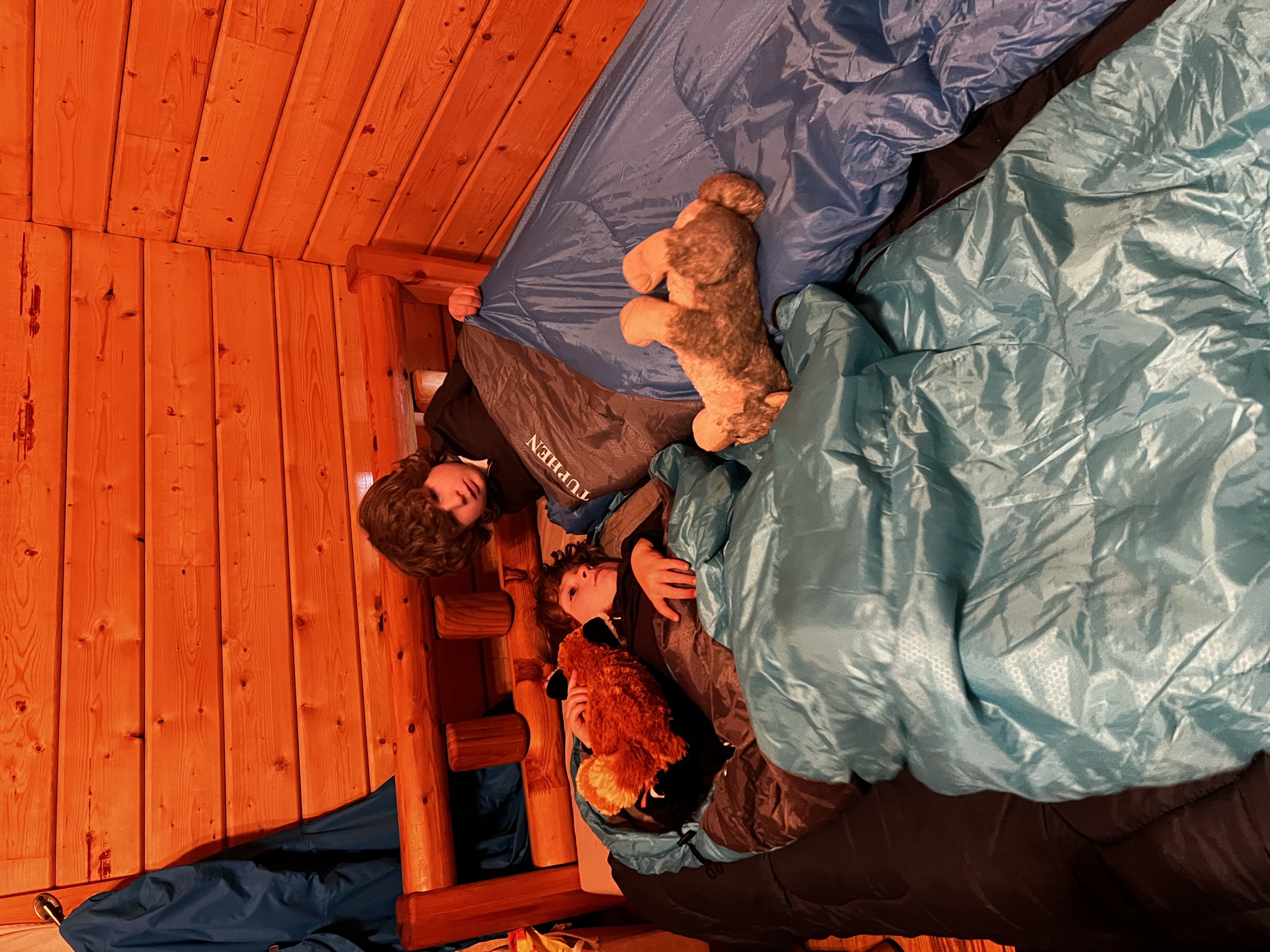 Even the youngest of our boys loved the experience of camping. He slept soundly every single night in the cabin which seemed like a miracle after other nights in new locations sharing a room where the slightest noise meant he woke up and cried ceaselessly all night. Maybe it was all the fresh air from our hikes and the exercise he got running around the campground. We took a hike around the top of the lake above Cooperstown and found a great playground to burn some energy on our first day. At Ommegang, we let all three boys run up and down a huge grassy hill while we sat with our beer. Even though he lost a shoe in the middle of the field while chasing his brothers, he had an incredible time and was ready to conk out early that night. He also loved the afternoon we spent at the Farm Museum, petting the sheep, cows, goats, and making whatever animal sounds he thought they would respond to.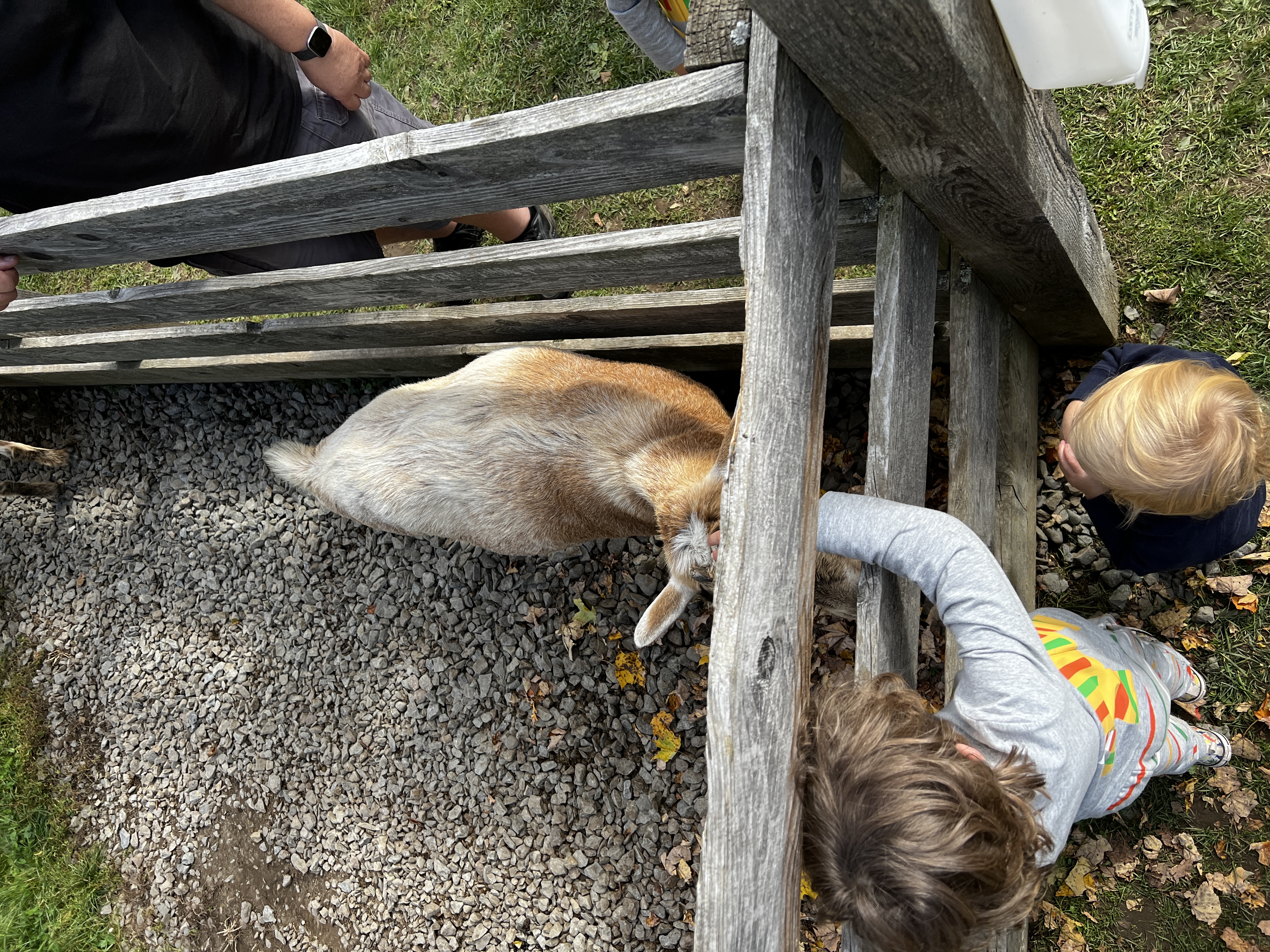 Not only was Cooperstown the perfect place to head for a family weekend together, we also found that camping was a fun way to get to spend time as a family. The time we spent as a family with my parents around town, out on the trails, and of course in the cabins and around the fire was wonderful for us all to spend time together after a long year and a half mostly apart. Plus, the kids got to build fond memories of the outdoors and enjoying nature with some of their favorite people. And perhaps best, I didn't have to fight a tent for hours to make it all happen.