Moving in the midst of the pandemic
- 9 minutes read
- 1880 words
Surviving the pandemic with three kids under five and two fairly demanding jobs wasn't enough for us. We needed to move too, in the middle of what would be a year-long pandemic by the time we moved as well as the height of the housing crunch. But it was absolutely time to move on from our home for the last ten years and into something that worked better for the way our lives had evolved. So in March we cleared out and moved into our new house and have been settling in since.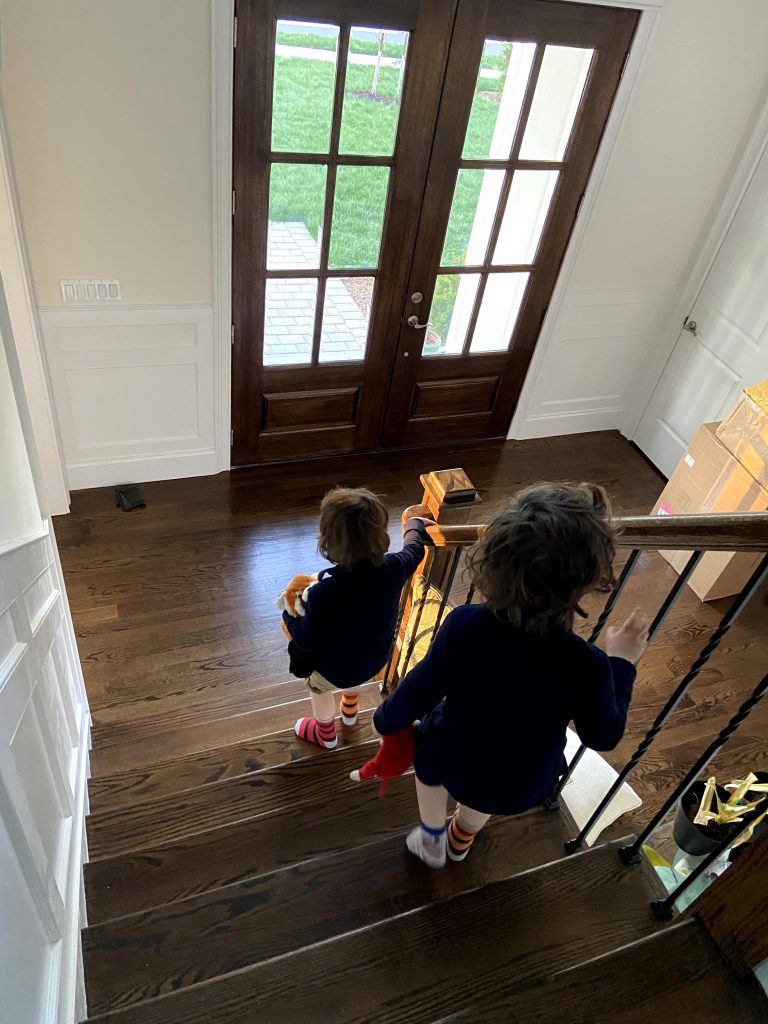 Ten years ago, my wife and I weren't even married when we bought our first house and moved in. We didn't have a dog yet, let alone any kids. The five bedroom (four and an office) home felt massive for the two of us, but we knew it would be something we could grow into. Moving in managed to feel stressful and took over a day even when moving from a one bedroom apartment with limited furniture, but moving everything down from our third floor walk up and loading up the truck ourselves went far slower than expected. Adding in a detour to Staten Island to pick up some extra furniture stretched the day out. By the end we were so tired of moving things that it took us forever to really settle in.
I recall Halloween of our third year in the house when a neighbor looked into our house and asked if we had just moved in. Our formal living room was still entirely devoid of furniture and had a few scattered boxes that never got unpacked. We learned a valuable lesson from that to first of all, not lose steam on the unpacking because the last 10% can last forever, as well as how important it is to get things out of boxes so they can be seen and used, otherwise they just sit forever.
In the following ten years, we grew into the house. We finally had it completely furnished by the time the twins came along, and just before the pandemic arrived in what would be the final configuration of rooms as we established the home office and the baby's room. As our family grew, the house adapted well with us, providing us space to gather and do family things in the family room and kitchen, while still giving some separation when the boys wanted to play alone in the basement, allowing us to stretch our wardrobe into an extra room off the bedroom, and build out a second home office when needed during the pandemic. But as we spent more time at home with nowhere else to go, the house felt smaller and smaller, we started noticing more of the work that needed to be done to keep it working for us, and started running out of room to expand and reconfigure space as our needs continued to change. In the fall, we realized we needed to find some new options.
We don't tend to make large decisions very quickly. It took us over six months to find our first house, looking at multiple houses just about every weekend in an expanding area until we finally found something perfect for us where we ended up moving. This time, we had a rough idea of the areas we would want to live, but hadn't completely narrowed it down. Our largest priority was certainly space, but we also wanted access to more community and activities because they felt completely lacking where we were before. We also wanted a great school district for the kids to grow up through so that we wouldn't need to move again for many years. Lastly, even though we weren't commuting during the pandemic, we wanted to reduce the time and complexity of our commutes so that it didn't feel like we lost significant family time to them.
Our search lasted for several months again, looking in several different areas and jumping on new listings as they came up. In the middle of our search, the market imploded due to the high demand from people leaving the cities and moving out to the NJ suburbs during the height of the virus. This meant places we saw would end up with numerous offers days after coming on the market. We ended up making two offers on houses that weren't accepted due to cash offers. We moved on but couldn't help feeling more disappointed and less hopeful that we would find something each week.
In the early winter we looked at a new construction that we liked, but just couldn't imagine how it would work for us. We hadn't looked at new constructions because we felt the amount of work in managing the construction and all the choices we would have to make would be too much for us to handle with everything else in our lives. We continued our search and had some close hits, but nothing that felt right to us. A few weeks later, our agent told us that the new construction we had looked at was further along in the construction, and with some of the structure coming along further, it was becoming easier to picture how it wold be laid out. We took another look and fell in love with the place. Not only was it even larger than it had felt before, but we could start to picture how the family would use the space and how we could make it our own with the remaining building choices that had to be made. We made an offer the day after Christmas and went under contract apparently just beating out sever other offers that were about to come in. Apparently the only way to beat the insane demand for houses on the market right now is to go for brand new, or more likely we happened to just time it perfectly.
Since the house wasn't complete yet, it would be a further three months until construction completed and we could move in. During this time, we got to make selections on the tile for countertops, backsplash, all the lighting, the bathroom and kitchen fixtures, paint colors, and carpet. This allowed us just enough customization to tailor the house the way we wanted it, including adding carpeting to the basement to make it a massive play area for the kids with enough room for our exercise equipment, while not having to fret about managing too much of the construction. It even gave me the opportunity to get an outlet put in for our Tesla in the garage.
I can't say that the construction and closing went without a hitch. We had a difficult time with the bank getting the final appraisal completed on time and there were some delays and overages in the budget mostly due to the demand for everything home related right now, especially the appliances. Two months later and we still don't have a clothes dryer or even a firm delivery date for it despite having the washing machine for nearly a month. In the moment, it felt like every day brought another issue or problem to surmount, but as the construction came along and finished up, we were thrilled with the end result.
I think the excitement about the new house actually made our packing go smoothly as well. Despite using well over a hundred boxes, we managed to get packed up in about a month which is no small feat for the amount of stuff we had accumulated. I'd blame the kids for the amount of their toys and other stuff, but we somehow had a ton ourselves as well. We were also able to move some things ourselves in the car since we ended up moving right up the street from the boys' daycare. This allowed us to get some stuff out of the house to make the packing easier and to minimize the number of things the movers would have to load up. Moving was pretty straightforward and completed by the early afternoon. It would be the unpacking and settling in that took forever.
Our decision to utilize movers for this move definitely paid off in terms of organizing and arranging the furniture. This was a part that took a substantial amount of effort when getting moved into our first house. Re-assembling and moving around furniture took a few weeks and slowed down our unpacking and settling in. For this house, with the furniture set up in the proper places, we could immediately focus on unpacking boxes and getting our stuff arranged from the day we moved in.
What took way more time than I expected was the amount of little projects needed to get a new house in loving order. Even though we had the closets set up for move in, we still needed a large number of shelves for the basement and garage to organize the huge amount of stuff we had accumulated in the old house in those locations. I chose not to move the workbench I had in the old house because of the size, as well as the bar which had already been disassembled and poorly rebuilt, so I needed to order, assemble, and organize new ones. We also needed mirrors, towel and toilet paper holders, and I decided to set up a shed. I also needed to install screen doors on the patio doors. All of these projects added up so that I've basically been busy every night and weekend day doing something to get the house in order while other chores have piled up like taking care of the landscaping and cleaning as much as we should be.
Now that we're a bit over a month in to the new house, it was absolutely worth it, even with the challenges in the move and doing it during COVID. Having the extra space has been incredible as we're home all the time, and we feel less trapped in our new house. My home office is more conducive to getting work done throughout the day, the boys have their own space in the basement for all of their toys on rainy days, and now that we're on a dead end street right near the school, they have plenty of space to ride their bikes and run around. Instead of everyone gathering in the middle of the kitchen every night and stepping on each other, we can spread out around the island now and actually have family time like we imagined. I'm sure we could have found ways to make our old house work for us still, but being able to leap to an entirely new one worked out great for us.
It feels like this house has the ability to continue growing with us and working and adapting in the long term as our lives evolve. Who knows where we'll be in ten more years, but we know the boys have a great place to grow up and where we can enjoy as a family. It wasn't an easy path during such a crazy time, but going with a brand new house where we could customize aspects to make it feel our own, it certainly feels like we've found a forever home for our family.