Becoming a red badge - my first ten years at Amazon
- 6 minutes read
- 1165 words
A decade ago, I had only just recently been married, bought a house, and got our dog together. We also had exactly zero children, so life was pretty different then. I doubt I could have predicted any of these big changes in my life, but actually the thing that I thought was probably least likely was that I'd still be in the same company ten years later. Leaving the financial industry and joining Audible / Amazon, I knew it would be different and more to my liking, but I didn't expect to still be at Amazon over a decade later.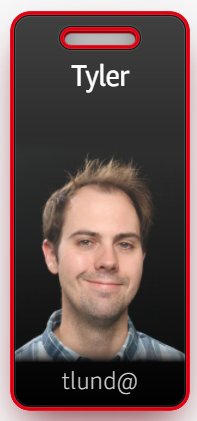 On August 25, I completed my tenth year, 3653 days, at Amazon. I got a new red badge (virtually only for now), and a ton of congratulatory messages. It won't be until somewhere between my 14th and 15th year before I've spent as much time at Amazon New York as with Audible, but now in my third year there, I can see the differences and similarities pretty clearly.
There are also plenty of differences between working in Newark and New York, though none feel all that important now with working from home. I could compare the pre-work morning runs in Newark's Branch Brook Park (surprisingly a fantastic running spot) and along the East River (also great to run, but terrible to get to because of the traffic lights). I could also espouse on the pros and cons of commuting via the train, bus, and car, or how walking is better than all of those. But those differences just don't feel that important these days.
To recap, I started at Audible as a software development engineer, working on the website. It was an interesting transition, both coming from the financial industry to the retail e-commerce industry and shifting from more backend development to the front end, something I had limited experience with. I entered the financial industry from college because it was where the jobs were, especially in the New York area, but I had always wanted to work for a technology company, just didn't have much of a chance. When I started looking outside and discovered Audible with a shorter commute, part of Amazon, and working on something real people actually use, I made the jump over almost immediately.
I worked on the website for a few years, learning more about Jquery, CSS, and JSPs than I ever dreamed (or had nightmares about). Eventually, I was doing almost as much in leading a team as I was in writing code; running meetings, acting as scrum master, mentoring others. At that point I decided I enjoyed those things (ok maybe not the meetings so much), and started on the path to becoming a manager. When that was official and I managed a few different teams for the website, I decided I wanted to do something different and moved to managing one of the backend service teams to learn more about APIs and services. That grew into managing a couple of teams cross functionally, managing a combination of services, web, iOS, and Android, and starting to manage other managers. After a while doing that, I decided I wanted to do something in a completely different space and see how Amazon.com differed from Audible.
I moved to Amazon's Supply Chain Optimization Technology team in 2019 and managed teams working on capacity forecasting for the fulfilment centers around the world. During the pandemic, I switched teams again, still in Forecasting, but focusing on product demand forecasts. In this, I get to work closely with scientists on a regular basis, work with some of the latest AWS services and tech, and peer into the deep science of our machine learning models with our incredible scientists.
Though it's been over a decade, I don't feel like I've stayed in the same job anywhere near that long. Every year or two, I've had the opportunity to change roles, teams, or products either from my own choice or to help step in and help various teams scale and grow. I feel like in ten years I've had five or six different jobs and never felt even close to getting stale with learning. Whether it was learning how to be a better front end developer, how to more effectively manage, how to scale others, or the science of deep learning models, there's never been a dull day or one where I didn't learn something new. Thanks to the scope and size of Amazon, I have always had the chance to move around and re-invent my career whenever I feel the urge. The network I've built up over a decade also helps with discovering opportunities around the company. It used to be hard to find many teams in New York, but the growth of Amazon in the meantime has made this far easier now as well.
It's not all completely perfect though. There are plenty of things I want to see Amazon do better. It's become impossible to turn a blind eye to how large it has become and what a strong influence the company has on the wider world now. I'm glad to see sustainability and climate pledges publicly announced, but there is a huge amount more the company can do to be a true leader in these areas, especially in the logistics and delivery spaces. The company also has huge strides to make in DEI, Social Justice, and with unionization. While these areas have certainly gotten more attention both inside and out, there are large steps that still need to be taken across them all.
That said, it's incredible how Amazon has grown since I started. 99% of employees at the company worldwide were hired after me, and I'm in the top 10 longest tenured employees in New York City. In that time Amazon has grown in New York, a ton in Seattle which I've been fortunate to travel to many times, and expanded around the world. The stock price was under $140 when I started, and it's currently hovering around $3500. Amazon has become a critical part of a huge number of customers' lives, and enabled a tremendous number of people to get items quickly, conveniently, and safely. Audible has continued to empower people to read when they otherwise couldn't, and expanded education and entertainment for a huge segment of the population. As we say though, it's still Day One and there's a lot left to do.
I'm looking forward to continuing my journey at Amazon and fighting for the culture and company I want to see. One of the things that immediately struck me about Amazon when I joined from the financial world was that decisions are not top down, and every single employee has the ability to influence the direction of the company and make changes. I never truly felt that in previous companies. I suspect this, as well as the ability to consistently find new opportunities will be what keeps me at Amazon for the next decade as well.