My 2017 Running Gear Guide
- 9 minutes read
- 1837 words
Oprah can keep her holiday guide. Her gifts will keep you on the couch and snuggling, while runners want to be outside training for the next race. I've tried and tested a ton of running gear this year, and I can definitively say these are my favorite items. From head to foot, this running gear will get you out and running and keep you there.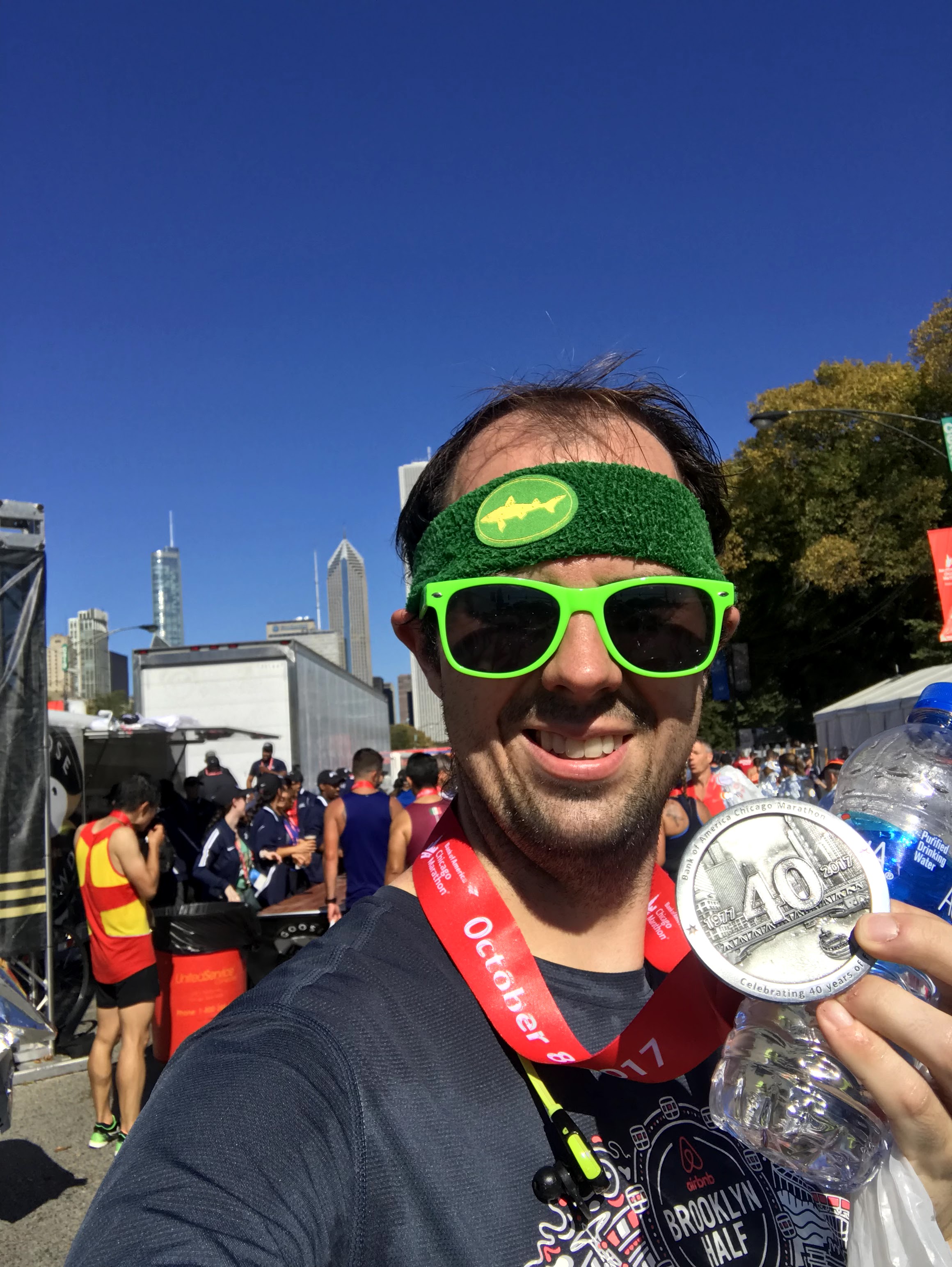 My running routine has changed a bit with a total of four marathons under my belt, way fewer treadmill runs, more trail running on the weekends, and the discovery of a running route at work that has allowed me to get in runs more frequently. My priority has thus changed to less gear and higher quality runs, and my gear has changed to reflect it.
For minimalists and the tech savvy alike, this essential gear will help with training for a fast 5k sprint, first half marathon, or that fourth fifth marathon training to finally beat four hours (yes I'm still bitter). The right gear won't weigh you down or slow you down and isn't a distraction. I've gotten rid of the gear that was flaky or janky, because the last thing I want on a 20 mile run is to fiddle with bluetooth settings, a loose string, or a dim light.
I've refreshed my list from 2016 based on what I've learned from 3 more marathons, 8 or so halves, and even a few fun runs and 5k races. The Pebble is gone (RIP Pebble) as is the Fitbit as the Pebble would lose connection in the middle of races and the Fitbit never did enough for even a recreational marathoner. My shoes and gear have stayed with the same brands after some experimentation. Mizuno shoes were an interesting change, but always felt too heavy for long runs.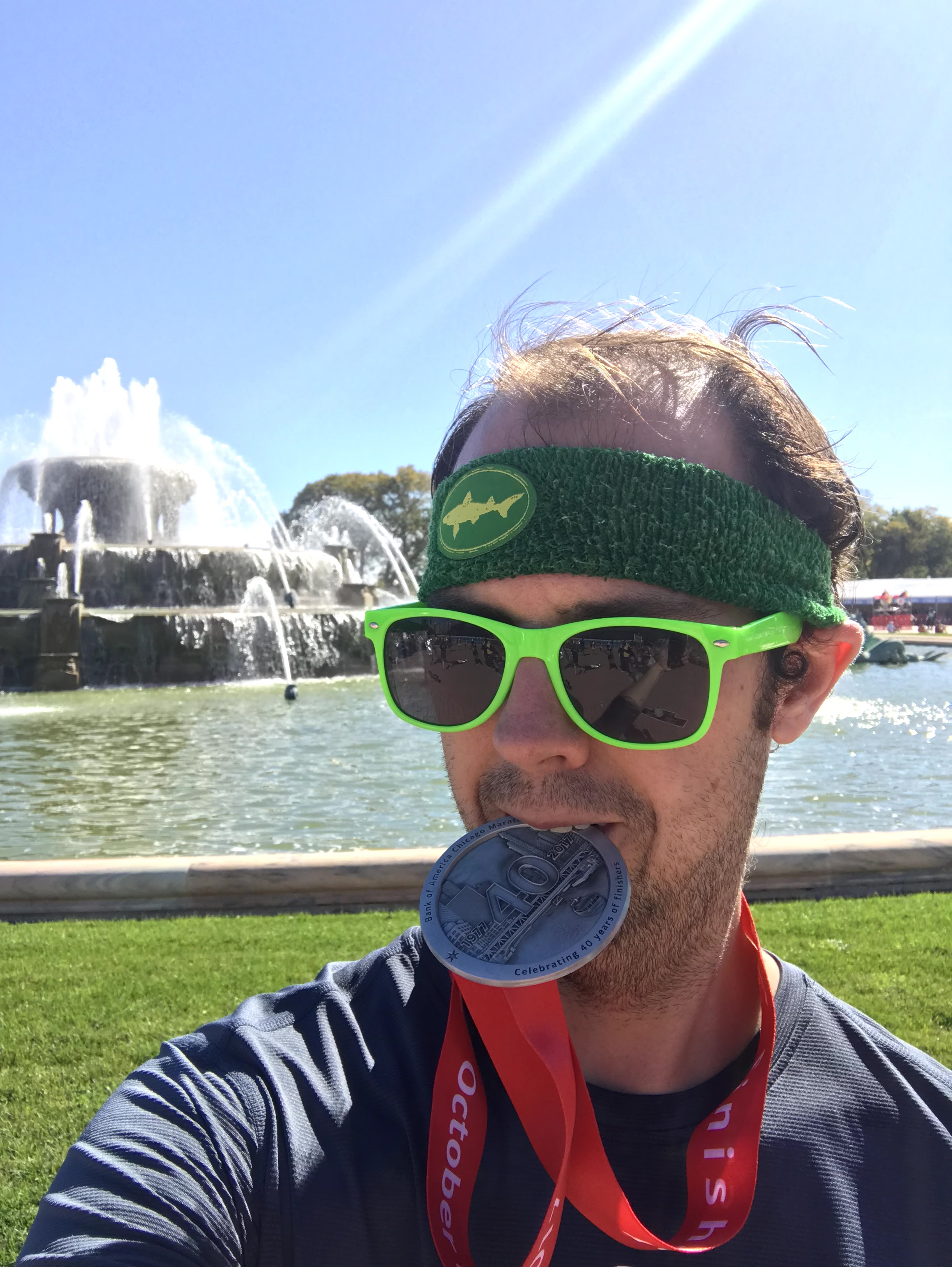 I'm still using the same hat, gloves, and clothes, basically everything I've got from races. My fueling is largely the same too though I've added JellyBelly sports beans to my waffles to mix up fueling on long runs. I can't do goo stuff without feeling too weird in the last stages of a race. I've probably gone through about ten sticks of body glide this year. I use it even on short runs because I've learned to never take a chance.
Here's what has changed.
Garmin Vivoactive HR $174.50
I didn't realize what an upgrade this watch was over my old Vivoactive until looking at pictures of that old bulky version just now. I got this watch at CES this year after winning a raffle from running with folks from Garmin on a "5K" that stretched 8 miles and included stops for squats. Worth it. This watch improves on the old version by adding a heart rate sensor and better display. It isn't as smart as an Apple Watch, but it is a fantastic running watch with some smart watch features. Don't let the casual look and feel fool you, it works great for marathons and training. It also automatically uploads to Strava which I've completely switched over to now with the recent improvements that make it by far the best running social network in my opinion. I still get texts right on my wrist, key for knowing where to find my support team during a race.
Saucony Ride $67.52
I'm still on the Brooks bandwagon, but lately I've been digging Saucony even more. I had a great personal connection to Brooks after having a great experience at their Seattle headquarters where a salesperson went on a run around the block with me to try out various shoes, but I've recently discovered Saucony has a Lehigh Valley connection that I love too. Plus, the shoes seem to agree better with me on long runs. It might just be the newness of the shoes adding spring, but I feel like these propel me forward more too. My long runs in Saucony shoes were my best long runs during training and so I decided to run in these during the Chicago Marathon where I PR-ed.
Brooks Ghost 9 $95.99
I've tended to stay a generation of shoes behind lately as the price discounts more than make up for the newest technology. I'd rather save up to 50% on the shoes and get two pairs I don't feel bad about wearing out than the latest generation with crazy new cushioning tech. I've been liking the Saucony shoes more lately, but the Ghosts are a running classic and probably the shoe I'd suggest to any new runner. Looking around at marathons and especially half marathons, the vast majority of runners are in Ghosts. For some reason, probably my own weird feet, Ghosts have been giving me plantar pain on my left foot lately so I've been using these more for runs up to 8 miles or trail runs rather than long road runs and races. I enjoy having them as an option to rotate during the week though so that my feet don't get too tired.
Mighty $85.95
This wacky little device is essentially an iPod Shuffle for Spotify music. After a fairly successful Kickstarter campaign, Mighty has launched it's own site now and added this cool neon orange version. I have the more pedestrian white and blue version, but it works the same. They've gotten much better in the last couple of months with frequent updates, but it's clear they are still a small company and working out issues. I experience constant wireless headphone connection drops and resets on runs which is a huge pain as you can only reconnect via the phone app which defeats the entire purpose of the device. However, with wired headphones, I've never had a problem.
This little player stores Spotify playlists offline so that you can take it on a run and leave your phone behind. It's perfect for my morning runs at the office where I don't want to carry a phone and go out with just this and my building badge. I can even clip it onto my shirt when I forget to wear shorts with a pocket. Since I've been doing more runs at work during the week, I don't want to bring my phone most days and the Mighty, when it works, lets me head out with music and stay light.
Pixel 2 XL $1,089.99
I just upgraded from an iPhone 7 to the Google Pixel 2 XL. I had been on an iPhone for the last 3 years and forgot how much I liked Android. A quick history of my phones since 2007:
Moto Droid
Moto DroidX
Galaxy Nexus
Nexus 4
Moto X
HTC 7
HTC 8
iPhone 6
iPhone 6s
iPhone 7
Yeah, I might have a phone problem. I finally switched to a larger phone because I just loved the look of the nearly edge to edge screen of the Pixel 2 XL. I've only had it for two weeks, but I absolutely love it so far. The pictures are amazing and notifications on Android are just so much better. the app situation has gotten dramatically better since 2014 too. When I want to be in touch in case of emergency on longer runs, or know I'll want to grab some pictures for my Strava feed on a run, I bring this phone along. Granted it's way too big to just carry or stick in a pocket so I had to also get…
iMangoo Armband $9.99
This was the highest rated armband that would fit the large Pixel 2 XL I could find on Amazon. It not only holds the phone quite snugly without bouncing which gets irritating and causes chafing on long runs, it also has a zippered pocket for cards, keys, and could probably even fit a spare battery charger. The fabric gets pretty wet and gross on a long run, but at least it can be washed by hand. The phone does pretty much cover my entire lower arm, but that's more the design of the phone. It's also a must for actual races where I need my phone to stay in touch and find my support crew after the race.
Headband $0.00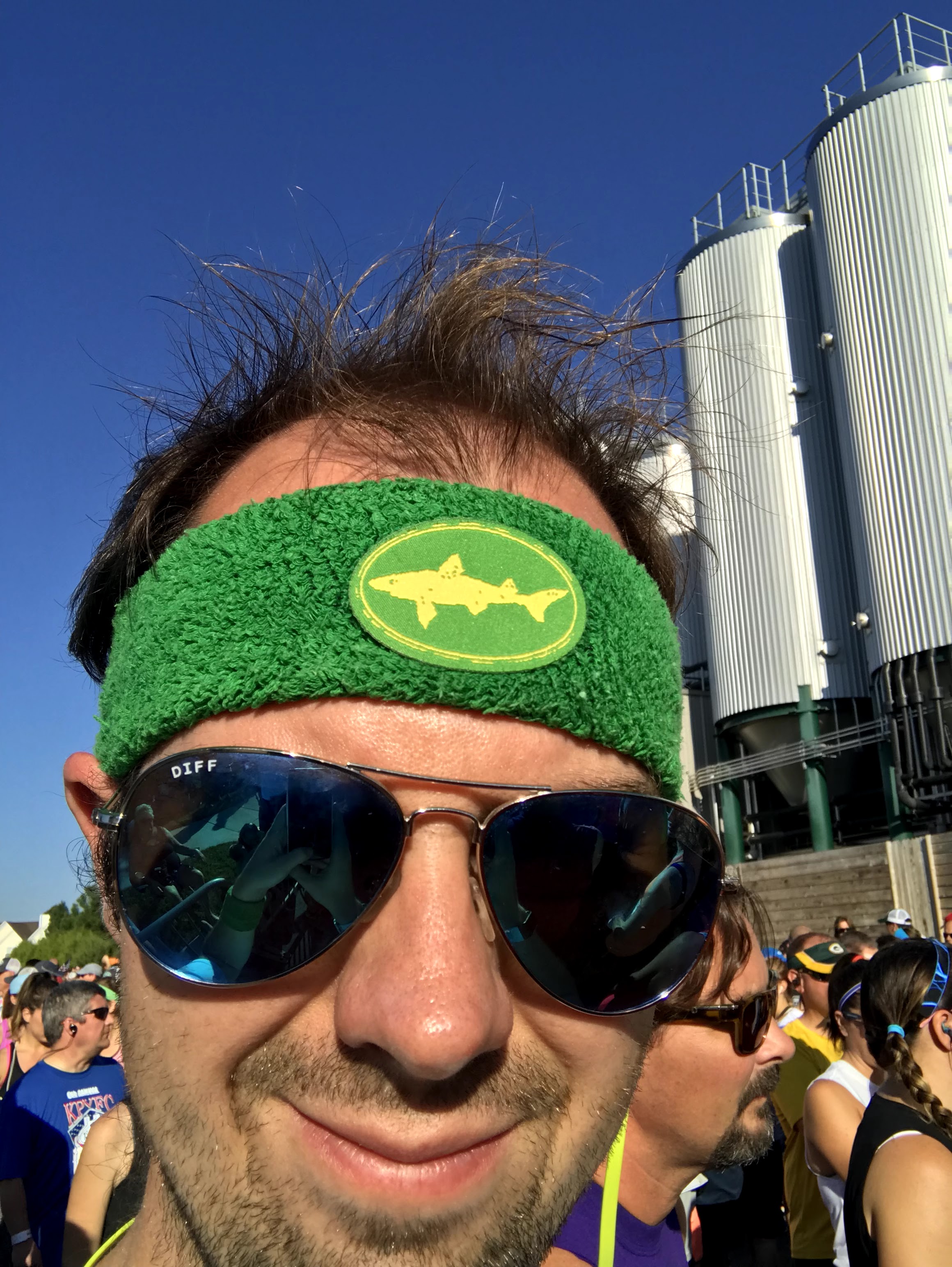 I just wear my Dogfishhead headband on most runs. Oddly, I got this for free at a music festival yet the Dogfishhead run didn't have them. I didn't realize how sweaty and gross my head got on long runs until I started wearing this ironically to look like a 1970s runner and then started actually liking it. At least it keeps the sweat out of my eyes and from stinging them. It also apparently makes me much easier to spot for my wife during races.
Yalumi Spark LED Headlamp $12.95
Discovering a running route that goes through the park near my office has totally changed my running routine and let me get away from the treadmill. The downside, beside the homicidal drivers who don't yield to pedestrians, is that the sun is barely out when I go out for runs. If I save a run for night, like I typically do during my daily run streak from Thanksgiving to Christmas, it's certainly dark. This headlamp keeps me from running directly into a deer and keeps cars aware of my presence. My neighborhood doesn't really have sidewalks or streetlights to speak of, and in the winter even the road shoulders are snow-covered from basically November through April. Having this light which gets pretty bright and has a blinking mode extends my usable running times considerably.
Camelbak Octane Dart Water Reservoir Backpack $68.99
I switched from the water bottle based fuel belt I had before to this backpack after it came unattached during a NYC run and a taxi ran over half of the bottles. This backpack is the perfect upgrade. It holds plenty of water for almost any distance. It makes it about 15-18 miles for me depending on the temperature and it's easy enough to quickly refill from a fountain for anything longer. It also has an easily accessible zip pocket that I shove my waffles and beans in and can easily grab out. It does tend to chafe just my left shoulder, probably because I have the straps slightly off. It even has a cross chest strap to keep it steady and stable. I usually throw in a bunch of ice cubes to keep it cool for hours even in the summer.
With a bunch of upgrades and updates to the gear I use almost daily, my running has improved. I've been able to set PRs in the 5K, Half Marathon, and Full Marathon this year. Most of it probably results from better and more regular training, but I think more awareness of the gear has helped too. I'm relatively happy with my current gear but can't wait to see what improvements come out in the next year. With running becoming such an important activity for so many, the technology in devices, gear, and clothing is improving at a staggering pace and just keeps getting better.