How I took 10 minutes off of my half marathon PR - Montclair Bread Company Baker's Half Dozen Race Recap
- 8 minutes read
- 1573 words
It takes a special kind of crazy person to run distances like a half marathon. We wake up at 4:30 am to get to the start line before the sun is up and any sane person is up either. It really takes a special kind of crazy person to do this while wearing a five foot inflatable donut. These are the fellow maniacs I find myself lining up with at 6:45 in the morning in front of the Montclair Bread Company while the strong smell of baking donuts wafts through the air. Granted, it's better than the normal smell accompanying a large group of runners, something like a skunk snuck into a hockey team's baggage truck in a rain storm.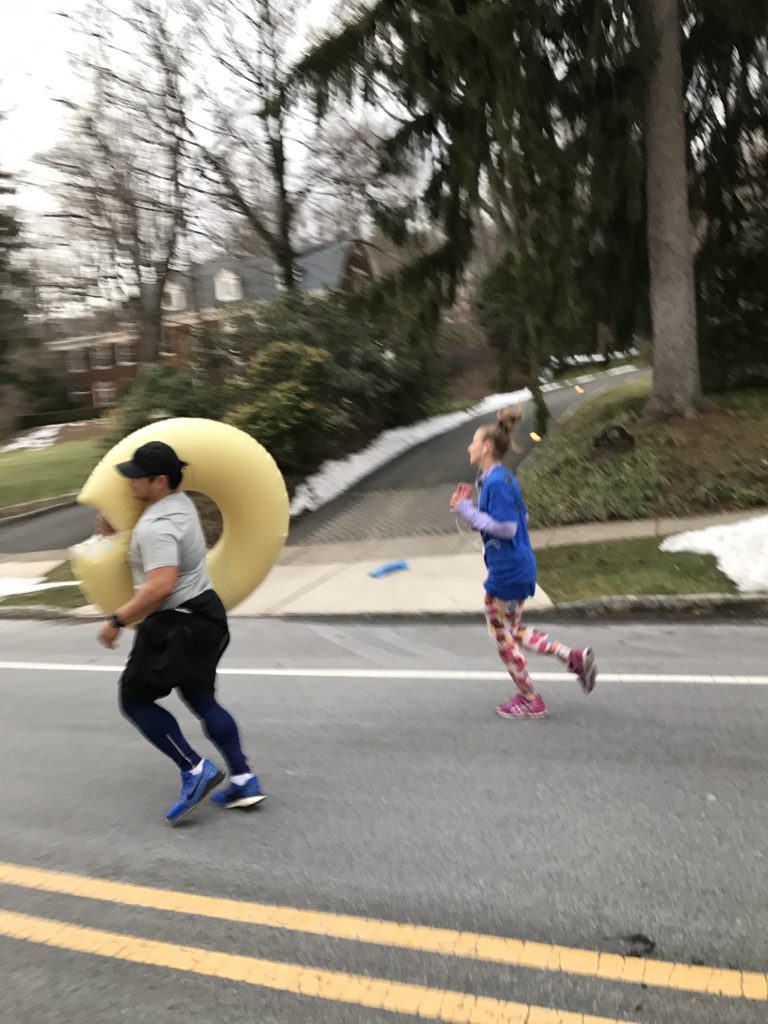 For my first race of the year, I set myself two goals. First, and more realistically, was to meet my consistent pace of last year's half marathons at 1:50:00. My second goal, a stretch that I didn't tell anyone about due to the unlikelihood of it happening, was to set a new PR at just under a 8 minute / mile pace. Thanks to the majority of my training run on a treadmill - partly due to a wet and cold, though not very snowy winter - mostly due to running most of my training in Newark at 7am after getting the boys ready for daycare, I wasn't sure if my training paces would hold up. This year I followed the Hal Higdon intermediate half marathon schedule which called not only for more days of running - five per week instead of my previous 4, but also split the runs into pace, tempo, and speed repeats. At first I mostly ignored these and focused on the distances, but after realizing I still had a good distance base from the fall and winter, decided to focus on speed. I used the long runs on Sundays to focus on distance while Saurday's pace runs were used to build up my baseline pace. Starting at a 9:00 / mile pace I worked up to 8:45, then 8:30, then 8:15, and finally 8:00 in the last few weeks. Wednesday's runs alternated between speed work repeats at a 5k pace - which I also increased as time went on - and tempo runs where I did the same. My approach was to use these to test my limits, pushing myself for a mile of it at ever increasing paces, then settling back into what then felt more comfortable, even if it was faster than normal for me. For example, when 8:30 was comfortable, I'd push myself up to 8:00 for a mile during the tempo run, then back down to 8:15. On the next speed work repeats, I'd do the repeats at 8:15, with 2 to 4 of them at 8:00. Then, the next longer pace run I'd go up to 8:00 which would become my new baseline. Even with all this prep, I wouldn't be sure it would hold up in an actual race until race day.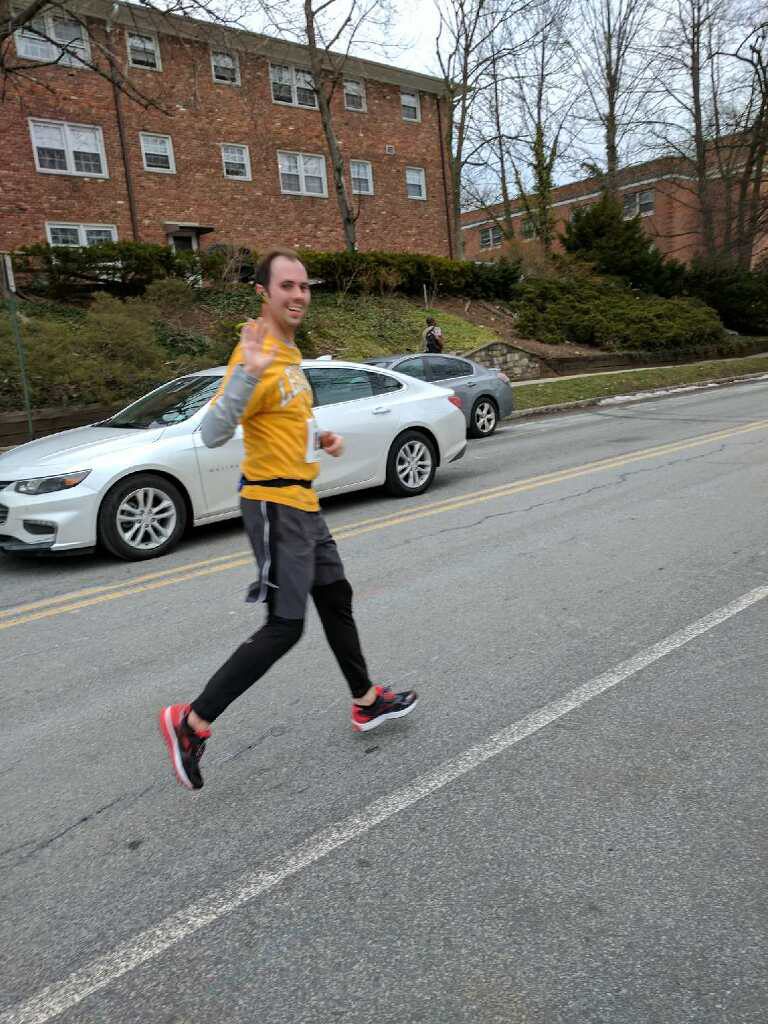 I've grown used to running races in NYC where everything is over the top and organized. Packet pickup is usually a lengthy affair with a huge vendor fair accompanying it. For this race in it's inaugural year, it's actually refreshing to have pickup in a warehouse-like space behind the bakery. Pickup takes all of 10 minutes including a quick browse of the stalls. I can't stay longer though as I have a hot date; putting the boys to bed at home. After trying on my purple-ish half zip shirt - complete with finger holes in the long sleeves and all! - I head home. It's a good thing too because with an early 7am start, I need to hit the bed early. I even set two alarms to make sure there is no Seinfeldesque confusion of the AM/PM setting.
I'm still not sure who is crazier, the runners or those that come out to support them. Like every race I've run, my wife comes to cheer me on. This time, she brings the boys. It will actually be their second race cheering on daddy, but keeping two 9-month-olds entertained while waiting outside for their dad to run past for a minute is much different than doing so for 4-month-olds when they mostly slept. They do seem to be in great spirits while we make our way to the starting line. There are more than a few other strollers around. My wife gets asked more than once if she's running with them, to which she replies, "yes, right down to the coffee shop". Knowing my family will be there waiting for me at the end always gives me extra energy in the final stages of a race.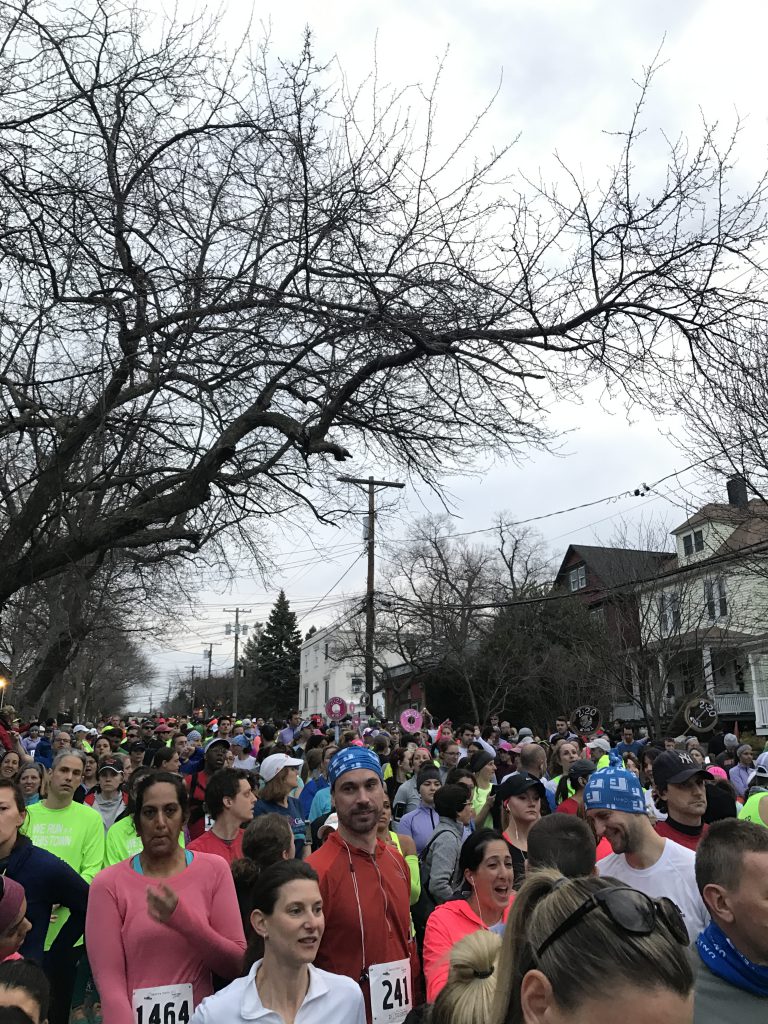 I've run small races before, ones where the start line is chalk on the road, ones where the only entertainment is your headphones, and ones where the only race shirt is one you make yourself. This however, is the first race I've run where the start is marked not with a singing of the national anthem and announcements over a loudspeaker,but just a blast from a bullhorn. For a moment, no one is sure if it's time to go. Then the crowd surges forward and we're off through 13.1 miles of Montclair.
Montclair isn't a huge town as quickly becomes apparent after looping around similar feeling residential areas for the majority of the race. However, the crowds and houses certainly are that - huge. For much of the run we pass huge houses up on hills set back from the road by several hundred feet. I spot a few Lamborghinis and Ferraris along the way and enough Teslas to pay for the next three generations of the Musk lineage college tuition. Many of these I see coming directly toward me as only half of many of the streets are closed off for the runners. At least here they travel far slower than in other races I've had in similar circumstances.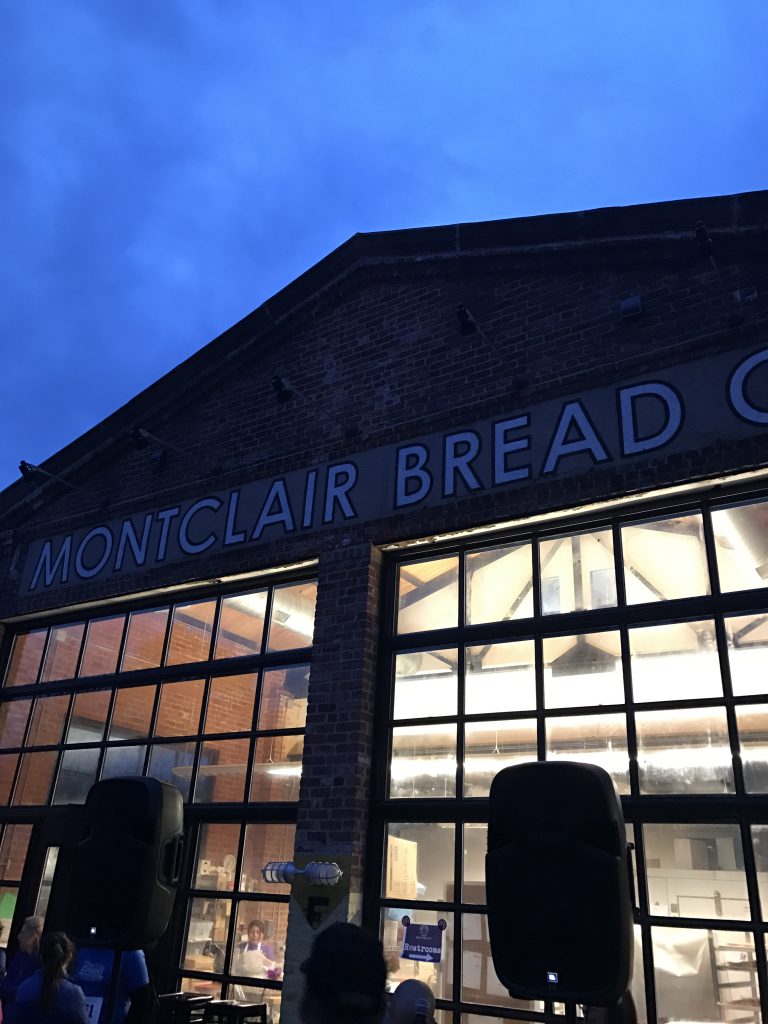 The crowd support extends throughout much of the race with families out in the front yards and groups supporting family and friends in multiple spots on the fairly loopy course. The spot I find I need the most support is toward the beginning where a nearly mile long hill starts to take a toll. Thankfully the majority of the remainder of the course is flat or very gently sloped which actually allows my muscles to take breaks as the slop changes. The signs are appropriately baking themed as pertains to the race theme and title sponsor. I nearly give up on my pace goal and take a break when I see a sign proclaiming "donut stop". Sure it would probably ruin my race, but who am I to turn down a free donut. I then realize part of the sign was obscured and in totality it reads, "donut stop running". Get it? I nearly fall for it three more times.
In a good race, I often find myself around the same small group of a few runners for much of the middle of the race. This is a good way to know I'm sticking to a pace and started around the right place. In reality, I started back a bit too far and had to slalom around other runners for the first mile, but doing so kept me at a good warm up pace until I got some clear road. Within this group, I begin to need a mental activity besides crazy runner math - 10 miles, that's 5 miles twice which is only a little more than four times the mile I already did, so I'm really almost done - so I begin to focus in on the others. I name one Bernard who strikes me as a potential brother for Bernard from Westworld. I spend miles 6-8 talking to him in an Anthony Hopkins impression voice inside my head - and once or twice maybe outside my head when I was tired - it would explain the odd looks from spectators. Bernard may actually be an android because at mile 8 he picks up speed and leaves me in the dust and my mortal human legs simply cannot keep up. Or at least so I tell myself.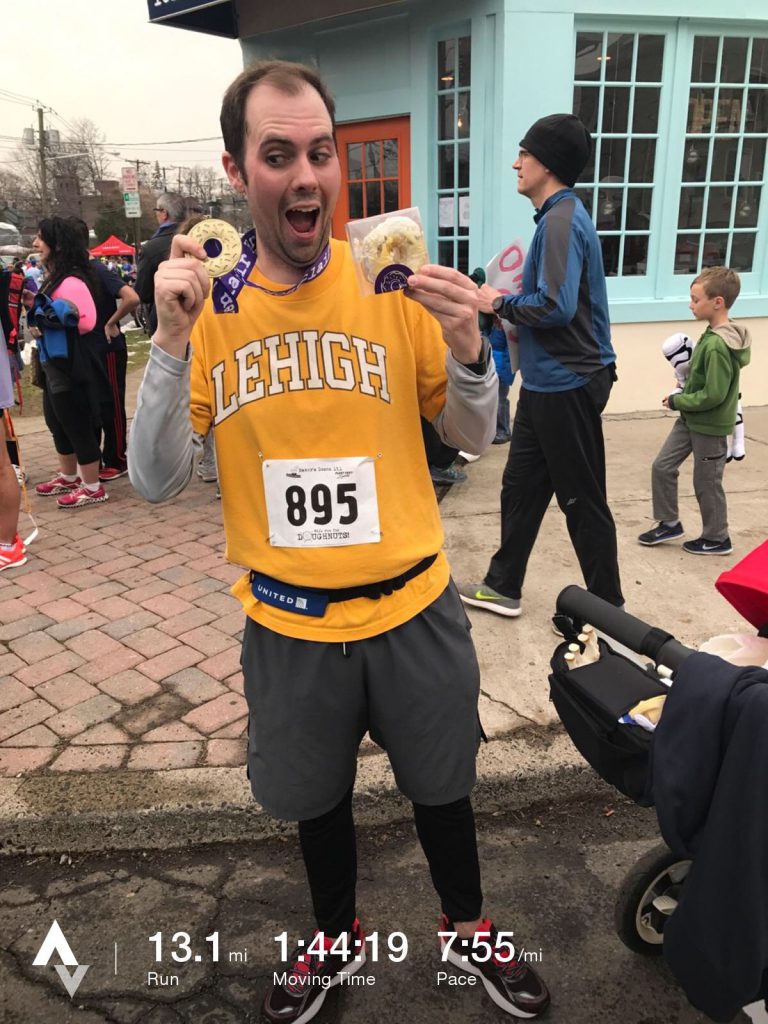 Crowd sizes only ebb toward the end of the race where miles 10-13 are an out and back from near the downtown. I suppose most supporters don't want to head out and risk missing the fun at the finish line. When I finally see it around a corner - and there are a lot of corners between miles 12 and 13.1 that nearly fool me - I grunt inappropriately loudly in front of a family with small children and gun it for the finish line - marked much better than the start with an actual timing clock and everything. I beat my stretch goal with a 7:56 pace, finishing just under 1:45:00. Apparently the treadmill training and the limited runs I did get outside held up. My reward is a golden donut shaped medal and an actual gold colored donut from the bakery. I inhale it - the actual donut, not the medal - before just about eating the medal as well. I note Bernard does not eat the donut, but instead looks at it quizzically, perhaps laughing inwardly at the frailty of us humans. I'm fairly sure I see him eat the medal though.