I took my 1-year-old twins to Norway. Here's what I learned.
- 8 minutes read
- 1684 words
Can a cruise ship run out of rolls? Our one-year-old twins did their best to find out. We took our twin boys to Norway to celebrate their birthdays, their Scandinavian heritage, and to get them traveling. Travel has been such a huge part of my life as well as my wife's that we wanted to cultivate the same passion in our boys from an early age. We chose a cruise to Norway because we thought it would be perfect for the boys and us. And it was.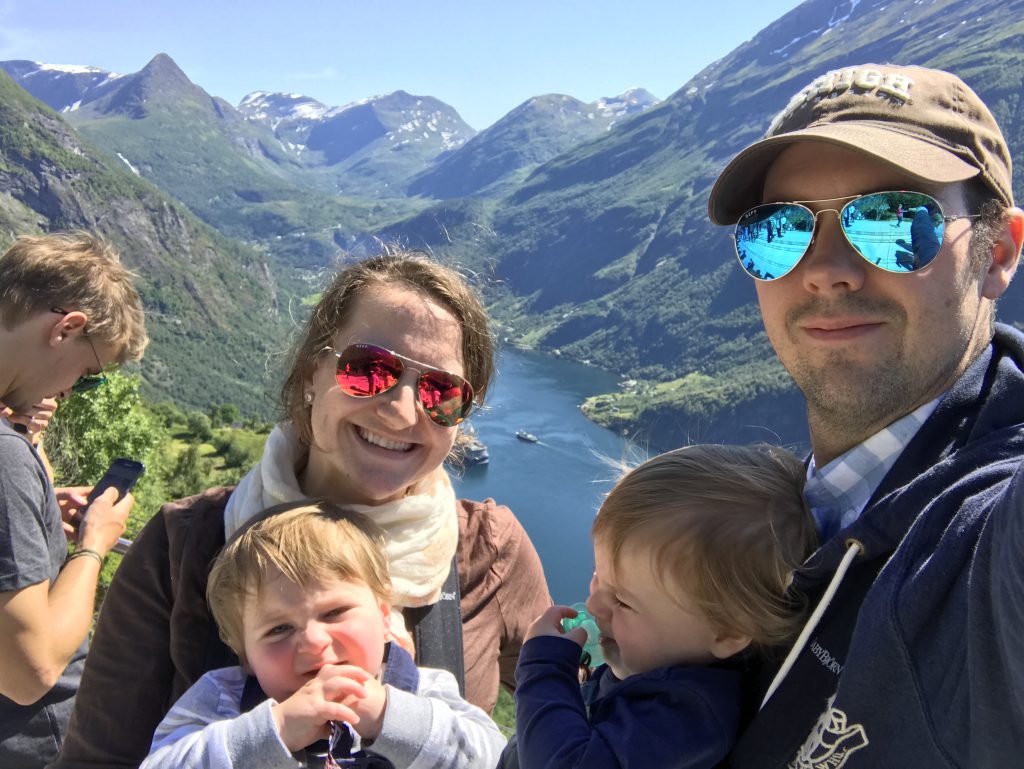 As a true mutt of ancestry across Northern Europe, it's hard to know which cultures to identify with. My paternal heritage is Danish, so the Scandinavian culture, viking history, and natural beauty has always appealed to me. For our first trip out of the country with the boys we set our sights around the Baltic. A Baltic cruise had been on our radar for a while as it's a part of the world we haven't seen much, and the water based route seemed the most promising way to see most of the cities. However, we felt the Baltic might be a bit too hectic and require too much moving around for the boys at this age.
A cruise seemed like the perfect mode of travel as we knew we'd have great food and service without much planning, see new places everyday, and have the ability to keep the boys on a fairly regular schedule, something we found critical to them staying happy and sleeping well, meaning our vacation would be less stressful. So we chose a cruise up the western coast of Norway through the fjords. Norway had been featured on lists of the most family and children friendly countries recently, and had appeared on several lists of the most splendid natural sights. After what felt like an eternity of waiting for it, the day finally arrived for us to head overseas.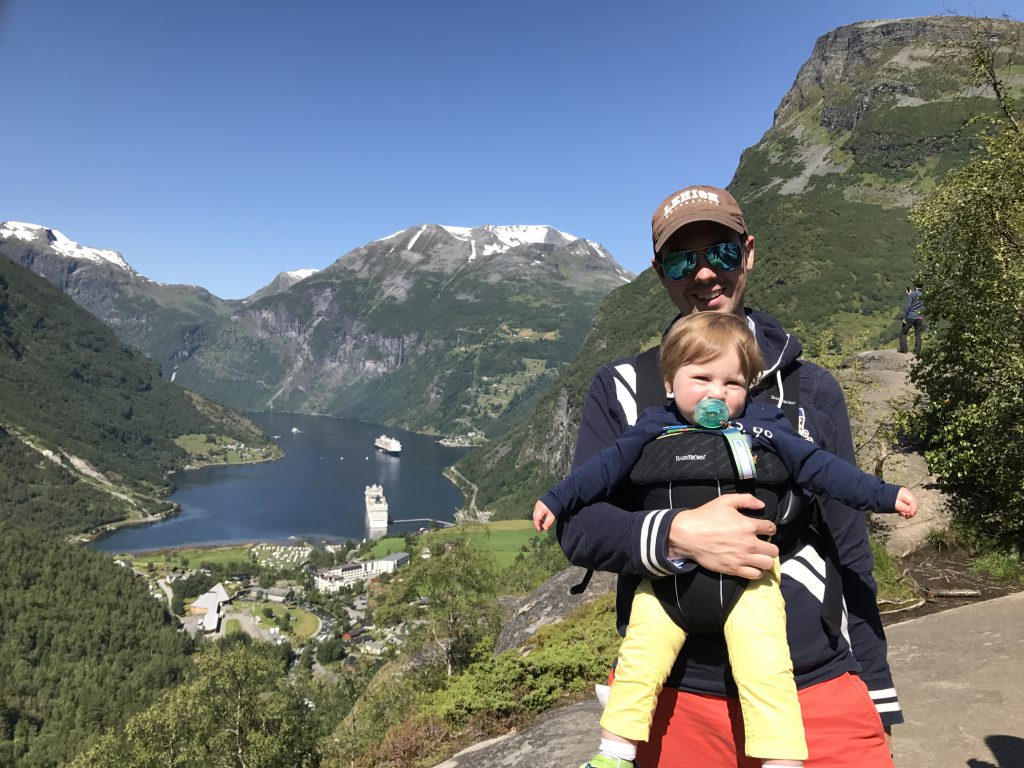 We knew the red-eye overnight flight to Amsterdam, where our ship departed from would be a challenge. We figured since the flight left right when the boys consistently go to bed, they'd fall asleep perfectly as we took off. Reality was a bit different. They were very excited to check out every inch of the plane including a few other passengers' seats. After a prolonged amount of vigorous rocking, we had both asleep, sleeping like hobos on the floor. Thankfully they slept the rest of the flight.
The cruise ended up to be perfection for us and the boys. The ship allowed us just enough room to keep them active and interested and not get bored. The boys had a tough time fully adjusting to the time change, probably because the sun really didn't set in Norway for almost our entire trip. They woke up early each day which allowed us to get breakfast with them, then head off of the ship to explore whichever port we had arrived in overnight. When they got hungry and tired at lunch, we'd head back on the ship for food and a short nap. After, we'd head back out and come back for dinner. Most nights we took them on a stroll around the deck of the ship for a few laps to get them a short pre-dinner nap. Then we'd put them to sleep while we enjoyed the view from our balcony deck with some wine. Since the sun never set, it felt like we had a good part of the day just to ourselves out there.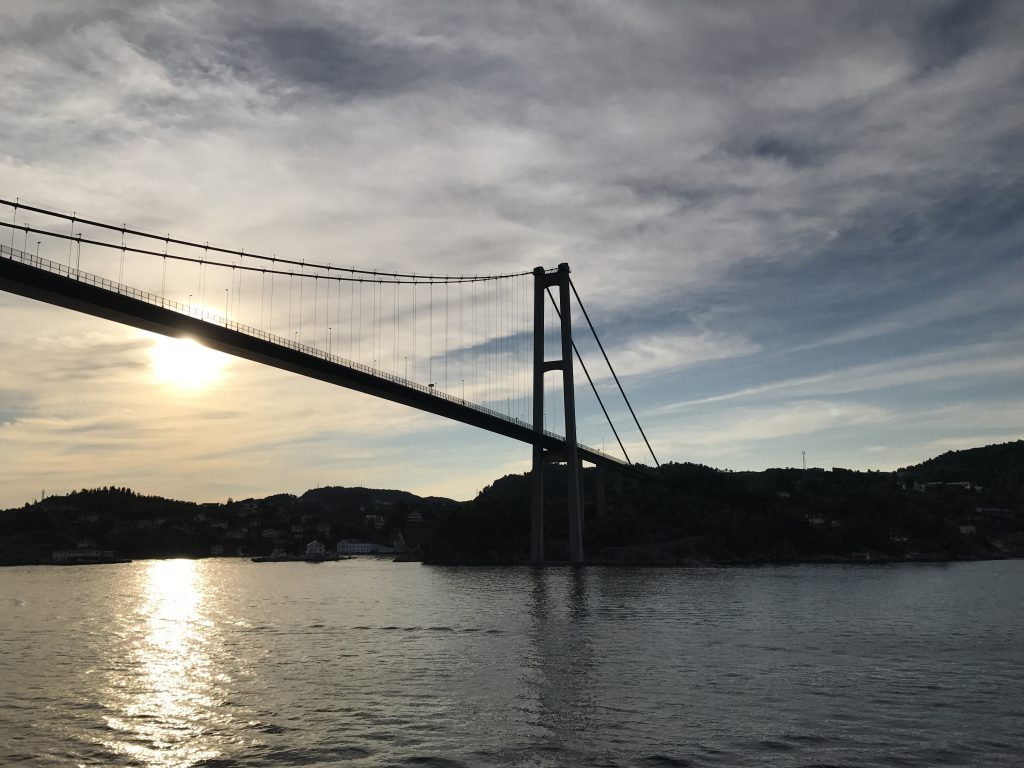 Keeping this routine daily really helped the boys adapt quickly to the new environment and stay consistent. Without this schedule, the boys might have stayed on East Coast time and we would have barely seen Norway, except maybe from our room. Instead, the trip became a great break for us from our normal routine. At home, during the week, we barely see the boys, only in the morning when we rush them out of the house to daycare and at night when we rush them to bed. On the weekends, we get to spend the day with them, but are often in the car or not doing much at home. The trip gave us the perfect opportunity to spend more time with them and more importantly, quality time. Instead of time spent in their car seats, they were constantly with us on trains through the mountains, boats on the fjords, and buses to view waterfalls up close. During this time we really got to interact more with the boys and see their personalities come out.
It also gave us a break from the normal stress we are under. Try as we like, stress from work and home affects how we interact with our children. As much as we try to insulate them from it, it always finds a way to creep in. On vacation, this stress evaporated and we could fully focus on enjoying ourselves with them. We also broke the monotony of our normal lives and it forced us to put more thought into how we live with them. I think the lowered stress let us take a few extra deep breaths when things got tough and think about how we'd deal with them.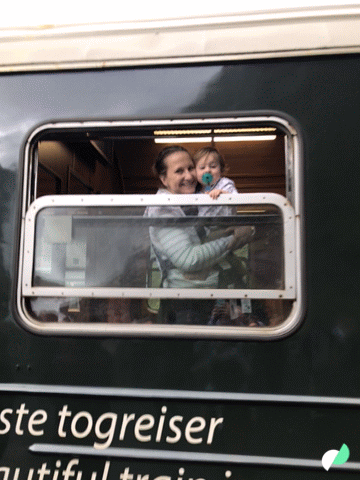 On the ship, it could be difficult to find spots to keep the boys calm. There wasn't a ton of room for them to crawl around. Eventually we found that the ship had conference rooms on a lower deck where they could crawl around unimpeded and without climbing over anyone. Another key to keeping them happy was our daily walk around the deck. The aptly named promenade deck gave us the opportunity to take laps of the ship outside with the boys in their stroller which calmed them and sometimes put them to sleep. Bringing our umbrella stroller rather than the slightly wider and heavier stroller helped us get around tight corridors and on and off of the ship more easily. When nothing else worked, we'd take them to listen to the string quintet that performed often onboard. Classical music has had a calming effect on them since before birth. Seriously, even in the womb when they were rowdy, classical music would stop the kicking.
Dinner time for us was a phenomenal break from the day. Often exhausted from a long day of exploring new places, dinner gave us the opportunity to unwind with a peaceful meal. At home, we often eat incredibly fast after the boys are asleep. On the ship, we all shared mealtime. With multiple courses, mealtime often stretched nearly two hours. We started the boys on real solid food, not pureed food, early and doing so allowed us to have fun meals with them as they could eat just about anything on the ship. While they loved the great meals we ordered them, always from the normal adult menu, they really found a new love for bread. Cheerios and bread kept them occupied and satisfied until the main course would arrive. By the end of the cruise we did begin to worry that they might turn into little rolls though. The lengthy dinner also gave us the chance to talk about our day and the things we had done, something we'd like to do with the boys more, but never find time to do at home. It served as a nice reflection of the day and increased our awareness of how great the trip was.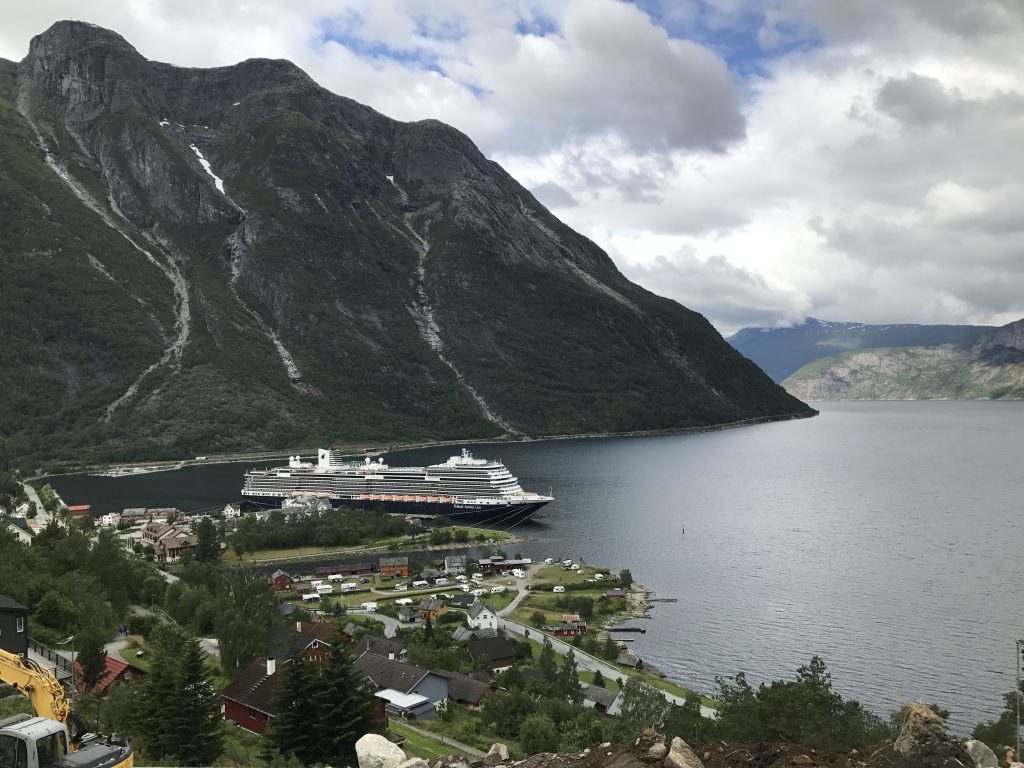 On a ship that departed from Amsterdam, the boys had the opportunity to meet people with different backgrounds than they would otherwise. Many of our fellow passengers were Dutch, but there were folks from all around the world. The crew was from all around as well. Identical one-year-old boys attracted a lot of attention so they truly got to meet a ton of people. With two introverted parents, this was a great opportunity for them. Everyone seemed to have twins in the family or know someone with twins. The crew really took to them as well as they got tons of attention. Meeting so many different types of people early on may prove to improve their social intelligence and empathy later on.
In each stop, we also got to meet interesting people and see new and inspiring things. Norway is unbelievably beautiful. Every stop seemed to top the previous with gorgeous green cliffs rising from the turquoise blue water of the fjord up to snow capped peaks, often with silver slivers of waterfalls running back down. It didn't hurt that we had unbelievably good weather with cloudless skies in a part of the world that has more rainy days than sunny ones. The boys were amazed by these stunning sights and we were inspired. The picturesque towns from tiny fishing villages to huge trading ports were beautiful too and the people in them were fantastic.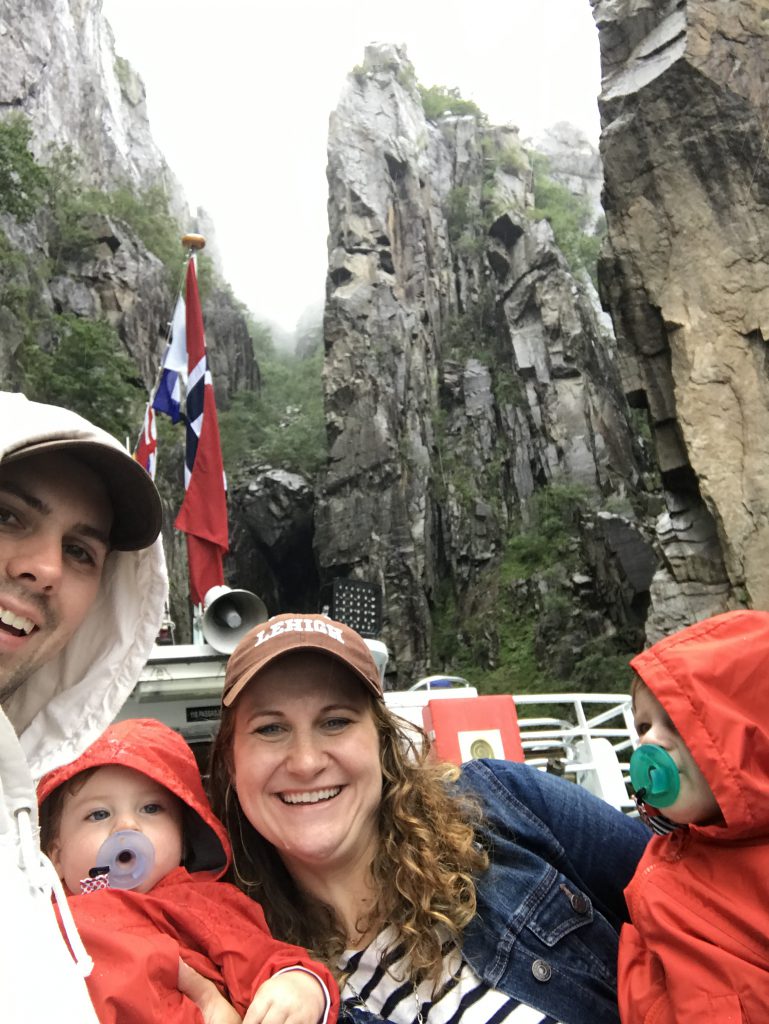 Norwegians are known to be very family friendly and while not exactly super extroverted, everyone was friendly to us, especially the boys. We encountered no language barrier at all. Norwegians may be a bit cold in general, but once we got them talking, they were incredibly welcoming and helpful to us.
One of the highlights of a trip full of highlights was seeing real reindeer roaming the mountains and again up close. The boys were incredibly interested in them and just wanted to crawl over to say hi to them. They also had a blast at some of the scenic overlooks above the fjords where they enjoyed shouting to each other and cracking up. Who knows exactly what they found so funny, but we all joined in the laughter.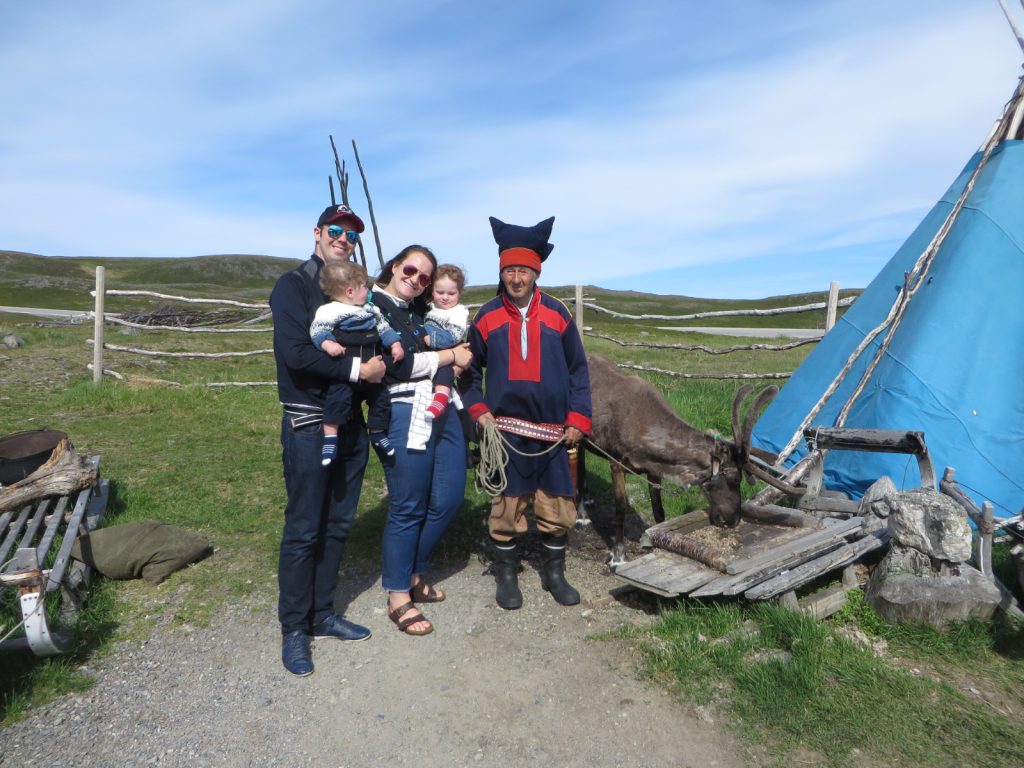 We chose Norway, a country that celebrates family with a family friendly attitude in stores and restaurants, has an incredible history, and some of the most stunning landscapes on the planet to take our children on their first real vacation. We hoped to inspire them with an incredible location and share our love for travel with them. If their wide eyed looks and bright toothless smiles we often caught them gazing upon the sights with were any indication, we accomplished exactly that.