The 10 most Hygge places in NYC
- 6 minutes read
- 1189 words
Danes, my people, are the happiest people on Earth. Maybe it's the beautiful Danish summer when the sun hardly sets. Maybe it's the coffee. Maybe it's the Baltic Sea air. Or maybe, it's the Danish culture of hygge. Hygge is a unique concept that only exists in Denmark. The closest translation would be something like a combination of coziness and homey-ness. Hygge is the comfort you feel in a favorite worn in pair of pajamas while sitting in front of the fireplace with a good book and some candles on. It's the deep warming feeling that goes beyond the physical temperature when you have a hot beverage under some warm furs. Hygge is an omni-present way of life in Denmark, but it can be hard to find elsewhere.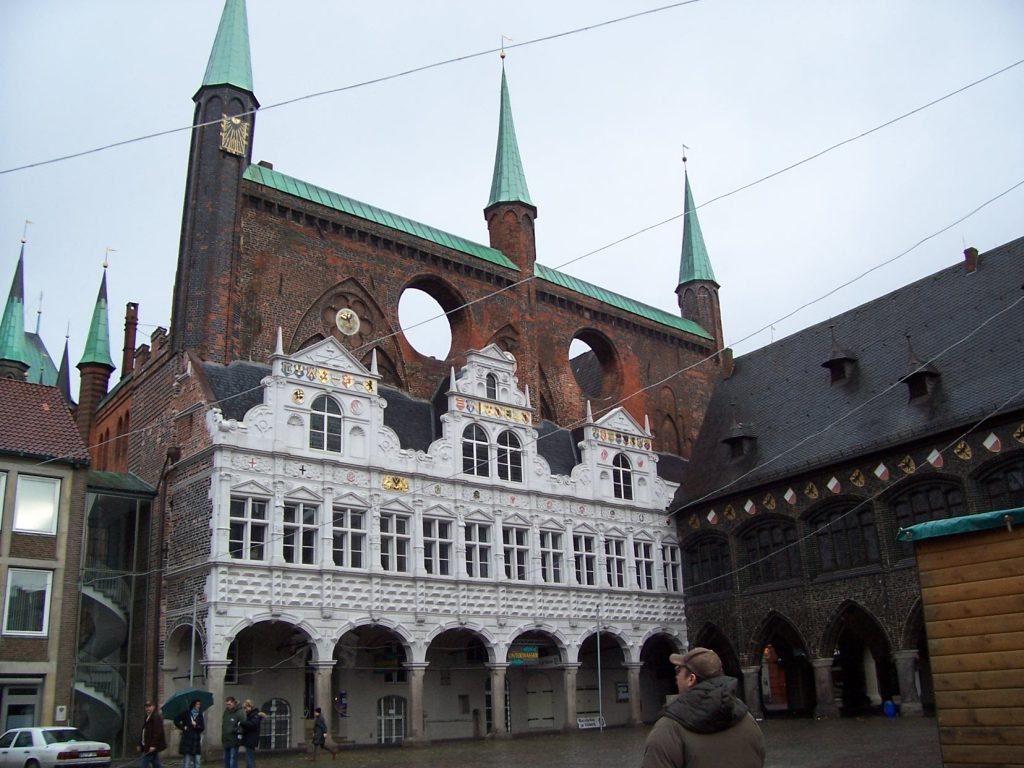 New York City, a city not many would think of as cozy, actually has a fair amount of hygge friendly spots. Hygge is often best on a long, dark, cold, winter day, but can be just as enjoyable during a grey wet spring day. According to Danes, there is nothing more hygge than being inside, warm, and dry, during a spring thunderstorm. The things that most lead to hygge are fireplaces, warm fuzzy or furry blankets, warm beverages, candles - and lots of them as Danes consume more than twice as many candles per person as any other country - and small groups. Danes don't make friends quickly, but once they become friends, they are fierce friends for life. Therefore most group gatherings are small. Starting to sound more like some places in NYC you know? Exactly. So grab some slippers, these are the ten most hygge spots in NYC to snuggle up and enjoy life with a few friends.
The Nomad Library Bar - The Nomad itself is fairly hygge with a dark but cozy interior atmosphere and some comfort food. The library bar though is hygge to the extreme. You can sit with a warm cocktail in front of a fireplace with a nice book. You will probably forget the others there or at least do your best high school librarian impression when you shush them as you sip some of your drink.
The Hudson Lodge - The lodge at the Hudson hotel only opens during the winter and is best described as a ski lodge in the middle of midtown. Not only is the drink menu heavily warm beverage focused, the seats are covered with warm fur blankets that you can disappear into. After you grab a spiked hot chocolate or a buttered rum, make sure to check the blankets for other patrons who may have settled into a hygge haze. Danes don't like sharing seats.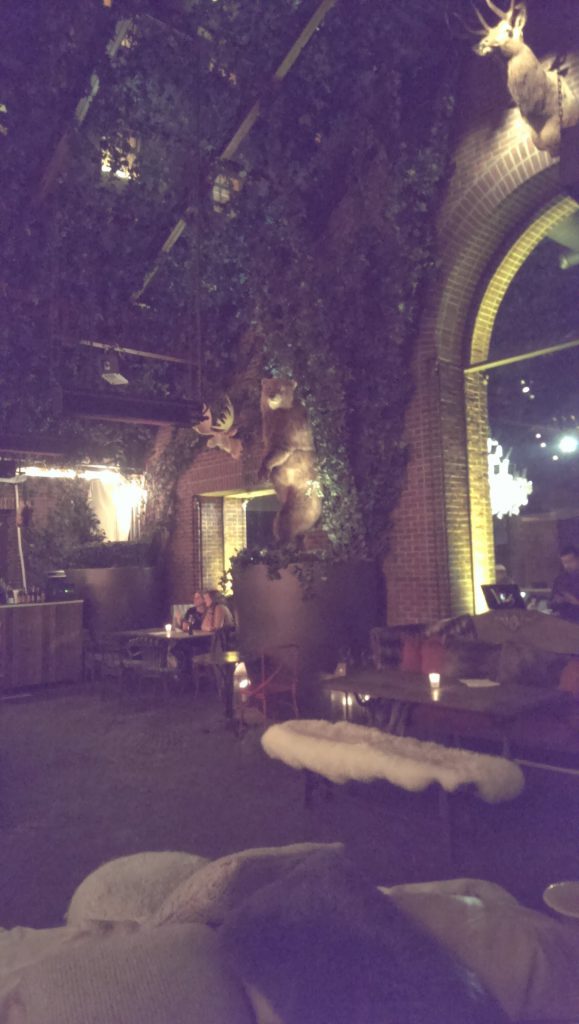 Gallow Green - Hygge doesn't really work well in the summer. Sunlight not only ruins the cozyness, it also draws large crowds that Danes despise. The closest you can get to hygge on a sunny day is to get outside, but in a setting that feels like a forest with lots of wood and lush greenery. Gallow Green is your spot for this. On a decently warm day in the spring or fall it is very hygge with great drinks and smaller crowds. The setup can make it feel less crowded even when packed. It's a great place to go with a few really close friends in a grey wool sweater and discuss your fourth re-read of Ulysses.
Rolf's - Now I'm going to get in trouble with hygge purists on this one. Rolf's gets incredibly crowded, like shoulder to shoulder no room to breathe or get to the bar crowded especially during the holiday season. However, the festive year-round christmas decor that is so far over the top it somehow becomes less gaudy actually inculcates a sense of homeyness that can approximate hygge. No, you won't be reading in here or snuggling up, but you might find a good warm drink and a tiny corner to enjoy your own private hygge.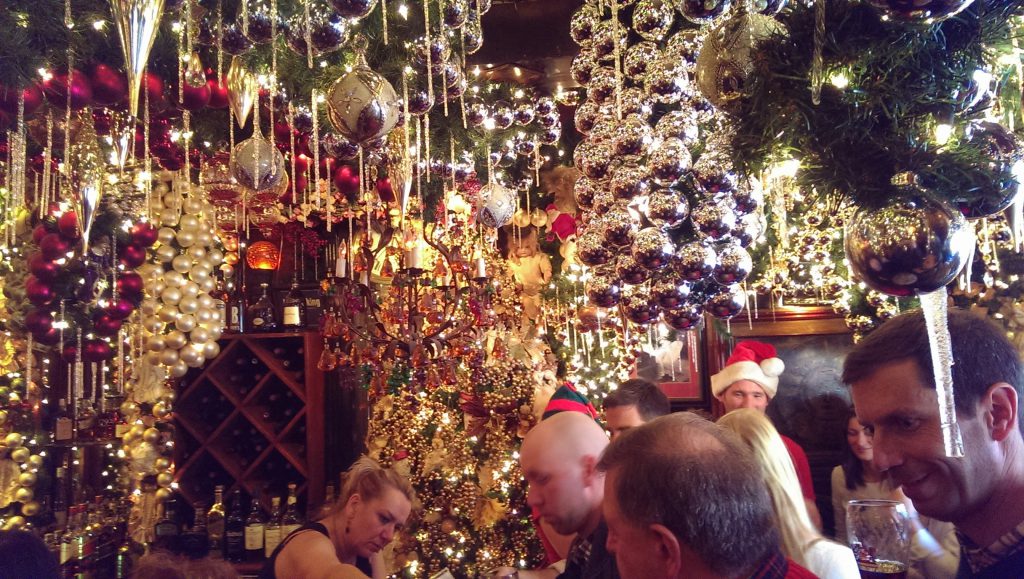 Cafe Katja - Austrians may not be the masters of hygge that Danes are, but they get some of the qualities. Cafe Katja, New York's premier Austrian restaurant nails the feeling of a cozy Austrian restaurant in the winter with tons of wood, a dim but warm feeling atmosphere, and lots of candles. Apple strudel is to me at least, the most hygge of desserts.
The Third Man - Danes love television series about serial killers and solving crimes. The protagonist absolutely has to be wearing a gray sweater constantly. This bar feels like you might run into either the detective or serial killer in any corner. Very dimly lit with exposed bulbs and orbs of light with plants growing in them, this bar with lots of wood is the kind of place perfect for discussions about the role of the state in healthcare. I'll always remember it as the place one of my closest friends for years showed us how to use Tinder.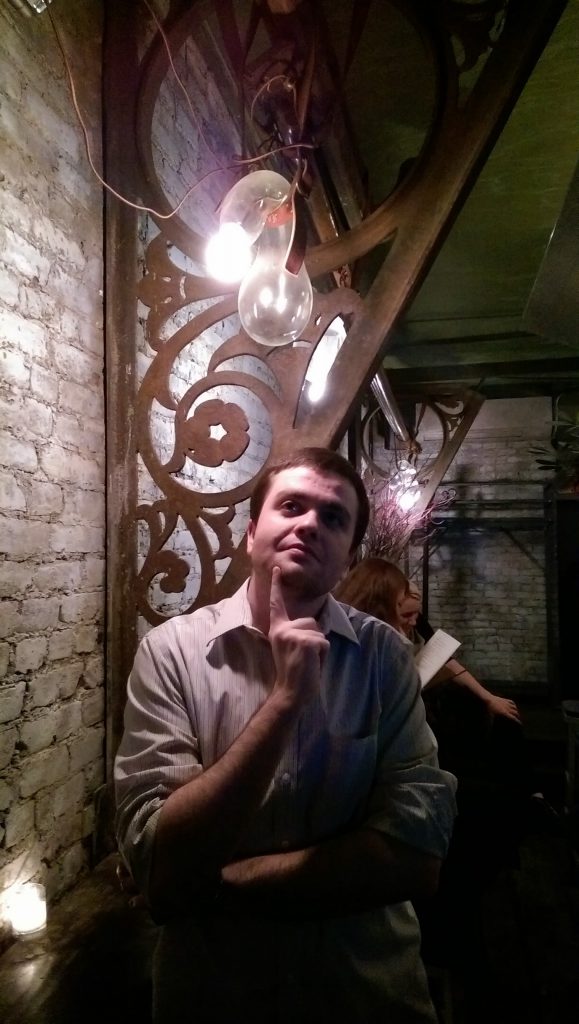 Freemans - The original hunting tavern at the end of an alleyway with a barber-shop that has a men's clothing store inside with the same name - this place really kicked off that trend. Inside is a dimly lit lodge with animal heads on the wall and oil paintings of dogs. Candles are pretty much the only lighting and some tables are literally wooden planks that pivot down from the wall. It couldn't get any more Danish unless they served pulsars and aebleskivers.
Clandestino - You know the tavern in Harry Potter or Lord of the Rings where some pivotal character is met at a seat at the back of a hazy room that you can barely see through. The real life version is this bar. With a great craft beer menu and cocktails, it's a great place to relax. The candle lit only atmosphere adds to the cozy quotient as do the pictures on the walls. Beer isn't as hygge as glog, but beer in a tulip glass is more hygge than a pint glass.
The Narrows - Hygge knows no boundaries. Brooklyn can be just as hygge. This Bushwick bar has big comfy leather couches and a giant world map on the wall. Maps aren't books, but they have a similar positive effect on hygge. You can ponder the world map while you consider all the areas that were once ruled by the vikings. You might even find some aquavit behind the extensive bar.
Spotted Pig - The most hygge restaurant in New York. Aziz Ansari knows it. Beyonce knows it. We all know it. It's not just the red tinged wooden interior. Nor is it the dim lighting and small tables. It might be the animal heads on wall, but there's more than that. It's the food. Somehow the food here includes hygge as an ingredient like a spice you know and love but can't quite put your finger on. Anything with meat here will do it, but the burger and the pig jawls get down into your soul and fill it with hygge. No, you won't find fur blankets or glog, but the hygge will envelop you like a warm reindeer blanket.