This post originally appeared on TheBump
Traveling with children doesn't have to be a high-stress event that ends in tears and tantrums—especially for parents. The days of family vacations in the back of a station wagon that you remember from your youth are over and there are so many more things to keep your kids occupied and happy than just playing license plate bingo. A massive selection of products are available to parents that can help make taking a road trip, flight or cruise much easier and hassle-free.
There are so many brands trying to grab attention of parents out there that it can be difficult to know what to trust and what's a waste. It usualy takes a recommendation from another parent or a short trial period to know what works for you.
These are my favorite items from the trips we've taken with our 1-year-old-twins and the ones that have helped keep our trips fun and enjoyable along the way. We never would have made it through a weekend getaway to the Mystic, Connecticut, aquarium and seaport without our umbrella stroller navigating the tight spaces. A hanging changing pad saved my bacon—and probably prevented at least one disease—in less-than-ideal restrooms on weekend trips into New York. Whether heading across the state in the back of a minivan or traversing the globe, these items will keep you and your kids sane while away from home.
Toppist Portable Mini Air Inflatable Bathtub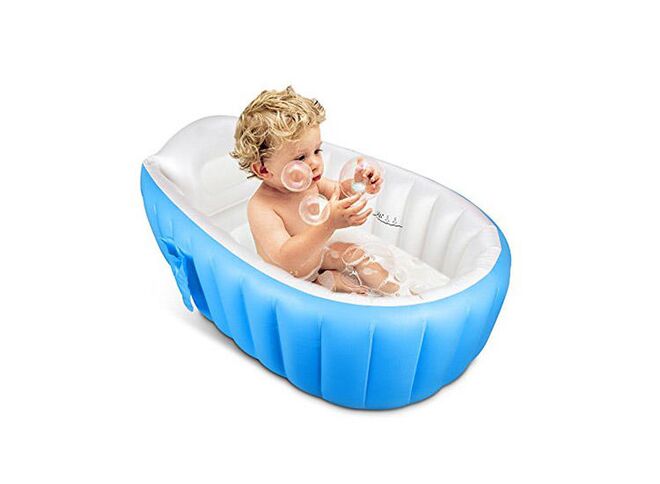 Photo: Toppist
Let's face it, kids get stinky. On vacation, they're probably running around a bunch, spilling all kinds of interesting and new things on them and going potty in less than savory locales. While in New York, one of our boys ended up with a squid tentacle up his nose. These things happen. Most hotel rooms have bathrooms that weren't exactly designed for infants and toddlers. With this inflatable tub, you can still get in those baths on the nights you have the energy to go beyond a baby wipe bath. Deflating it down allows it to fit easily in a suitcase.
Buy it: $29, Amazon.com
MacLaren Triumph Umbrella Stroller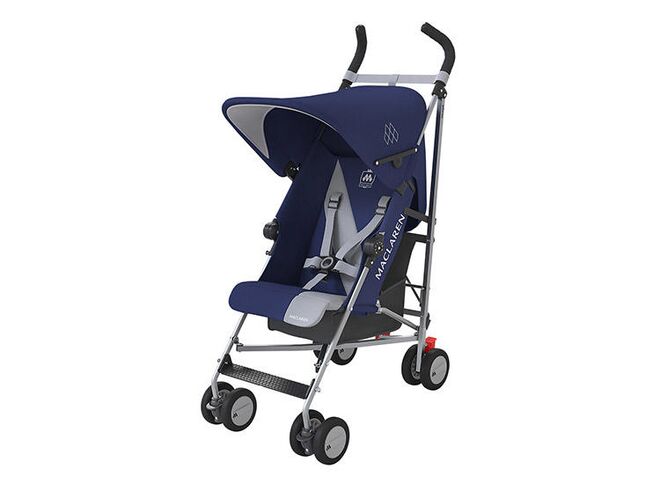 Photo: Maclaren
We love our normal daily big stroller with the huge tires that allows us to take the boys anywhere. We didn't think we needed a portable umbrella stroller. Then we got this in the twin version and were suddenly 10 times more mobile. Getting into stores and restaurants—especially the tight quarters in Europe—is so much easier now with this compact stroller. Even getting up and down stairs when needed is less of a back-pain inducing exercise thanks to a lightweight frame. With this stroller, we can even fit other things in the trunk of the car for weekend getaways. No other item has changed our vacation strategy as much as this stroller.
Buy it: $225, BuyBuyBaby.com
Neat Solutions Tabble Topper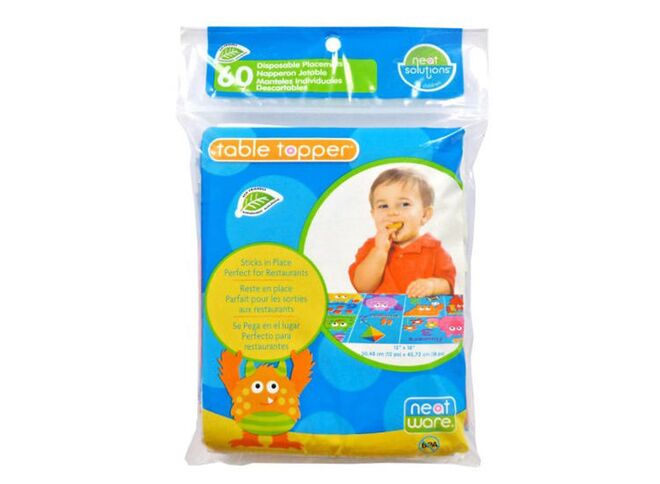 Photo: Neat Solutions
Our kids are absolute slobs when food comes around. Since they were about 9 months old, they decided they need to feed themselves. And as their dad, it's okay for me to say that they aren't the most skilled at it yet. These disposable placemats are good for big messes. And they're adhesive, which is good because placemats are a favorite toy to play with. We also don't need to worry about the cleanliness of the tables the boys are eating off of and get slightly fewer side-eye looks from restaurant staff. If only they let us bring the dog—they would have no mess to clean up at all.
Buy it: $9 for 60, Target.com
Munchkin Miracle 360° Training Cup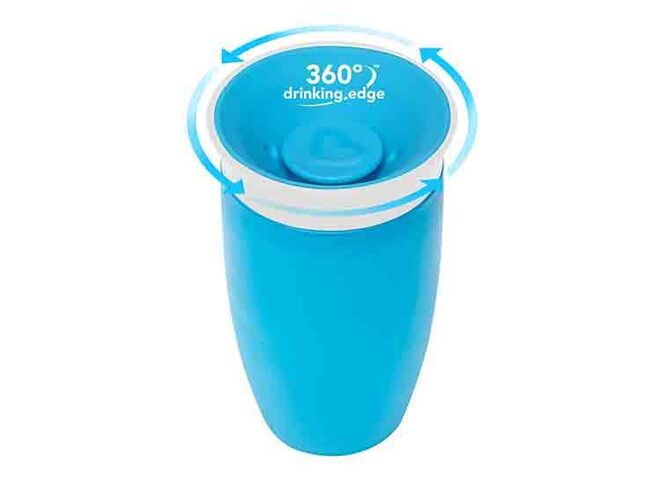 Photo: Munchkin
While traveling during the spring and summer, kids get hot. These cups allow them to cool down while practicing normal cup-drinking skills and not creating a huge mess. An innovative lid design requires them to press down on the lid while drinking, allowing normal cup drinking behavior while preventing spills. They're also super easy to clean and pretty light to pack in a day bag.
Buy it: $13 for 2, Amazon.com
Munchkin Miracle Stainless Steel 360° Sippy Cup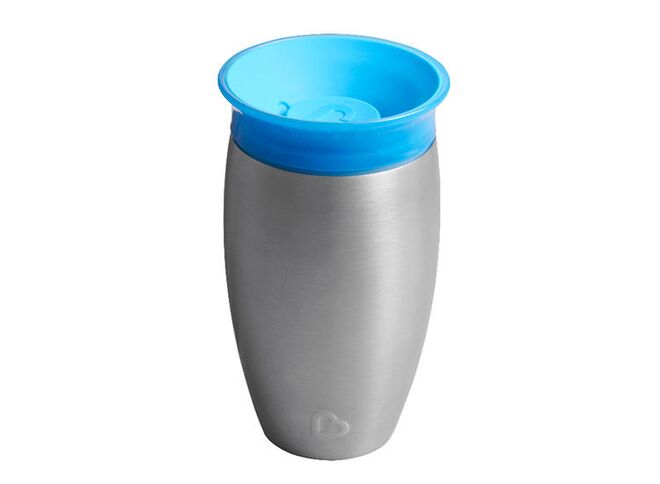 Photo: Munchkin
Mommy and daddy have their Yeti mugs for keeping beverages cool on vacation and the boys get their version of the stainless steel mug with these. They keep drinks hot or cool for hours, perfect for bringing along some milk for the day. I once left an ice cube in one for hours as an experiment and it never completely melted. When the choice is between questionable airline milk and this, go for the mug. When they graduate to iced coffees, they'll already have their trendy mug.
Buy it: $12, Amazon.com
Baby Change-n-Go Portable Changing Pad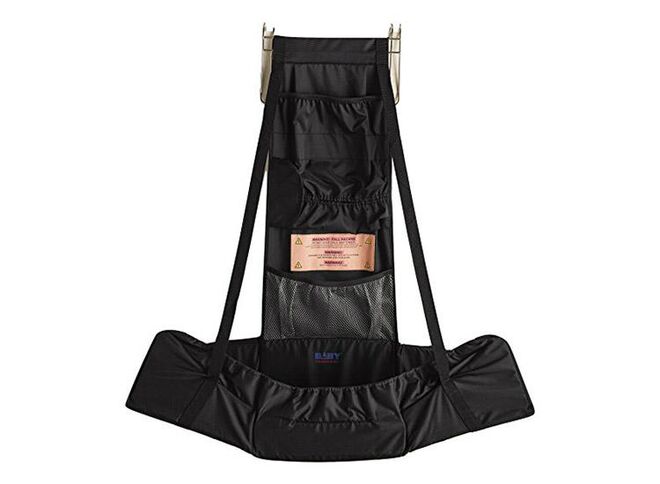 Photo: Baby Change-n-Go
As a dad who tries to do my best to help with diaper changes, I've discovered a lot of poorly designed restrooms for changing babies. Not only do most not have a changing table, many don't even have the space to lay down a changing pad. I once had to resort to balancing my child on the toilet lid and a trash can. A lot of hand sanitizer was also used. I've since learned to bring along this hanging changing pad bag. It hangs hammock-style from a stall door and allos for a nice change far above the questionable floor.
Buy it: $100, Amazon.com
Homedics MyBaby SoundSpa On-the-go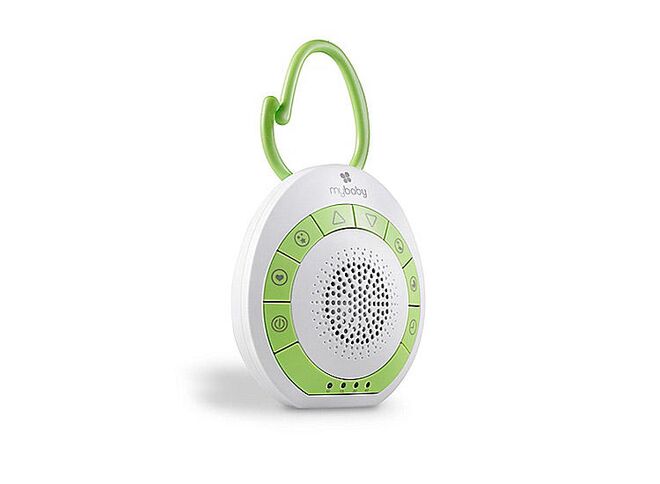 Photo: Homedics
Sleeping in a new locale can be a big deal for young children. Okay, maybe daddy who grew up in the 'burbs also has a hard time sleeping in new and noisy locations too. With this small, lightweight but customizable noise machine, daddy and the kids can actually get a good night's sleep in places like hotels in city centers and beach towns. While mommy, who grew up in Brooklyn, can fall asleep to the sounds of yelling teenagers, daddy and the kids need the sound of summer crickets to get to sleep. With this machine, they also stay asleep through the night, making sure a packed day of touring a new place gets off on the right foot.
Buy it: $10, Amazon.com
Melissa & Doug Pull-Back Vehicles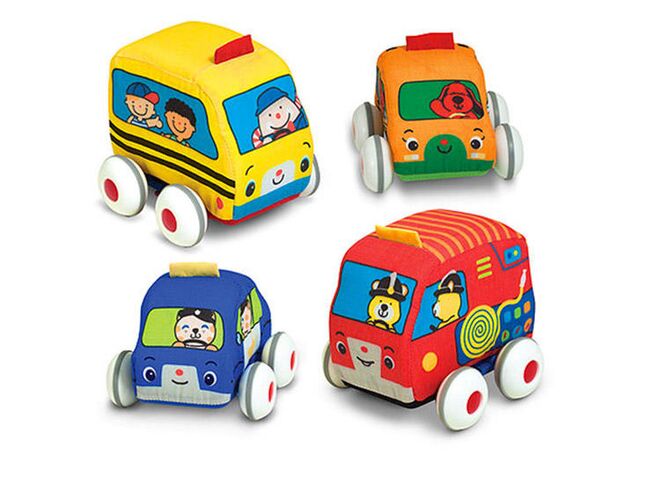 Photo: Melissa & Doug
While seeing paintings by the Dutch Masters in Europe or the biggest ball of twine in Minnesota may be more than exhilarating to parents, kids need some additional stuff to stay entertained. These soft fabric toy cars are perfect for bringing along. The fabric tops can be removed from the plastic base for easy packing or cleaning and the wind-up action keeps the kids occupied for a long time. Now your kids can also practice yelling, "I'll turn this car around" just like you!
Buy it: $20 for 4, Amazon.com
BABYBJÖRN Carrier Original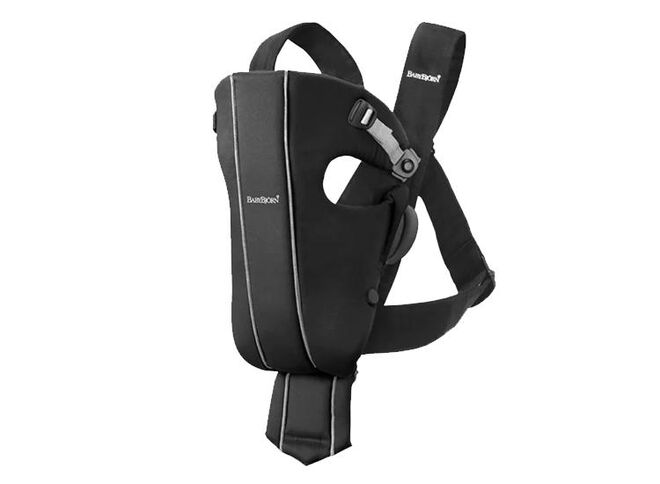 Photo: BABYBJÖRN
Have you ever tried to take a stroller off-road on a 6 mile hike through the woods on a gravel trail? Of course not; you're not insane. When I did it, though, I learned a valuable lesson: don't do it again. Ever since, I've always used the BabyBjörn carrier on walks in the woods. Carrying a toddler on my chest isn't exactly easy, but it's better than the repetitive stress injury I sustained bouncing a double stroller over boulders. Cobblestone streets in Europe have much the same effect. Trust me, a carrier is easier.
Buy it: $51, Amazon.com
BABYBJÖRN Soft Bibs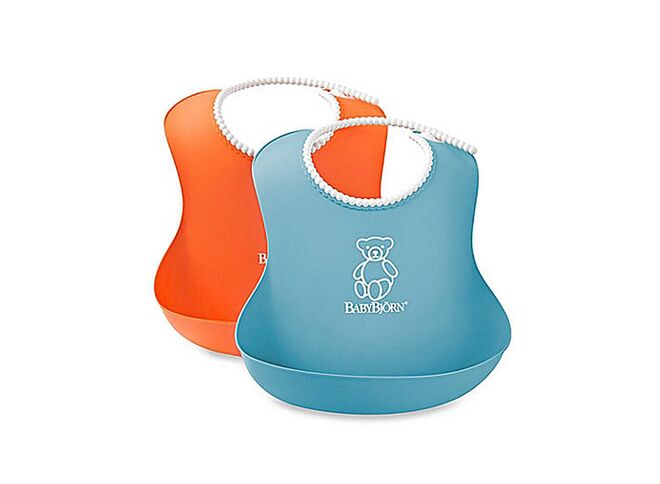 Photo: BABYBJÖRN
Have I mentioned yet how messy my boys are? It's like a scene from the Alien series when they get their hands on fruit. We were gifted these plastic bibs which have saved the day—and their clothes—more than once. The pocket at the bottom tends to collect enough food for another course and the soft plastic is super easy to wipe off. Short of bringing ponchos for the boys to eat in, these bibs are the most likely we are to make it through the day without several Beyoncé-like outfit changes.
Buy it: $17 for 2, Amazon.com
Baby Boom XLR8 Connect And Go Backpack Diaper Bag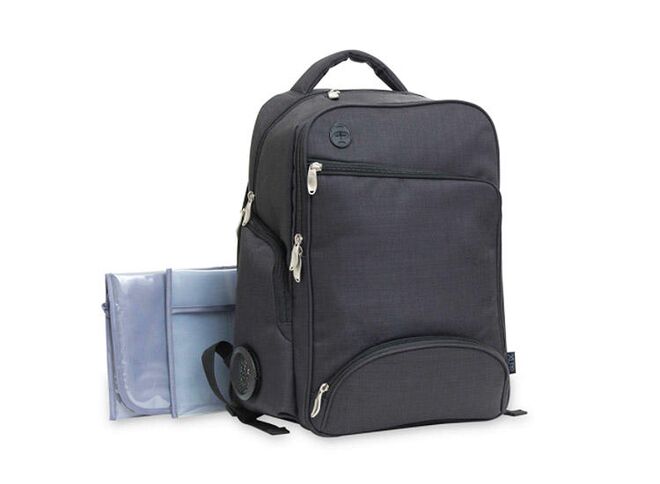 Photo: Baby Boom
Most parents like to go off the grid and refrain from technology use when on vacation. I do too, so I only bring my phone, camera, iPad, Kindle, laptop, spare charger and emergency flashlight with me. It's exhilarating to live so free from technology. If your idea of going light on technology is like mine, you need a way to keep at least a few gadgets powered up. Otherwise, how will you get those Instagram likes? This backpack not only doubles as a diaper bag, but includes a battery for keeping those gadgets charged up when far from an outlet. Waterproof separate pockets keep your stuff organized and safe as well. Now you too can keep your phone charged so you don't miss that perfect shot of your kid overlooking the fjords of Norway in the rain!
Buy it: $130, BabiesRUs.com
Melissa & Doug Water Wow! Coloring Pad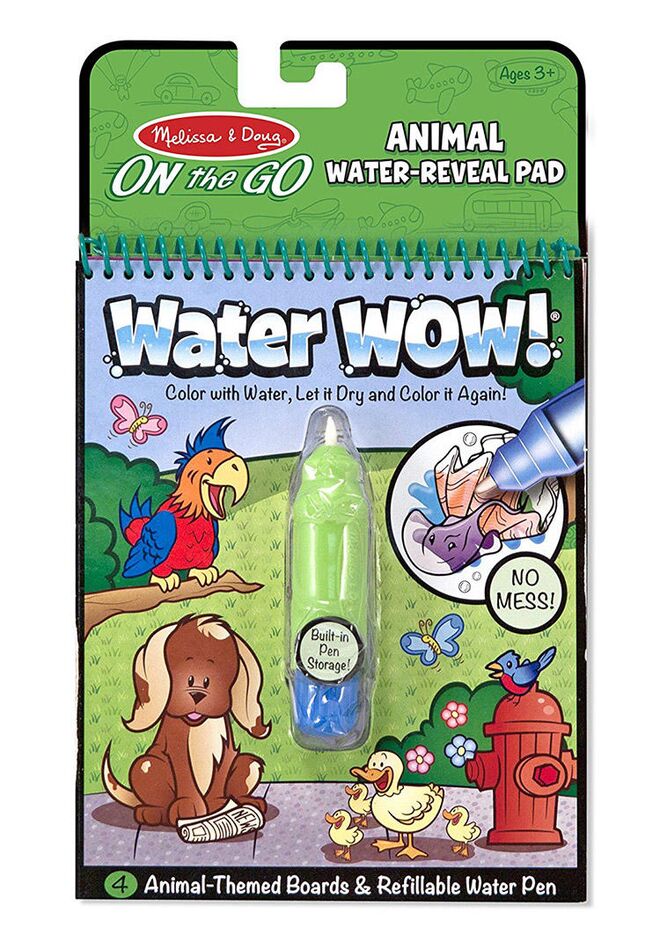 Photo: Melissa & Doug
The inventor of these coloring books that use water instead of a crayon, pencil, marker or any other implement that can be used to ruin a wall deserves both a Nobel Prize and a million dollars. The pages of the book respond to coloring with water, allowing for a coloring experience without the mess. Even better, when the pages dry, they can be used again. A few of these on the plane can make even a voyage to Australia or Hong Kong with a toddler pass by with minimal stress. Or you can try regular coloring books and see how much the flight attendants enjoy cleaning crayon off of bulkheads.
Buy it: $5, Amazon.com
JetKids BedBox
Photo: JetKids
It's a suitcase. It's a bed. It's both. This ingenious travel companion from JetKids is primarily a suitcase that fits a decent amount of kids' stuff and can be wheeled through the airport and past security. However, the real trick is that on the plane, it can be stuck under the seat to turn it into a full flat bed for toddlers. It's like upgrading the kids to first class with a lay-flat bed for free while you still toil in coach, fighting the person in front for a measly three inches. At least your child will get a decent sleep on the flight, and to be honest, that's far more important.
Buy it: $189, PishPoshBaby.com